Hoosiers moving on, learning from Connecticut loss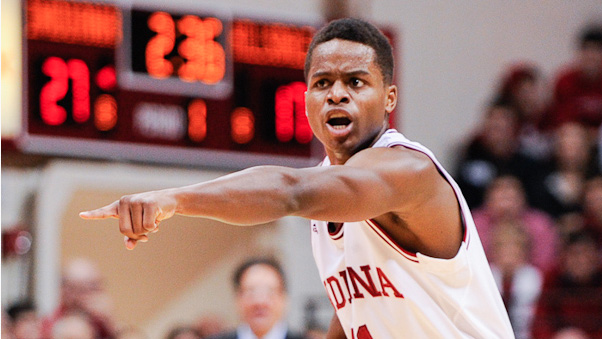 As Indiana (5-1) steps onto the court tonight at Assembly Hall, one of the questions it must answer is simple. How will the Hoosiers react to their first loss of the season?
Last Friday, the Hoosiers fell to Connecticut, 59-58, and watched as the Huskies celebrated the 2K Sports Classic title on the court at Madison Square Garden. With such a young group, Indiana coach Tom Crean asked to team to shake off the loss and focus on an undefeated Evansville (5-0) over the past four days.
He has been satisfied with the reaction.
"There's nobody walking in on Sunday that I didn't think understood that we played a really good team and we came up short," he said. "Our job is to define the reality of what could have been better and show them how we're going to get to that point. This was a great learning experience for them to understand it never, ever comes down to the last play."
On Friday night, the Hoosiers had their season-high in turnovers (19), they had foul trouble, they played an experienced and veteran team and did it in a unique environment. But what Crean took from the game was that his team did not fold under pressure. In fact, they had a chance to win the game twice in the final 15 seconds. And though the result did not go IU's way, Crean realizes his team continues to have a lot to build on.
"The biggest thing you try to get across to a team is that every play matters, every possession matters. It sounds so corny but it's absolutely true," Crean said. "The proud fact is we played so hard and we could have been knocked out of the game numerous times on Friday night, especially with a young team, and I've coached teams a lot older than that that may not have been able to weather the storm in that environment, the way that it was. But that didn't affect them."
Indiana is now at its final test of its seven games in 18 days span. After tonight's game with Evansville, the Hoosiers will not play again until Dec. 3, a Big Ten/ACC Challenge matchup at Syracuse. But Crean never likes to look too far ahead.
"I think we're absolutely getting it, I don't think there's any question about that," Crean said. "They went inch-for-inch, pound-for-pound with a veteran team that really had changed their tempo for the game and slowed the tempo way down.
"Now we've got to take the next step of being a smarter team. I do think they are getting that, but it is going to take some time."
Evansville hot heading into Bloomington
Crean wasn't shy about it when he opened his pregame press conference on Monday: Evansville, he thinks, is one of the "best offensive teams" to come into Assembly Hall in some time.
Led by sophomore guard D.J. Balentine, who is averaging 29.6 points per game, the Purple Aces have not only averaged 90.2 points per game, but they also enter Assembly Hall as the No. 1 3-point shooting team in the nation (52.7 percent), an honor the Hoosiers have had for much of the past two seasons.
"Right now they're shooting the ball with great confidence," Crean said. "They are very good at finding their isolations and they're very good at being relatively creative out of a couple of certain actions that they run that you have to be prepared for. I think it's going to put a ton of pressure on us as a young group to go against that type of movement offensively."
But what concerns Indiana is that "they are not hunting threes." They don't have to. Evansville, this season, is also shooting 57.6 percent from inside the arc and has only attempted 55 3-point shots. Facing such a high-efficiency offense, both Crean and his players noted they will have to have an extra ounce of energy on defense tonight.
"We know we're going to have to get out on shooters, we're going to have to stay down on shot fakes," sophomore Yogi Ferrell said. "We're just going to be in a defensive mindset. I feel like we're going to have to go out there and our first mentality is going to have to be defense and everything else created from that defense."
"Our guys will see more cuts, screens, flare screens, curls, they'll see more of that in 10 minutes than they might see in three weeks, tomorrow," Crean added. "They're very good at that. They're very, very good."
Other notes
· Tickets still available: As of Monday evening, Indiana had not sold out tonight's game. Fans can purchase tickets by calling the IU Ticket Office at (866) 487-7678. Costs are $15 for students, $20 for balcony seats rows nine and higher (plus a hot dog and soda), $26 for a balcony seat below the first nine rows and $40 for main level seats.
· Crean talks Maui Invitational: After it was announced that Indiana will play in the 2015 Maui Invitational with Chaminade, St. John's, Vanderbilt, Wake Forest, UCLA, UNLV and Kansas, Crean admitted he's already excited for the tournament.
He also said he's been using the tournament as a recruiting tool, and now that he knows IU's potential opponents, he said he'll do it even more. "I didn't even realize the field until I saw it today," he said. "Obviously, it's something that our fans will be excited about. It's something our players will be excited about."
Filed to: Evansville Purple Aces, Tom Crean