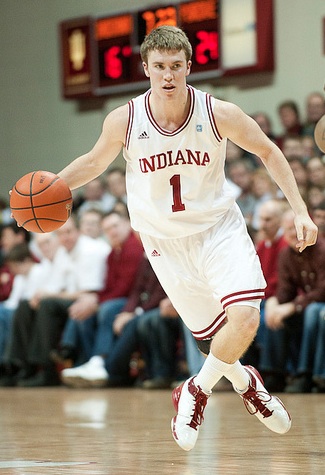 Following Thursday's media challenge at Assembly Hall and Cook Hall, several members of the 2011-2012 Indiana Hoosiers were made available to discuss the upcoming season. Inside the Hall will have transcripts of each interview.
Christian Watford was first, followed by Remy Abell and Victor Oladipo. We conclude with junior Jordan Hulls, who averaged 11 points per game last season and shot 91.2 percent from the free throw line.
Q. What will Remy (Abell) bring to the table for you guys this year? What do you see as his role on this team?
A. "He'll be able to come in and guard. He can guard. He'll get after it, play hard all the time. We don't really have to worry about him working hard. And he can come in and get to the rack, get to the free throw line. He's been shooting the ball a lot better since he's got here. That's something he's been working on. We're excited to have him."
Q. Where do you think you've improved the most over the summer? Getting a chance to play in the (Indy) Pro-Am and work on your game, what do you think has come along the most?
A. "The thing I was working on the most was my defense. Just trying to keep my man in front of me. That's probably been the biggest part that I've improved upon. It still obviously needs a lot of work, but it's something I've really tried to make the most important thing that I need to get better at."
Q. What do you think the key is for you guys to improve defensively as a team? I know that's something Coach Crean's talked about in the offseason is getting better defensively. How does that come together when the season starts?
A. "Rebounding, steals, force turnovers, deflections. We've got to get all of those things and that will be whether we press or drop back into zone. Whatever the case may be, we have to have active hands and get into people and make it hard for the offense. If they can make a pass real easy, then that's just hurting us. As long as we can be in that and get help side defense and all of that stuff, we'll be alright."
Q. Do you feel like you have the most number of guys that can handle and drive the basketball that you've had since you've been here and what do you think that can do for you guys offensively?