Interview: Cody Zeller, Yogi Ferrell at adidas Nations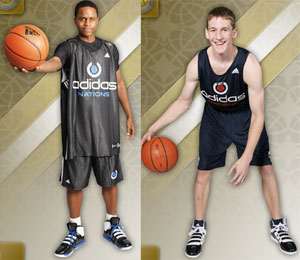 Just walked back up to my place after brief chats with IU recruiting targets Cody Zeller (2011) and Kevin "Yogi" Ferrell (2012) at the Swissotel here in Chicago in conjunction with adidas Nations.
First up: Mr. Zeller.
Let's get this out of the way first. You're down to three schools now: Butler, IU and UNC. What are liking about each of them?

Butler: Butler is known as a mid-major, but I don't think they get recognized for how good they are. This year, they obviously went to the National Championship which put their name out there a bit more. Coach [Brad] Stevens is one of the best young coaches in the country. I've known him since they were recruiting Luke [Cody's older brother]. It's a great university.
IU: Coach [Tom] Crean is one of the best coaches. He seems to be turning around the program right now. They just built the new Cook Hall, which is a great practice facility. They got one of the best business schools in the country.
UNC: At Carolina, they have one of the best coaching staffs in the country with coach [Roy] Williams and his staff. The tradition down there is unreal.
What's the experience like for you coming into a tournament like this where it's not your AAU or school team and you're not as familiar with your teammates?
The talent is unreal here. I just try and do whatever the team needs. You're not going to score 20 points like [you would on] your AAU team. It's a lot different role but it's fun playing with such talented teammates.
Does the rest of your summer start winding down after this with school looming soon? Is this your last event?
This is the last one. School starts on the 16th. My brother [Luke] gets married next weekend, so that's what I'm doing with [my time]. The summer's gone by fast.
***
And here's Yogi.
How was your game against the Latin American team yesterday? (United States 2012 won 78-65.)

We were down the whole game, but came back in the fourth quarter. It was a very good run with Shabazz [Muhammad] and Alex Murphy and it really helped us.
As a point guard coming into an event like this where you aren't as familiar with your teammates, is it a more natural transition because you've got the ball in your hands?
The thing I tell them is to run with me. I'll get them the ball. Wings on the wings, the guys low on the block, I penetrate and kick to the big men.
There's a lot of talent in the state of Indiana the next couple years. Is there anyone that sticks out to you that you've either played with or against?
One of the guys is Hanner [Perea]. He's a good player. Just the way he's a force down low and his athletic ability. He's good.
I've heard a rumor that Austin Etherington is here this weekend. Have you talked to him at all? Is he still bugging you about coming to IU?
Laughs. He always is. He's always trying to be the recruiter. He came down yesterday and I talked to him for a little bit.
Filed to: Cody Zeller, Yogi Ferrell