Q & A: ESPN's Dana O'Neil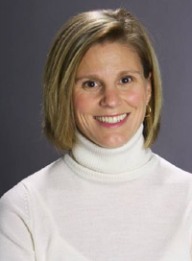 Dana O'Neil covers college basketball for ESPN.com. (Quite well, for those of you unfamiliar with her work.) So to help us get a sense of what it's like working for the World Wide Leader, a national perspective on the current state of the IU program and the Big Ten as well as a few other interesting topics, Dana generously agreed to answer a few questions for Inside the Hall. You can follow her on Twitter here. The transcript of our e-mail Q & A is below:
You made the move to ESPN.com a little over two years ago after writing at The Bucks County Courier Times and The Philadelphia Daily News. What was the transition like moving from a newspaper to one of the most widely read Internet sports properties in the world?
For me, the hardest thing about moving from Philly to ESPN was getting my arms around the scope of this new job. It was a little daunting at first. There's a comfort in familiarity. I knew Philly, Villanova, the Big 5 and the Big East so well that I could automatically put stories and situations into context. I knew the history of the programs and most of the players for four years. I knew Jay Wright since he started at Villanova. Even more, I knew the people and best of all, they knew me.
When I jumped to ESPN all of college basketball was my beat. Major gulp. I'm a college basketball fan, so I always knew what was going on in the national scene and knew the major players, or at least about them, but they didn't necessarily know me. It was a little overwhelming to fly in to a city, watch a game, introduce myself and bam, come up with a column or a 2,000-word feature.
Like anything else, the solution was simple: do your homework and work hard. I went to the AAU tourneys in Vegas, not to watch recruits but to catch up with coaches while they were relaxed and introduce myself. Every time I went to a game if the opportunity presented, I introduced myself to the players I was interviewing. I read everything before I did a feature so I knew what I was writing about and so the person I was speaking to respected the effort.
I'm not great at this gig yet. Far from it. But I feel like I have my arms around it finally.
Two advantages of writing for ESPN.com over a newspaper that immediately come to mind: no space limitations and more relaxed deadlines. Beyond that, how has your job changed moving to the online space? Or has it?
The no-deadline thing is sweet. First Final Four I covered for ESPN.com was Memphis-Kansas and I sat next to my former Philadelphia Daily News colleague (and mentor) Dick Jerardi. As soon as Chalmers hit the 3-pointer I laughed and said to him, 'You're in trouble.' He wasn't amused. I didn't even have my laptop at my seat.
The turnover for online is greater in that I might write a great feature that gets posted at 1 pm and something breaking happens and that feature is pushed down on the site by 2 pm. But that's also the beauty of the online product: we can react immediately. If we break a story, we can post it right away without those old day-worries of waiting until the newspaper hits the driveway and panicking that your scoop won't be a scoop by then. Even for non-breaking news it's great. Case in point: Texas loses to Kansas State this week. We didn't have anyone at the game, but I did a quick instant reaction for our blog and Andy Katz, using his limitless connections, got Frank Martin on the phone and we had a story posted that evening.
In some ways, though, things aren't that different. There are no space constraints but you have to be thoughtful. Do people have the time or interest to read a 2,000 word game column? Probably not. Is your story a worthwhile story, not just one taking up space? Those are important decisions that we still make just as any newspaper editor does.
You've covered Final Fours and have been to games in arenas all over the country. Where's your favorite place to cover a game and why?
This will seem like a lazy answer but it's not. It's honest: the Palestra. The lighting is still horrible. You have to climb over the team bleacher seats and squish by five other reporters to get to your seat; the flimsy press table actually shakes if the place gets crazy enough; when the pep bands get going, you can't hear; parking is a disaster and I absolutely love it. You can practically smell the history in the place and when it's full to the corners, it is as loud and crazy as any place in the country. I also love that the modern-day students still fulfill the traditions. They aren't allowed to throw streamers at the first made basket like back in the day, but they still unfurl their clever rollouts and pass them up the stands before shredding them.
And even though you didn't ask I'll give you the flip side: the place I like least is any dome. The noise disappears and sucks the atmosphere right with it. I understand the NCAA's decision to move the Final Four to domes only (if you have it, they will come) but it really can dampen if not flat-out deaden the mood for what should be the most electric games of the year.
Let's move to our specialty, the Indiana Hoosiers. Tom Crean obviously inherited a difficult situation from Kelvin Sampson. Looking back on the Sampson situation, were you at all surprised about everything that went down and how he essentially threw away his opportunity at Indiana by his excessive use of the telephone?
I was surprised about a lot of things with the Kelvin Sampson situation. For starters, I was stunned that Indiana hired someone who came not only with baggage, but with immediate baggage. His problems at Oklahoma weren't ancient news. They were extremely recent and for a school like IU, which prides itself on its NCAA cleanliness, to take such a risk was a stunner. As for Kelvin, part of me was surprised and part of me wasn't. His actions and decisions were based on pure arrogance – they won't catch me doing this – and were flat-out foolish. That's the surprising part, that someone could be so stupid. But then again, coaches become who they are because they possess a self confidence that exceeds normal human boundaries. They, like the 22-year-olds they coach, often think they're invincible and that can lead to some pretty stupid decisions.
Indiana's season hit a road bump with the loss of freshman guard Maurice Creek, but the Hoosiers have a pair of solid wins (Pittsburgh and Minnesota) and have already surpassed their win total from last season. There's still a long road ahead, but how far away is the program from competing for conference championships?
Tom Crean inherited a disaster in every way – players gone, the program in disarray, fans disgusted and embarrassed – and he is doing everything right to rebuild it. He's worked tirelessly to build up the passion and energy that had been beaten down by the shame of the last few regimes and anyone who thinks that's not important to success in college basketball is crazy. You have to have a program that people feel good about so you can attract kids who want to be a part of it. That's the second step – getting the right players. He has good ones now, the ideal kids to rebuild the foundation of the program with. They're selfless and passionate and though they probably won't deliver the titles, they'll set the road in motion. I think now is the hardest part: he has to get the splashy recruits. Not 15 of them. Just one or two kids you can build a team around. I know patience is probably in short order in Bloomington. Folks there aren't used to being irrelevant. But I'd say Crean deserves and needs at least two more seasons to truly restore IU.
There was a lot of talk prior to the season about the Big Ten potentially getting seven or even eight teams into the NCAA Tournament. The latest Bracketology has just five Big Ten teams dancing. Has the league been a disappointment or were expectations unrealistic?
I think it's been something of a disappointment, yes. Some of the problems – injuries at Northwestern, suspensions at Minnesota – no one knew were coming and those obviously have major, major impact on teams' success. But I also think people expected Michigan to be much better than it is and with good reason; I think even under the cloud of issues they've faced, the Gophers should be more consistent. Penn State, coming off an NIT title might not have been a tourney team but the Nittany Lions certainly shouldn't be the complete disaster they are (and I'm a grad, so I can say that). Even Purdue with the caveat of the injury to Lewis Jackson is a little big mystifying.
That said, I also believe that Ohio State, with Evan Turner back, could be a major headturner come March and Michigan State, the team everyone forgot about in December, is lying in wait – or at least Sparty better be. I picked them to win the national championship.
Final question and we're putting you on the spot (no pressure): Who are your mid-season All-Americans? And which teams will make it to the Final Four in Indianapolis?
Ugh, sure no pressure.
All-Americans (not in terms of position, just best players because this is exceedingly guard heavy): John Wall, Evan Turner, Damion James, Wes Johnson and maybe Scottie Reynolds right now. And I will eat a ton of crow for writing that because at the beginning of the season, Pat Forde put Scottie Reynolds on his ballot and I told him he was insane.
Final Four: I'm going to be stubborn with my pick and say Michigan State, Kentucky, Texas and Syracuse. I'm hesitant to count out Kansas because I think that maybe their midseason hiccup might be the best thing that happened to them, but going with what I see right now, I can't put them in. I'm also flipping a coin between Villanova and Syracuse because I think either one could be there and I'd be stunned if neither one was.
Filed to: Dana O'Neil