Q and A: ESPN's Pat Forde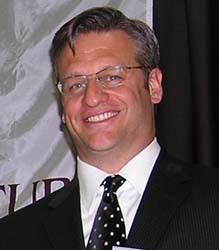 We spend plenty of time discussing IU basketball here, but there's a whole world of hoops just beyond these borders. To help us get a national perspective — as well as discuss media and, OK, the Hoosiers too — we exchanged some lighthearted and interesting emails with ESPN.com's Pat Forde.
Forde is one of ESPN.com's more talented and consistently entertaining writers. He covers college football and basketball for the .com, and is a former columnist at the Louisville Courier-Journal. Our questions are in bold.
Inside The Hall: You left the Louisville Courier-Journal after 17 years in 2004 to join ESPN.com. What was the transition like moving to the most widely read sports Web site in the country? What are the pluses and the minuses of working at a newspaper versus a Web site?
Pat Forde: The transition has been great. It was hard to leave behind a lot of friends and emotional capital invested in the newspaper, and the newspaper business. It was the only place I'd ever worked as an adult. And even after moving on I've come to have even greater respect for some of the people there and the care given given to every story.
But if I complain about my current job, shoot me. I work for the industry leader in sports coverage, where they never think small, and never plead poverty as an excuse for not doing the job right. The impact of ESPN is amazing and was brought home to me my first fall on the job, when we broke the news that Urban Meyer had said yes to Florida. Within minutes I was on Dan Patrick's radio show and a satellite truck was on its way to my house to do live TV for most of the rest of the day. When ESPN mobilizes to cover breaking news, it's something to see.
As for pluses and minuses: The greatest advantages to ESPN.com are the lack of limitations. Deadlines and space are never problems, so we can cover events and issues in much greater detail than newspapers. Especially night games. Our travel budget is robust, so we go places where newspapers no longer go to report stories. The only minuses for me is the increased travel, which can be difficult with a wife and three kids. I miss a lot of stuff.
The "Forde Yard Dash" and "Forde Minutes" have become must reads on ESPN.com. Were the titles something you came up with and more importantly, do you hand-pick the Dashette for each column?
I did come up with the title and the concept for the Dash — that came first. Then, when that was well received, it was suggested by one my bosses that we do a basketball version and I think he came up with the "Forde Minutes" name. And yes, I absolutely hand-pick every Dashette. It's the most important work I do every week.
Sports blogs really took off in 2007. Some members of the traditional media refuse to accept blogs as reliable sources and others have embraced and shown appreciation for what blogs like Deadspin have been able to accomplish. A lot of newspapers are now requiring their reporters and columnists to blog in order to keep up with the times. What effect are blogs having on sports journalism and do you view them as a trend or as something that is here to stay?
Blogs are definitely having an effect. I welcome all attempts to modernize our industry; the good innovations will stay and the bad ones will eventually disappear. Blogs are here to stay and definitely have some positive aspects, in terms of giving people more information, more points of view, and more access to topics of interest.
Since I am an old-school newspaper guy, I do have some issues with blogs as they exist today. First, how many bloggers actually report news themselves? Do they throw rumors at the cyberwall and hope one or two stick? Do they simply repeat other people's gossip? Do they know how to conduct interviews? (Props to you all for at least reaching out and asking questions.) And if they don't report news independently, where would they be without the mainstream journalists who do? What I don't like are blogs that exist simply to snipe at mainstream media that does the heavy lifting of reporting the news.
Also: While I support everyone's right to sound off on public affairs and events, I don't find a lot of it interesting or entertaining. Everyone wants to be Bill Simmons, but to my knowledge there's only one him. Two hundred thousand bloggers cracking wise from their living room in their underwear all want to be the next Simmons, but how many of them are being paid (handsomely) to do it?
You've covered Final Fours and routinely covered games in Freedom Hall, Rupp Arena and Assembly Hall during your time at the C-J. Where's your favorite place to cover a game and why?
I love all three of the local venues. If that makes me provincial, fine. But the fans care so much here, and there's so much history to all those gyms. Of the three my favorite is Assembly Hall. The students are more involved and it just feels more authentic. I truly love the fact that as I walk in the door, I can smell the popcorn. Every time. If that ever changes, I'm not going back.
Shifting now to our specialty, the Indiana Hoosiers. Kelvin Sampson has done a lot of good things on the court thus far in Bloomington, but he's also had problems staying out of the headlines off the court. How would you rate the job he's done so far at Indiana and how serious should fans take the self-reported sanctions that were announced in October?

Answering the second part of that first: Fans should take it very seriously. One thing I've respected about Indiana fans is that they don't have much tolerance for cheating. They had way too much tolerance for Bob Knight's bullying tactics, but I believe they want to win fair and square on the court. And in Kelvin Sampson they have a very good coach with a very troublesome track record of flouting the rules and twisting the truth.
If I were the AD and president, I would have thought very seriously about firing him after this latest phone issue. Breaking the same rule twice is unconscionable and shows a disrespect for the tenets set forth by the NCAA and IU. I can understand why Rick Greenspan did not: This was his hand-picked guy, on the verge of big season, and Greenspan already took some hits for the search to replace Mike Davis. He couldn't afford to fire Sampson at that time. But if the NCAA produces any more dirt on Kelvin during its ongoing investigation, I'd say he'll be gone.
The Big Ten doesn't appear to have an elite team. Michigan State, Indiana and Wisconsin all look pretty good – but certainly beatable. Who do you see as the best team in the league and is there a sleeper team that could make some noise?
I thought Michigan State was the best team, til it hung 36 on Iowa. That's pathetic, and not the sign of a team that can reach a Final Four. So I'll say Indiana is the team to beat. It has an inside-outside attack with White and Gordon, plus a bevy of complementary parts. The Hoosiers play good defense as well. If they hit outside shots they'll be tough to beat. As for a sleeper: Would you believe Minnesota? Hardly overwhelming talent, but the Gophers have experience and are being coaches much better now than in recent years.
Eric Gordon is putting up a lot of points (23 ppg), but he's also been very efficient in doing so (49.2 percent from the field). We wrote the other day that he's the best guard in college basketball, but we're certainly biased. Do you view him as the best freshman in the country and where does he fit in on your list of the best guards in the country?
I think most of the best players in the country are freshmen, so Gordon certainly belongs in the conversation. The only guard of comparable ability is Derrick Rose of Memphis, another freshman. And the only other freshmen in Gordon's company are Michael Beasley and Kevin Love. I'd take those four and maybe have 80 percent of of the first-team All Americans. This freshman class is the best I've ever seen.
Not only is Gordon having a fantastic year, D.J. White is also putting up the best numbers of his career. If Indiana was to win the Big Ten, which player, Gordon or White, would have the inside track on player of the year in the conference?
Good question. Right now I'd favor Gordon, because look how much better Indiana is with him this year. But White has been excellent. We'll have to see what happens over the next seven weeks to know for sure.
Last question: Who are your top four teams in the country and your first team All-Americans as we approach the halfway point of the season?
My top four teams are Memphis, North Carolina, Kansas, and UCLA. I think you draw a line after those four and create some distance before naming the next four. Memphis has a real chance to go undefeated into the NCAAs. Carolina just set a school record with seven straight 90-point games (keep that in mind every time you hear a coach say defense wins championships). Kansas is killing people. And UCLA had an impressive win over Washington State. Those are my four #1 seeds at this point.
As for All-Americans: I guess I can take the four freshmen listed above — Rose, Gordon, Beasley, and Love — and add Tyler Hansbrough to make five. I kinda think Chris Douglas-Roberts might be the best player at Memphis, though. I reserve the right to completely change my mind.
Filed to: D.J. White, Eric Gordon, Kelvin Sampson, Pat Forde