Andy Katz talks IU, Eric Gordon, Michigan State, Kelvin Sampson, Sanctions, Rob Senderoff and more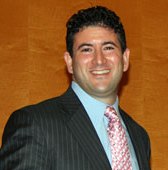 Andy Katz is a senior college basketball writer for ESPN.com. His "Daily Word" is a staple of ESPN.com's college hoops coverage. He is also an on-air reporter for the World Wide Leader's coverage of college basketball and the NBA draft. We recently caught up with him and got his take on the upcoming IU season, how Kelvin Sampson is perceived by his peers, Rob Senderoff's resignation and a few other topics. We thank Mr. Katz for his time.
Inside the Hall: With D.J White returning and the arrival of Eric Gordon, IU is back in the preseason top 10 for the first time since the 1994-1995 season. Is this team capable of a run to San Antonio and which player, White or Gordon, is the key to getting them there?
Andy Katz: Both. The Hoosiers need balance to make it to San Antonio. They haven't had those two working parts in concert in years. If the Hoosiers get an all-American season out of White and what should be a one-and-done stellar season out of Gordon then they will have the two most important pieces in place to make a run.
ITH: The preseason media poll penciled in Michigan State as the favorite to win the conference. Are the Spartans the team to beat in the Big Ten and if so, why?
Katz: The reason was experience. The Spartans return more overall experience and have the most important player to his team in the league in Drew Neitzel. Gordon may end up having just as good a statistical season but he's still a freshman versus a senior. It's hard to argue that point.
ITH: The self-imposed sanctions announced recently have dominated local headlines and have created chatter regarding Kelvin Sampson's future at Indiana. Is Sampson's job on the line and do you feel the NCAA could enforce additional penalties on the program?
Katz: Indiana has made it clear that it isn't going to fire Sampson. I don't know what the NCAA is going to do. So, we'll have to wait and see. If the NCAA adds anymore sanctions then that might change the administration's stance.
ITH: You wrote on your ESPN.com blog that Rob Senderoff "took one for the team" by stepping down from his assistant coach position. When these sanctions were originally announced, it seemed that Senderoff would keep his job with the understanding that his salary wouldn't increase and he'd be unable to recruit for a year. What changed between that time and Senderoff's resignation?
Katz: I'm not sure. I was surprised that Senderoff "voluntarily" resigned two weeks after the sanctions were announced. But it does take time to work out a severance agreement so I wouldn't be shocked to later learn this was in the works for a few weeks, even as early as when the sanctions were announced.
ITH: You're plugged in to a national coaching scene like few in sports journalism. Without naming names, how do coaches regard Sampson? Is there an overriding opinion of him?
Katz: I will repeat what I wrote: everyone like Sampson as a person, respects his coaching ability but a number of coaches, including his friends, are disappointed in this latest violation. The first one caused some concern but he was given a pass by most. But the second violation, the one dealing with the same issue, has caused a number of them to question Sampson.
ITH: Large media outlets — especially ESPN — are often criticized for breaking news that ends up incorrect or for claiming to break news that was actually broken by smaller entities. Do you ever hear that criticism and what steps do you take to A) verify your scoops (you have a lot of scoops) and B) make sure that proper credit is given across platforms?
Katz: I'm sorry but I totally disagree with your first point. I can't speak to reports of news that proved to be incorrect. My policy is simple: I want to be right first, not first and then maybe not right. I usually have at least two to three sources on any major story unless it is the sole person who the story involves. I have been beaten by some stories because I take more of a conservative approach. But I've also been right with a longer and more concise story on a few major issues after another outlet put the baseline story out before me but then had incorrect information.
ITH: You've been covering college basketball since 1990. You've been to Final Fours and have visited many of the most storied arena's in the country. Where is your favorite place to cover a game and what was, in your opinion, the best game you've ever covered?
Katz: Hmmm, I love going to Kansas, Florida, Oregon, Gonzaga, North Carolina, Duke, Kentucky and Maryland to name a few. The Palestra is also one of my favorite spots. I would say the Stanford win over Arizona on Nick Robinson's buzzer beater may be the most exciting game I've ever covered.
Filed to: Andy Katz, D.J. White, Drew Neitzel, Eric Gordon, Kelvin Sampson, Michigan State Spartans, NCAA Sanctions, Rob Senderoff