6-Banner Sunday: Indiana begins exhibition play today against Indianapolis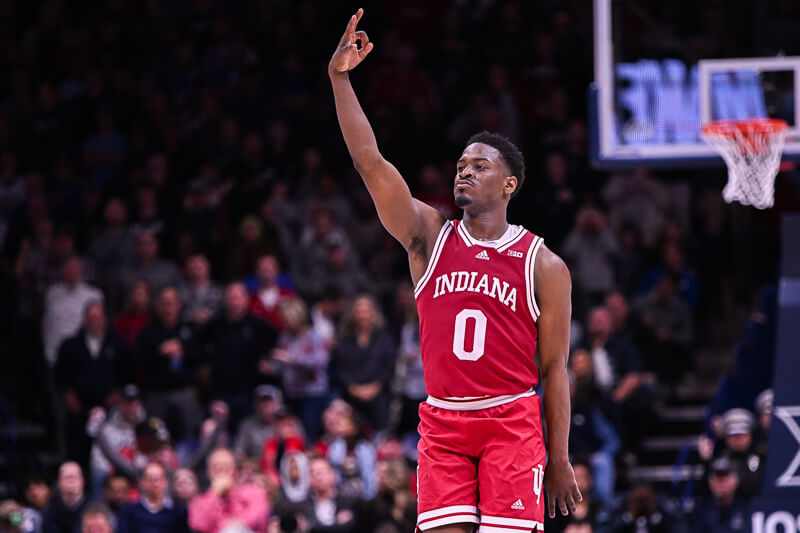 6-Banner Sunday is Inside the Hall's weekly newsletter in partnership with The Assembly Call. Almost 10,000 Indiana fans receive the newsletter each week. In addition to appearing each week on the site, you can receive 6-Banner Sunday by email. A form to subscribe via email is available at the bottom of this week's 6-Banner Sunday.
Welcome to another edition of 6-Banner Sunday, a joint production between The Assembly Call and Inside the Hall, and presented by our friends at Trueblood Real Estate, where we highlight the five most essential IU basketball stories of the past week, plus take a look at how the other IU sports programs are doing.
The 2023-2024 Indiana basketball season is unofficially here today. While the game will not count towards their record, it is the Hoosier's first chance to take the court against an opposing side this fall to see how they stack up.
Besides this, a recruiting update on a top target, IU players in the NBA, Inside the Hall's player preview series, and an unfortunate episode involving a current player. We will as usual conclude with a look at other Indiana sports led by women's soccer beginning the Big Ten Tournament today.
• Indiana hosts Indianapolis today for exhibition opener
• Hoosiers among final four schools for Derik Queen
• Seven former Hoosiers in the NBA
• Inside the Hall player previews
• Mackenzie Mgbako arrested for incident at Taco Bell
• Hoosier Roundup
IU men's basketball will play five games this season on the Peacock and the women will play seven, making the streaming service essential for IU basketball fans. Sign up for Peacock using Inside the Hall's link to help support the site and also enjoy Big Ten hoops all season long! (The link is an Inside the Hall affiliate link, so a commission will be paid to ITH if you click and subscribe to Peacock. We appreciate your support!)
Banner #1 – Indiana hosts Indianapolis today for exhibition opener
With the Hoosiers opening exhibition play against the University of Indianapolis, the day of competition that many Hoosier fans have waited for has come. With the game not counting towards the team's record, it gives IU coach Mike Woodson a chance to see how his squad of primarily new players looks. Woodson held a media availability this week before the contest. The matchup will be available to watch on BIG+. Also, AC Radio previewed it on Thursday night's show.
Now that the 2023-2024 season is imminent, several publications have related content. Starting big man and Oregon transfer Kel'el Ware figures to play a significant role in place of the departed Trayce Jackson-Davis. He was named a candidate for the Kareem Abdul-Jabbar Award, given to the nation's top center. Also, Joe Lunardi still has Indiana as a 10 seed in his latest bracketology and IU will honor former legend Bill Garrett at their true season opener against Florida Gulf Coast on Nov. 7.
The women's side begins exhibition play this week taking on Northwood at 7 pm Wednesday on BIG+ as star center Mackenzie Holmes was named an AP Preseason All-American. Podcast on the Brink was joined by Amanda Foster to preview the upcoming year. Doing The Work also had an episode this week and they looked ahead to what should be another title-contending season.
Finally, both basketball programs begin their radio shows tomorrow night, which will air most Mondays. The women will go first at 6:30 p.m. with head coach Teri Moren with Woodson to follow at 7:05 p.m.
Banner #2 – Hoosiers among final four schools for Derik Queen
Derik Queen, the last major recruiting target for Indiana this fall, made an announcement this week. While there were erroneous reports that he was going to announce his school choice on Friday, he did provide an update.
Instead of telling fans where he would play his college basketball, he gave the final four teams he is considering. Indiana made the cut. His Montverde Academy teammate and fellow five-star prospect Liam McNeely is already committed. McNeely is trying to bring Queen with him to Bloomington and has made it known publicly.
Banner #3 – Seven former Hoosiers in the NBA
While IU players of the present begin competition today, several Hoosiers of the past have already started their seasons in the NBA. Last year's Indiana stars Jalen Hood-Schifino and Trayce Jackson Davis are now in the league. They join the established O.G. Anunoby, Thomas Bryant, Eric Gordon, Victor Oladipo, and Cody Zeller. One name absent from the list after several years is Romeo Langford. Langford is currently a free agent after being waived following training camp.
Banner #4 – Inside the Hall player previews
Inside the Hall continued its series breaking down every IU player in detail. Trey Galloway, Xavier Johnson, Anthony Leal, Payton Sparks, and Anthony Walker were looked at this week.
Banner #5 – Mackenzie Mgbako arrested for incident at Taco Bell
Shortly after 6-Banner went to publication last week, an incident involving an IU player occurred. While Indiana coach Mike Woodson announced there would not be a suspension, top freshman Mackenzie Mgbako had a run-in with the law at a local Taco Bell. According to the police report, Mgbako refused to leave the property after being denied service for cursing at employees. This eventually resulted in an arrest with him posting bail shortly after.
The resisting arrest charge was dropped. However, Mgbako was charged with a Class A misdemeanor for criminal trespass.
Banner #6 – Hoosier Roundup
• Women's soccer won their regular season finale against Maryland and will head to their first Big Ten Tourney in several seasons at Penn State. Due to this season's success, they continue to be ranked in the polls and had the conference goalkeeper of the year, among other awards.
• Men's soccer lost a critical match to Northwestern, putting their league championship and NCAA prospects in peril. They will face Rutgers today in the season finale as a Big Ten championship is still possible with some assistance from others. They also beat DIII Trine on Friday in a match that counts towards their record but not postseason competition. Finally, nine former players are in the MLS playoffs.
• Football gave Penn State a far bigger battle than expected and had a chance late with a tie game. However, they gave up a winning touchdown in the final minutes of a 33-24 defeat.
• Swimming and diving took out Auburn and Missouri. They also have a top-30 women of the year candidate and a former program great passed away.
• Women's golf finished a solid third at the Alley Invitational.
• Volleyball lost their first toss-up match of the conference season by falling in five sets to Illinois.
• Field hockey lost to both Maryland and Penn State.
• Cross Country struggled at the Big Ten Championships on Friday.
• Four men's golfers competed at the Cardinal Individual.
• Women's tennis competed at the exhibition ITA Ohio Valley Regional Tournament. They withdrew from this week's exhibition at the TCU Invite.
• Wrestling had an intrasquad match and also one of their athletes will compete at the U23 World Championships.
• Baseball will celebrate their 2013 College World Series team next weekend.
• Track and field has one of their long jumpers going to the Pan American Games.
Thanks for your continued support for The Assembly Call and Inside the Hall. We'll be back next weekend with a new roundup.
Now go enjoy yourself a 6-banner Sunday.
Aaron (Ari) Shifron
Assembly Call Contributor
Filed to: