6-Banner Sunday: Indiana dominates Marian in exhibition opener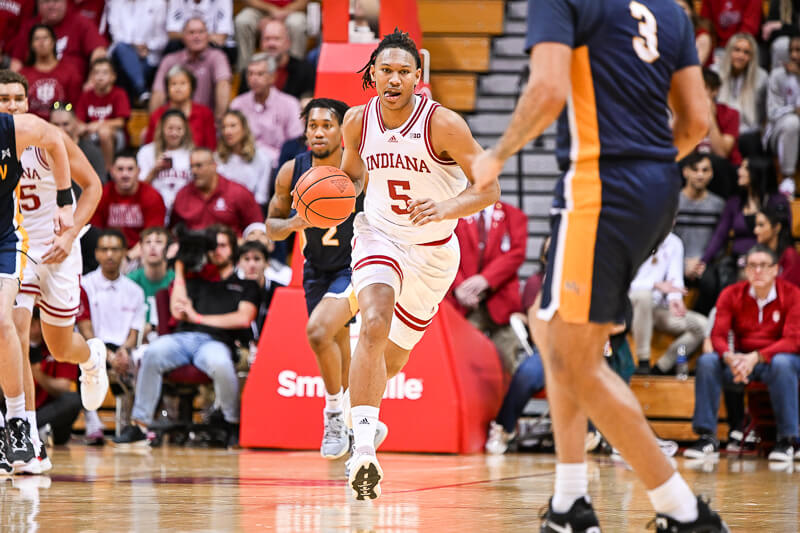 6-Banner Sunday is Inside the Hall's weekly newsletter in partnership with The Assembly Call. More than 9,000 Indiana fans receive the newsletter each week. In addition to appearing each week on the site, you can also opt to receive 6-Banner Sunday by email. A form to subscribe via email is available at the bottom of this week's 6-Banner Sunday.
Welcome to another edition of 6-Banner Sunday, a joint production between The Assembly Call and Inside the Hall where we highlight the five most essential IU basketball stories of the past week, plus take a look at how the other IU sports programs are doing.
The season is now unofficially underway with the Hoosiers crushing Marian in its first exhibition game. With two key players missing, it let some of IU's young guys shine.
This week, more preseason rankings painted an optimistic picture for the upcoming campaign, and the Hoosiers' star forward received more recognition. Also, the coach's radio shows are set to debut, Inside the Hall continued to preview players, and Podcast on the Brink and AC Radio had new episodes this week.
We will as usual conclude with a look at how other IU sports are doing.
• IU rolls past Marian in an exhibition game
• More preseason rankings and awards
• Mike Woodson and Teri Moren's radio shows to begin Monday
• Inside the Hall's player preview series
• Podcast on the Brink and AC Radio
• Hoosier roundup
Banner #1 – IU rolls past Marian in an exhibition game
While it's hard to learn too much in a game that does not count against an NAIA school, there were nonetheless some encouraging signs for the Hoosiers in their 78-42 exhibition game massacre of the Marian Knights.
With Trayce Jackson-Davis and Tamar Bates sidelined with minor injuries, it allowed IU's two five-star freshmen Jalen Hood-Schifino and Malik Reneau to shine. Other positives included Race Thompson showing an improved three-point shot and Logan Duncomb looking like he has made major strides in the offseason.
Afterward, both Indiana coach Mike Woodson and Marian coach Scott Heady spoke. Also, Inside the Hall had a photo gallery, Ryan Corazza wrote his minute after, William McDermott penned a column on the standout newcomers, and Amanda Foster looked at Jackson-Davis' absence not meaning much in a contest like this.
Banner #2 – More preseason rankings and awards
More preseason rankings continued to emerge that place the Hoosiers as the best team in the Big Ten and one of the better ones in the country. The official USA Today coaches poll was revealed and slots IU at No. 14 as the highest-ranked team in the conference. Inside the Hall had a roundup of where Indiana stands in various prognostications heading into the year and the vast majority picked IU to win the league.
One of the main reasons for the hype is the expectations for star forward Trayce Jackson-Davis. While he missed Saturday's exhibition game with what appears to be a minor injury, once he returns to the court he is expected to be among the best players in the nation. The standout senior was named a first-team All-American by the Associated Press. He was also placed on the preseason Karl Malone Award watch list which is given to the top power forward in college basketball each season.
Banner #3 – Mike Woodson and Teri Moren's radio shows to begin Monday
Starting tomorrow, both IU basketball coaches will have their radio shows throughout the season on most Mondays with legendary broadcaster Don Fischer.
The program will air live from Southern Stone Restaurant and begin with women's coach Teri Moren at 6:30 pm. Following this, Mike Woodson will go on at 7:05 pm. The show will also be on both team's Facebook pages as well as WHCC 105.1 FM in Bloomington and the statewide IU Radio Network
Banner #4 – Inside the Hall's player preview series
Inside the Hall continued its series looking at each IU player individually heading into the season. This week, Trey Galloway, Jordan Geronimo, Trayce Jackson-Davis, Xavier Johnson, and Miller Kopp were looked at in detail.
Banner #5 – Podcast on the Brink and AC Radio
With the season unofficially underway now, both Podcast on the Brink and Assembly Call Radio debuted new episodes. POTB previewed IU's exhibition game with Marian earlier this week with the Indianapolis Star's Tyler Tachman.
Meanwhile, Assembly Call had AC Radio and did its annual over-under episode in anticipation of the season starting. Finally, the Inside Scoop with Tamar Bates is back for a second season and a postgame show was done following the contest with the Knights.
On the women's side, Doing The Work had special guest Kyle Huesmann on to discuss the Big Ten favorite Iowa Hawkeyes who are picked to finish just ahead of the Hoosiers in conference play. Doing The Work now has its own podcast feed and Twitter account as Inside The Hall and Assembly Call continue to increase coverage of the team.
Banner #6 – Hoosier roundup
• Volleyball continued to be red hot as they knocked off Michigan State and Rutgers to improve to 6-5 in the conference and are on a four-game winning streak. They have now tied for the second most Big Ten wins they have had in the last 12 years with nine matches still left.
• Men's Golf continued to have a standout individual as Drew Salyers won his second straight tournament and was named Big Ten Golfer of the Week.
• Men's Soccer had a disappointing tie with a middle-of-the-road Evansville team before using backups to route DIII Trine. The team will play Maryland today in their regular season finale with a shot at the Big Ten Title in their biggest match so far this year.
• Swimming and Diving knocked off Missouri in their home opener and won four weekly conference awards.
• Women's Soccer closed out their struggling season on a positive note with a 1-0 win over Michigan. They also had a couple of athletes receive postseason conference awards.
• Field Hockey closed the season with a win over Ohio to stop a long losing streak before falling to an elite Northwestern team in their finale.
• Cross Country competed at the Big Ten Championship.
• Women's Golf played in their final fall tournament of 2022.
• Women's Tennis competed at the ITA Ohio Valley Regionals.
• Women's Basketball unveiled their newly renovated locker room and were slotted 11th in the preseason Coaches Poll.
• Football was on a bye week. However, they announced their game this Saturday against Penn State will kick at 3:30 pm on ABC as well as their entire 2023 schedule.
• Water Polo released its 2023 winter schedule.
• Men's Tennis announced a couple of updates to their schedule.
• Wrestling announced an Alumni match next month and had their annual Wrestle-Offs.
Thanks for your continued support for The Assembly Call and Inside the Hall. We'll be back next weekend with a new roundup.
Now go enjoy yourself a 6-banner Sunday.
Aaron (Ari) Shifron
Assembly Call Contributor
Filed to: