Trayce Jackson-Davis didn't play against Marian, and Indiana didn't need him to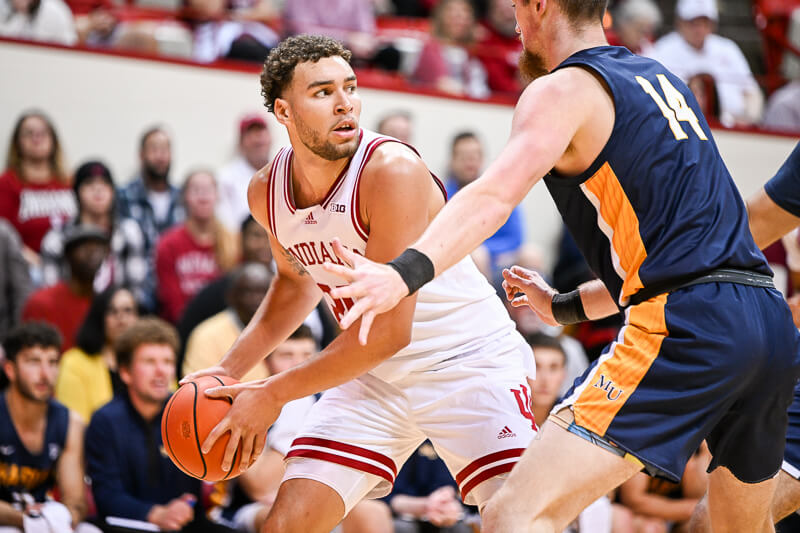 The stakes were low Saturday afternoon. An exhibition game against an NAIA school was always really just meant to be a chance for the Hoosiers to try out different combinations of players and get a feel for how things gelled on the floor.
Indiana did that against Marian University, putting up 78 points to Marian's 42, with 11 Hoosiers seeing the court.
All 11 played well and contributed to the win. And yet, Indiana could have had 13 meaningful contributors.
Just before tipoff, news broke that All-American Trayce Jackson-Davis, as well as Tamar Bates, would be inactive for precautionary reasons. Jackson-Davis was wearing a brace on his right hand, and Bates' injury is unknown, but he was reportedly sidelined at practices earlier in the week.
But Mike Woodson and the Hoosiers knew this was coming, and they were prepared.
"I knew that they weren't going to play today when I got to practice (on Friday)," Woodson said. "So you just go to plan B. It's next guy up, that's kind of how I look at it. I can't wait on guys."
When you don't have to wait on a guy who has been named to almost every watch list and who was named preseason Big Ten player of the year, that means you've got some talent — and depth.
The way Indiana's team is structured this year, there are many players primed to step up when they're called upon. A wealth of talent extends just beyond the five starters, and that was made clear on Saturday, even if it was just an exhibition game.
Logan Duncomb, who only scored six points his freshman season, surpassed that mark on Saturday with ease. The center, who was consistently praised in preseason media availabilities for the work he put in over the summer in gaining weight and becoming more assertive around the rim, finally got to show off.
Duncomb came in off the bench and saw significant minutes in the game, finishing with 11 points and 11 rebounds for one of two Hoosier double-doubles. He was dominant under the basket, using his height and reach to knock the ball away from Marian defenders and send in easy layups.
"It's super rewarding because I felt like I put in a lot more effort this year, over the summer, trying to get better to be able to go out there and play and contribute," Duncomb said. "I had a giant smile on my face after the game."
At IU's media day, Jackson-Davis pointed to Duncomb as a player set up for a big season, and if his performance against Marian is any indication, Duncomb will be competitive for minutes off the bench.
Alongside questions about performances off the bench, the looming question that could determine how successful Indiana is this season is the team's shooting beyond the arc.
With the loss of Parker Stewart, Indiana's leading 3-point shooter, many looked to Miller Kopp as the one with the potential to fill that role. While that may come to be, it wasn't the case on Saturday.
Instead, living up to his title as the "ultimate glue guy", Race Thompson stepped up.
Thompson started, to no one's surprise, and looked like his normal self at the beginning of the game. He made two free throws and usually found himself close to the basket on both ends of the court. However, his final stat line of 13 points and six rebounds isn't because he did what he has in the past.
The redshirt senior, who didn't make more than two three-pointers in a game last season, shot 3-of-4 from beyond the arc in the first half. Thompson's first three shots found just about nothing but net, and each time his face remained impassive, as if to say, "Of course I can do this".
In short, Duncomb wasn't the only one smiling after the game.
"When I came in, I was told he couldn't shoot threes, you didn't want him shooting there, you didn't want him handling the basketball," Woodson said. "He's a basketball player now. It's kind of nice."
As a team, the Hoosiers shot 42.1 percent from beyond the arc and 51.6 overall, largely thanks to Thompson, Duncomb and Indiana's freshmen.
Malik Reneau and Jalen Hood-Schifino did exactly what they were expected to — dominate — and CJ Gunn and Kaleb Banks played significant minutes and looked very comfortable on the floor.
There aren't many big takeaways from an exhibition game in October, especially when a team that's ranked 13th in the nation goes up against an NAIA team, no matter how talented that NAIA team is.
One thing seemed clear, though.
Indiana played well, played fast, played strong, and won easily without its star. When Jackson-Davis returns, he'll come out strong and be the force of nature he's been in previous seasons. But when he has to go to the bench, it looks like the Hoosiers have the depth to be just fine.
Filed to: Marian University Knights