Jalen Hood-Schifino and Malik Reneau show their potential in win over Marian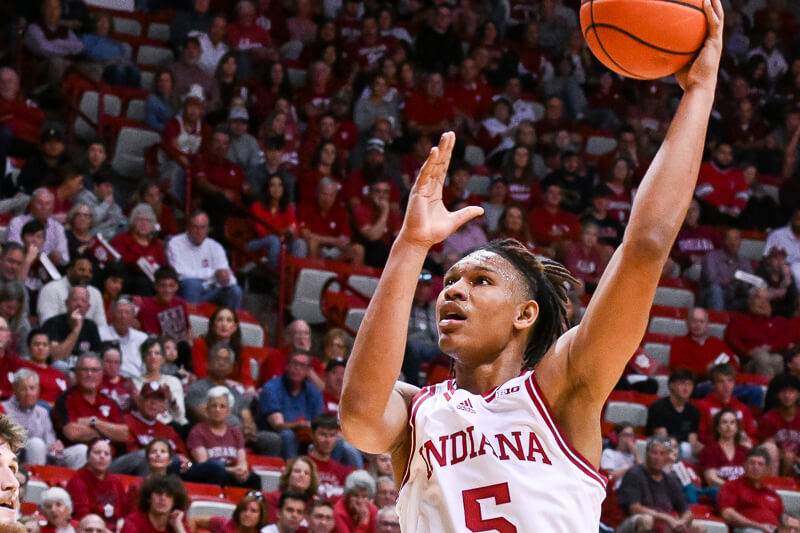 A hug was all it took to get Malik Reneau to come to Indiana.
After Montverde Academy won the GEICO national championship in April, an emotional Reneau clutched teammate Jalen Hood-Schifino and hoisted the trophy together.
"Me and Jalen have been through a lot… after GEICO when we won, we came in and we hugged each other, that's when I knew I was coming to Indiana. I never told him that," Reneau said with a shake in his voice at IU's media day. "Just knowing that I've got my brother next to me was a big factor."
After winning big in high school, Reneau and Hood-Schifino started their first career college game together in Indiana's 78-42 exhibition victory over Marian University on Saturday. The two freshmen flashed talent, chemistry and energy while on the court.
Reneau and Hood-Schifino worked excellently in the pick-and-roll together. Hood-Schifino controlled the game when he was at the point, while hitting some tough mid-range jumpers. Reneau went coast to coast for a lay-up with excellent footwork. And Reneau drew a charge. All of this came in the first half.
In the first 20 minutes of play, Reneau had 12 points and seven rebounds while shooting 6-of-8 from the floor. The Miami (FL) native finished with a team-high 14 points and 11 rebounds after only playing five second-half minutes against the Knights.
The most impressive part of it all? Reneau and Hood-Schifino didn't seem to have the usual freshman up and downs in their first start.
Physically, Reneau sets himself apart by standing at 6-foot-9 and weighing in at 233 pounds. There are not many freshmen with his skillset across the country. His size, along with quick feet and solid ball-handling skills, makes him a threat from anywhere on the court.
Reneau's ability to make an instant impact gives Indiana a good problem to have: a loaded depth chart up front. Jordan Geronimo and Logan Duncomb, who notched a double-double this afternoon, also enter the season with high expectations.
"Malik, I thought tonight was fantastic. He did a lot of good things defensively, rebounding the ball and we know he can score the ball," Mike Woodson said postgame.
As for Hood-Schifino, he looked calm and collected bringing the ball up the floor and controlling the offense when playing point guard.
The Pittsburgh native finished with 11 points, which included a sweet-looking turnaround jumper from the foul line while being fouled, to go along with four assists.
"He plays like a vet a little bit. He plays at great pace, he knows when to take good shots, he knows when to pass the ball and he passes the ball really well," Geronimo said postgame. "He plays like he's been in college for a while."
The 6-foot-6 guard sped up Indiana's offense. There weren't moments like last season where guys were standing around waiting for the ball as a one-dimensional offense was a big problem for the Hoosiers. That wasn't the case on Saturday.
Montverde is one of the premier prep schools in high school basketball. Kevin Boyle has led the Montverde program since 2011 and has coached NBA stars like Joel Embiid, Ben Simmons, RJ Barrett, Scottie Barnes and D'Angelo Russell.
Woodson credited the preparation both players received at Montverde in his postgame comments on Saturday.
"I look at Jalen and Malik, they came out of a system in Montverde where that coach is a damn good coach," Woodson said. "He pushes guys to play hard and do the right things at both ends of the floor, so I think the transition for them coming in, especially for Jalen, has been easy for him."
The transition for most freshmen to the Big Ten is a difficult task, and it takes months. Reneau and Hood-Schifino didn't look like freshmen on Saturday. Both will have those moments where they do look like newcomers, but they will have an immediate impact on Indiana's roster this winter.
Filed to: Jalen Hood-Schifino, Malik Reneau