6-Banner Sunday: Fife out as IU assistant, four players enter transfer portal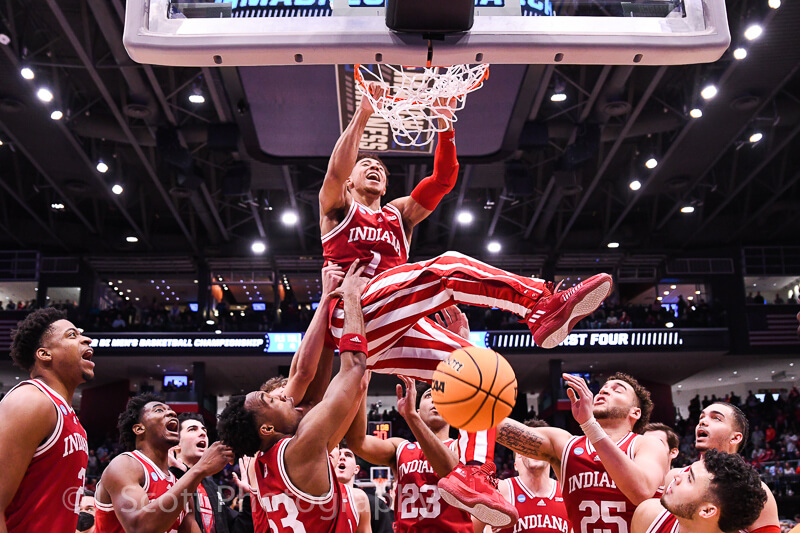 6-Banner Sunday is Inside the Hall's weekly newsletter in partnership with The Assembly Call. More than 9,000 Indiana fans receive the newsletter each week. In addition to appearing each week on the site, you can also opt to receive 6-Banner Sunday by email. A form to subscribe via email is available at the bottom of this week's 6-Banner Sunday.
Welcome to another edition of 6-Banner Sunday, a joint production between The Assembly Call and Inside the Hall where we highlight the five most essential IU basketball stories of the past week, plus take a look at how the other IU sports programs are doing.
The offseason is here now which means changes to the team. A shake-up to the coaching staff and several players announcing their departure from IU were the highlights of what went down in Hoosier basketball this week. In other news a former IU player gets his first shot as a head coach and Adidas will try to help athletes profit from their Name, Image, and Likeness. We will as always conclude 6-Banner with a look at how other IU sports are doing which included another successful women's basketball season coming to an end.
In a piece of brief news Grace Ybarra had a feature on Jordan Geronimo who figures to be a big part of the team moving forward should he stay with the program.
• Dane Fife out as assistant coach, Brian Walsh promoted
• Four IU players enter transfer portal
• Former IU guard lands head coaching job at Ball State
• Assembly Call Radio and Podcast on the Brink
• Adidas launches NIL initiative
• Hoosier Roundup
Banner #1 – Dane Fife out as assistant coach, Brian Walsh promoted
There have been rumblings for a while about dissent between head coach Mike Woodson and assistant coach Dane Fife. The potential issues between them would appear to be true as it was announced this week Fife was departing the staff. Both Woodson and Fife put out statements announcing the split.
In Fife's place, current director of basketball operations Brian Walsh was named to the staff as an assistant coach. Meanwhile, both Kenya Hunter and Yasir Rosemond were elevated from assistant head coaches to associate head coaches.
Banner #2 – Four IU players enter transfer portal
Fife was not the only member of the team or coaching staff Hoosier fans found out will not be back next season. Khristian Lander, Michael Durr, Parker Stewart, and Rob Phinisee all announced they were putting their names in the transfer portal or not returning to the team next season.
With three new freshmen coming in this puts IU at 12 scholarships for next season at the moment. As a result, they have space for one more player to come on board either through the transfer portal or the late signing period. That number could be even more if anyone else announces they are leaving.
Banner #3 – Former IU guard lands head coaching job at Ball State
After several stints as an assistant, former IU player Michael Lewis will finally get his shot to be a head coach. To make the story even more local the Jasper, Indiana native will get his first shot within the Hoosier state.
While he will not be coaching IU, he will instead go about 100 miles north to Muncie with the Ball State Cardinals where he will look to turn around a struggling program.
Banner #4 – Assembly Call Radio and Podcast on the Brink
Both Podcast On The Brink and Assembly Call Radio had episodes to wrap up the season this week.
POTB had Assembly Call's lead man Jerod Morris on to discuss Mike Woodson's first season and look ahead to the offseason. Meanwhile, AC Radio moved to Wednesday this week and talked about Dane Fife's firing as well as looked at IU women's matchup against UConn. Speaking of the women's team, the Doing The Work Postgame had shows following the NCAA tournament games against Princeton and Connecticut.
Banner #5 – Adidas launches NIL initiative
As Name, Image, and Likeness continues to expand in college sports, Adidas announced they are joining the fray to give its member schools opportunities with it.
Banner #6 – Hoosier Roundup
• Women's Basketball had a thrilling win against Princeton in their home finale before a huge crowd of nearly 10,000 in the second round of the NCAA tournament. They then were overwhelmed by an elite UConn team in their second straight Sweet 16 Saturday. I had a column after both games with the Princeton one needing a subscription and the UConn one being a special free addition.
• Football officially introduced Adam Henry as their new wide receiver coach.
• Softball had a solid week to continue their strong start to the season. They knocked off San Diego before splitting a doubleheader with Ohio State. They then fell in the series finale as well to the Buckeyes.
• Baseball saw their pitching struggles continue with high-scoring games as they split a doubleheader with Xavier before falling to Evansville.
• Women's Swimming And Diving finished 11th at the National Championships.
• Men's Swimming and Diving finished fifth at the National Championships.
• Rowing competed at the Oak Ridge Invite.
• Track and Field competed at the Raleigh Relays.
• Water Polo fell to Cal before winning a pair of games yesterday.
• Women's Tennis beat Iowa.
• Men's Tennis lost to Vanderbilt and arch-rival Purdue.
• 70 Hoosiers across multiple sports received Big Ten Academic Honors.
Thanks for your continued support for The Assembly Call and Inside the Hall. We'll be back next weekend with a new roundup.
Now go enjoy yourself a 6-banner Sunday.
Aaron (Ari) Shifron
Assembly Call Contributor
Filed to: