'He's a freak': Jordan Geronimo establishes himself as key part of Indiana's future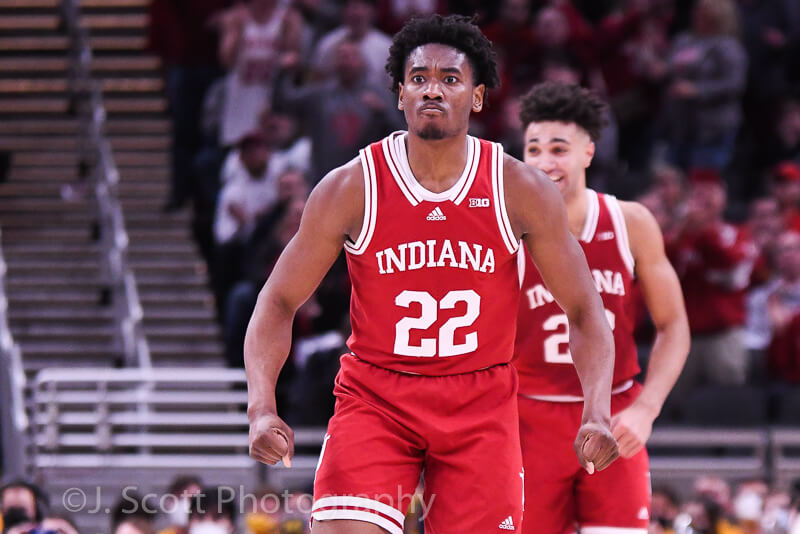 Jordan Geronimo sat behind the NCAA microphone giddy. To his left, Mike Woodson was praising his 15-point-seven-rebound performance in a First Four win against Wyoming.
He barely tried to play it cool. Geronimo's emotions have been on display throughout his two seasons at Indiana. He wasn't going to hold back his smile now.
"I found another player tonight off the bench and that was Geronimo who gave us a major, major lift," Woodson said.
It was his first game back after going down with an injury against Illinois on March 11 in the Big Ten tournament. He was only out one game, but it looked like he hadn't missed a beat against Wyoming — slamming down three put-back dunks.
Two days later, he sat up behind the NCAA microphone again. This time it was after Indiana suffered its worst-ever NCAA tournament loss to St. Mary's. There was no shot of him flashing a smile. He sat there expressionless with sadness behind his eyes.
It's hard to find anything to smile about after a demoralizing 29-point loss. But a brutal end to a season doesn't take away from five months filled with moments Geronimo can be proud of.
After scoring 31 points in postseason play, Indiana fans will be seeing much more of that smile moving forward. The progress he needed to show coming into his sophomore season arrived.
Geronimo is a player who seldom spoke to the media throughout the regular season. But there he was behind the mic in two back-to-back national press conferences.
He was playing his best basketball when Indiana needed it most.
Geronimo was just asked one question after the loss to St. Mary's. It wasn't about the game, but instead the future — how he was going to use this experience in March going forward as his role could increase with the potential departures of Race Thompson and Trayce Jackson-Davis.
"I just gained a lot of confidence in myself," Geronimo said, "knowing that I'm able to provide to help my team win."
Season ended a little too early but nonetheless it was a great season. So proud of my team and happy to break barriers with my brothers. Now the real work starts!! #GBG #Offseason ???

— Jordan Geronimo (@JordanGeronimo2) March 18, 2022
Foreshadowing what's next for Geronimo
This level of play by Geronimo isn't new — he showed flashes of it last season as a freshman.
Most notably, Geronimo gave Indiana fans a look at his potential in just his 10th game as a Hoosier. It was in Iowa City when Indiana upset No. 4 Iowa on Jan. 21, 2021.
Jackson-Davis and Thompson found themselves in early foul trouble, so Archie Miller looked to Geronimo to control Luka Garza.
Geronimo helped hold the All-American to 10-of-22 shooting while adding seven of his own points — a point shy of his season-high.
His stat line was impressive for a freshman who played 10 minutes off the bench, but his explosiveness and energy is what the performance was remembered for.
One of the pictures on Geronimo's page on the team website depicts it perfectly. It shows Geronimo a whole body above Garza, slamming the ball down at Iowa.
He carried that into the offseason. He gave people a look at what was to come in the Bahamas where he came in off the bench and averaged 5.5 points and 8.5 rebounds over two games against BC Mega last August.
Geronimo said his goal over the summer was consistency. He wanted to be in the gym every day, regardless of what he was working to improve.
"If it was free throws that day or getting shots up or working on my dribbling — whatever it is, just trying to be consistent because it goes a long way," Geronimo said.
He worked on his consistency off the floor as well. Strength coach Clif Marshall tweeted in August 2021 that Geronimo had gained 22 pounds in the last year.
Geronimo works out with trainer Isaac Green every time he's in the gym. Green keeps him motivated, telling him to go hard every single time, Geronimo says. So, he keeps at it.
"This program is really good at building their players up," Geronimo said. "I just used what I had."
He's an energy guy and his athleticism doesn't hurt
Geronimo has a pure athleticism people have compared to the likes of OG Anunoby. When NBA scouts ask Indiana strength coach Clif Marshall for a players' measurements, wingspan in relation to height is the first thing he mentions. Geronimo is 6-foot-6-inches tall with a 7-foot-1-inch wingspan, Marshall shared in a tweet prior to Geronimo's freshman season in 2020.
"Genetics win," Marshall wrote.
Geronimo's athleticism also shines with his vertical leaping ability. Jackson-Davis said sometimes when he goes to get rebounds, he finds Geronimo already above him.
"You're a freak," Jackson-Davis tells him.
"Some of the things he does are just out of this world," Jackson-Davis added.
Less than a week after missing a game due to knee an injury, Geronimo was back to hounding the glass and jumping over everyone for put-back dunks against Wyoming. It's just what he does.
"It does a lot for me. It gives me a lot of energy," Geronimo said. "A tip dunk is an energy play."
They are plays that drop jaws, but it's not anything new for his teammates.
"He's an energy guy. He's going to go rebound. He's going to go get things at the top of the backboard and dunk it hard," Jackson-Davis said after their win over Wyoming. "Without him we probably would have lost that game."
Geronimo's energy was on full display against Maryland on Feb. 24. Race Thompson's free throw bounced off the rim and Geronimo couldn't grasp the ball, so he slapped it. The ball bounced off the court, back up above the rim and down through the net. He was credited with both a rebound and two points.
When he was asked to explain what happened the next day, he said he was just making a "Geronimo play." That's what his coaches tell him to do. If he can't get the ball, he uses his athleticism to alter its direction.
That bounced basket was his sixth offensive board off a free throw. "Geronimo plays" became the norm down the stretch into the postseason for the Hoosiers.
He cares, a lot
Just as Geronimo doesn't hide his joy, his disappointment is on full display, too.
He was still prone to simple mistakes as a sophomore. But after he throws the ball away or gives up a foul, it's clear he takes it to heart.
When he's done being upset with himself, he works to immediately make up for it.
In that same Maryland game, Geronimo turned the ball over and was clearly frustrated with himself. On the other end, he redeemed himself by forcing a turnover.
In Indiana's 17-point win over Penn State on Jan. 26, Geronimo blew a defensive assignment and Woodson let him hear it during the timeout. Woodson told him to sit down and tears welled in Geronimo's eyes while Anthony Leal consoled him.
It was far from a costly mistake in a tight game. It was a teachable moment. But Geronimo couldn't hide how upset he was.
Or how much he cares.
Filed to: Jordan Geronimo