6-Banner Sunday: Indiana set to tip off regular season this week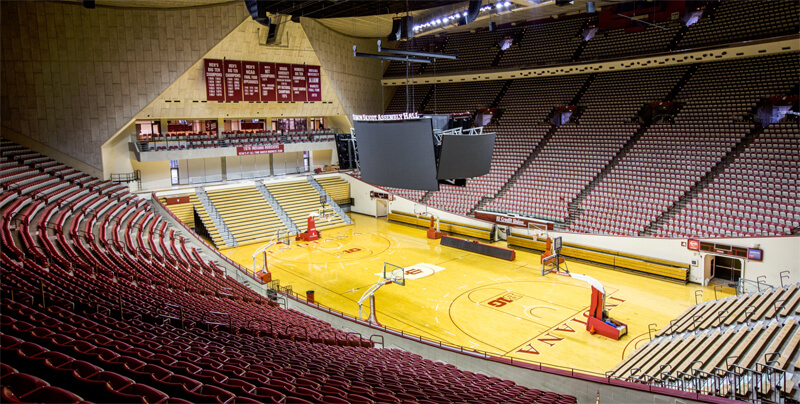 6-Banner Sunday is Inside the Hall's weekly newsletter in partnership with The Assembly Call. More than 8,000 Indiana fans receive the newsletter each week. In addition to appearing each week on the site, you can also opt to receive 6-Banner Sunday by email. A form to subscribe via email is available at the bottom of this week's 6-Banner Sunday.
Welcome to another edition of 6-Banner Sunday, a joint production between The Assembly Call and Inside the Hall where we highlight the five most essential IU basketball stories of the past week, plus take a look at how the other IU sports programs are doing.
While the season will finally begin this week against Eastern Michigan on Tuesday (6 p.m. ET on BTN), the Hoosiers received some not-so-good news on the recruiting trail when it came to their top remaining 2022 prospect. In more positive items, Inside The Hall continued its player previews and Andy Bottoms put out Bracketology.
Also, several new podcasts were posted and more preseason awards came out with a few Hoosiers included. As usual, we will conclude our 6-Banner with a look at other IU sports.
In a brief piece of recruiting news, 2023 point guard Gabe Cupps included the Hoosiers in his final three schools. Also, the weekly Inside Indiana Basketball Show with Mike Woodson begins on Monday, as does Teri Moren's show on the women's side.
• Clowney commits to Alabama
• Inside The Hall player previews
• Andy Bottoms' bracketology
• Weekly podcasts
• More preseason awards and rankings
• Hoosier Roundup
Banner #1 – Clowney commits to Alabama
While the Hoosiers were hoping for a treat on the day after Halloween, they got tricked instead when top remaining recruiting target Noah Clowney committed to Alabama over IU. As a result, the 2022 class for the Hoosiers remains at three with Jalen Hood-Schifino (No. 20 according to the 247sports composite rankings), Kaleb Banks (No. 82 according to the 247sports composite rankings), and CJ Gunn (No. 152 according to the 247sports composite rankings).
The class as a whole is ranked No. 15 in the nation per 247sports and IU may look to add more players in the spring via a late commitment or the transfer portal.
Banner #2 – Inside The Hall player previews
Inside The Hall continued its player previews in anticipation of the season starting on Tuesday. This week the site reviewed Michael Durr, Miller Kopp, Xavier Johnson, Parker Stewart, and Robb Phinisee.
Banner #3 – Andy Bottoms' bracketology
The player series was not the only item to preview the upcoming season this week. Assembly Call's resident bracketologist Andy Bottoms did a rundown of how he sees the seedings being for the NCAA Tournament next March.
He started with the 13-16 seeds, before continuing with the 9-12, 5-8, and finishing with 1-4.
Bottoms has IU as an 8 seed at the moment. Also, making it from the Big Ten are Rutgers (11 seed), Michigan State (7 seed), Maryland (5 seed), Ohio State (4 seed), Illinois (3 seed), Purdue (2 seed), and Michigan (1 seed).
Banner #4 – Weekly podcasts
Several podcasts were recorded this week from both Inside The Hall and Assembly Call.
Podcast On The Brink from Inside The Hall featured a season preview with site writer Tyler Tachman. Meanwhile, Assembly Call had both their normal weekly radio show as well as the latest episode in the Tamar Bates series.
Banner #5 – More preseason awards and rankings
The final indicator this week that the season is imminent is the release of several more preseason rankings and awards from various sites.
First off Trayce Jackson-Davis made a couple more watch lists. This time it was the NABC Division I Player of the Year list and the Sporting News' All-American Second Team.
Jackson-Davis was not the only player to receive accolades, as both Tamar Bates and Xavier Johnson were named to Jeff Borzello's Impact Newcomer List. Bates came in 65th while Johnson was 89th.
Sports Illustrated did a preview of all 358 Division I teams and IU came in 19th according to them which was good for fifth in the Big Ten.
Banner #6 – Hoosier Roundup
Football's postseason bowl hopes officially ended yesterday with a loss to Michigan, while soccer's Big Ten title pursuit was stopped by Maryland last weekend. In more positive news, women's basketball lived up to their top 10 ranking by pounding the University of Indianapolis in an exhibition game.
• Women's Basketball dominated the University of Indianapolis in an exhibition contest. This was after being given their highest ranking ever of seventh in the USA Today/WBCA Coaches Poll.
• Football's chance at a third consecutive bowl game was stopped when they fell to Michigan. Also, running back Davion Ervin-Poindexter was named a nominee for the Burlsworth Trophy.
• Soccer's attempt at a fourth straight regular-season conference title was ended by Maryland. The team begins the Big Ten Tournament today against Rutgers as they look for a fourth consecutive title in that and try to secure a first-round bye in the NCAA Tournament. Despite not obtaining the regular-season championship, IU had eight players receive All-Big Ten Awards, led by Roman Celentano being named Goalkeeper of the Year for the second straight season.
• Volleyball lost to Iowa.
• Cross Country ran at the Hoosier Invitational in their final home meet of the season.
• Women's Tennis competed in the Alabama Classic.
• Field Hockey was the latest sport to have their 2021 season end as they fell to Northwestern in their regular-season finale before bowing out to Rutgers in the first round of the Big Ten Tournament. They did have a couple of players earn awards though for their play this season.
• Softball had their Associate Coach inducted into the Kentucky Athletics Hall of Fame.
• Women's Golf will have a player represent Ireland in an upcoming international golf championship.
• Swimming and Diving had a couple of athletes receive Big Ten awards for their performance last weekend.
Thanks for your continued support for The Assembly Call and Inside the Hall. We'll be back next weekend with a new roundup.
Now go enjoy yourself a 6-banner Sunday.
Aaron (Ari) Shifron
Assembly Call Contributor
Filed to: