2021-22 Preseason Bracketology: 1-4 Seeds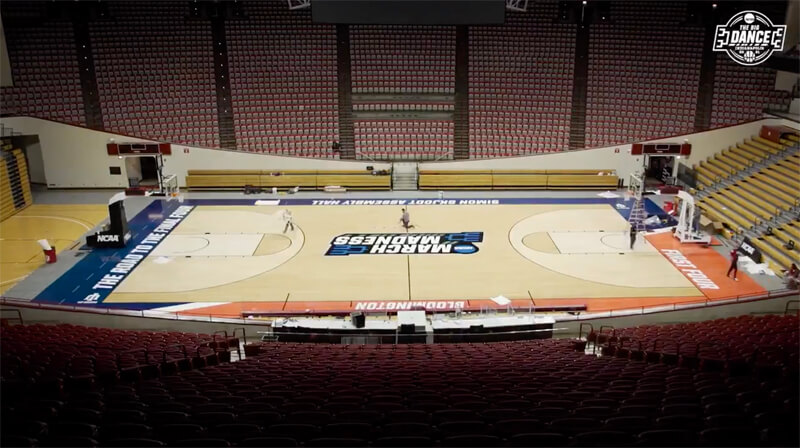 Here are the final sixteen teams in my preseason field. The Big Ten leads the way with four teams on the protected seed lines, while the Big 12 has three. On Monday, I'll put together the bracket and share a few quick thoughts on the teams that just missed the cut.
(Previously: 13-16 Seeds, 9-12 Seeds, and 5-8 Seeds)
4 Seeds
Memphis – Penny Hardaway is still looking for his first NCAA tournament appearance as he enters his fourth season at the helm, and on paper this year's team looks poised to break that streak. The Tigers played great basketball over the latter half of the 2020-21 season, losing just twice in February and March (both times to Houston) by a total of five points. They finished the season ranked first in adjusted defensive efficiency and won the NIT to cap things off. Four key players return from that team, led by former transfers Landers Nolley (13.1 ppg) and DeAndre Williams (11.7 ppg, 5.8 rpg) along with sharpshooter Lester Quinones (9.5 ppg). Memphis rocketed up the offseason rankings with the addition of a pair of five-star players who opted to reclassify, Emoni Bates and Jalen Duren. Transfers Earl Timberlake (Miami, FL) and Chandler Lawson (Oregon) will provide additional depth for the Tigers. Turnovers have been a huge issue throughout Hardaway's tenure, but if he can get the team to improve in that area while getting the freshmen to buy in defensively, Memphis could wind up much higher on the final seed list.
Houston – The Cougars have finished in the top 20 at KenPom for four straight seasons while winning at least 13 AAC games each year. Despite having to replace a lot of production from last season's Final Four squad, it's tough to bet against Kelvin Sampson maintaining both streaks. The top two returnees are both in the backcourt, with Marcus Sasser (13.5 ppg) and Tramon Mark (7.8 ppg) expected to hold down two of the starting spots. The other is likely to be occupied by Texas Tech transfer Kyler Edwards (10.1 ppg, 4.8 rpg), while fellow transfers Taze Moore (Cal St. Bakersfield) and Josh Carlton (Connecticut) will factor into the rotation as well. Veteran big men Reggie Chaney and Fabian White, Jr. are both solid rim protectors and will anchor what should be a stingy defensive unit once again. During the same four-year span mentioned above, the Cougars haven't finished lower than sixth in effective field goal percentage defense. It should be a tremendous battle with Memphis atop the AAC.
Oregon –The top three scorers are gone from last season's regular-season Pac-12 Champs, but Dana Altman has once again used the transfer portal to build around a few key returnees. Will Richardson (11.3 ppg, 3.9 pg) missed the first 12 games with a knee injury but returned to facilitate the offense while also knocking down 40.3 percent from deep. The only other notable returnees are Eric Williams (10.0 ppg, 6.0 rpg) and N'Faly Dante (8.2 ppg, 5.8 rpg), who played just six games before tearing his ACL. Each of the three transfers brings major conference experience, with Jacob Young (Rutgers), Quincy Guerrier (Syracuse), and De'Vion Harmon (Oklahoma) all joining the Ducks after scoring in double-figures at their respective schools. Altman has now directed Oregon to seven of the last eight NCAA tournaments, and this year should be no exception with the Ducks looking like the clear-cut second team behind UCLA in the Pac-12.
Ohio State – After starting the season 18-4, the Buckeyes dropped their final four Big Ten games, then made a run to the conference tournament title game, earned a two seed, and promptly lost to Oral Roberts in the first round. That shouldn't overshadow a very successful season in Columbus, and while replacing the backcourt contributions of Duane Washington, Jr. and CJ Walker won't be easy, Ohio State should remain in the top tier of the nation's best conference. E.J. Liddell will be the focal point of the offense after averaging 16.2 points and 6.7 boards last season, and he'll lead an experienced frontline that also brings back Justice Sueing (10.7 ppg, 5.5 rpg), Kyle Young (8.6 ppg, 5.5 rpg), and Zed Key (5.2 ppg). With the frontcourt the clear strength of the team, the backcourt will be relying on a pair of transfers and freshman Malaki Branham to shoulder the load. Penn State transfer Jamari Wheeler is obviously familiar with the league, while Louisiana transfer Cedric Russell scored 17.2 points per game in the Sun Belt. After ranking in the top 25 in adjusted defensive efficiency in Chris Holtman's first three seasons, OSU took a step back on that end a year ago, but an ultra-efficient offense helped to offset those issues. The offense will almost certainly regress, but the pieces are there to show strong improvement defensively.
3 Seeds
Duke – The Blue Devils enter Coach K's final season after missing the NCAA tournament last year and without the top three scorers on a points per game basis from that squad. Enter a trio of blue-chip recruits, led by Paolo Banchero, who has already been tabbed as the preseason ACC player of the year. The 6-foot-10 freshman can play multiple positions and should be a force in the conference from the jump. AJ Griffin and Trevor Keels both have great size and at least one of them projects to start on the wing. Just three players return who scored more than three points per game, led by Wendell Moore (9.7 ppg), whose long-range shooting struggles have led to inconsistent game-to-game production. Sophomore Jeremy Roach (8.7 ppg) and Mark Williams (7.1 ppg), both of whom made at least 59 percent of their 2-point shots, also return. On offense, 3-point shooting is a huge question mark, as no returnee made more than 31.4 percent from deep. Given Duke's gaudy efficiency track record on that end of the floor, that shouldn't be a deal-breaker, but the defense took a major step back last year. The addition of Marquette transfer Theo John will help there along with the continued development of Williams. There is a ton of length and athleticism on the roster, which should translate into an improvement on that end of the floor. There's no clearly dominant team in the ACC this year, so slotting Duke atop the league is a bet that relies largely on Banchero being as advertised.
Illinois – An upset loss to Loyola Chicago overshadowed what was a fantastic season for the Illini, but now they have to adjust to life without Ayo Dosunmu. But after Kofi Cockburn (17.7 ppg, 9.5 rpg) flirted with both the NBA and a potential transfer, his decision to return to Champaign catapulted Illinois back into the national conversation. At this point, it's pretty clear what Cockburn brings to the table, which means that the team's fate largely rests in the hands of Andre Curbelo (9.1 ppg, 4.0 rpg, 4.2 apg), who posted an outstanding assist rate as a freshman but struggled at times with turnovers and never got his outside shot going. Veteran Trent Frazier (10.2 ppg) also returns along with wings Da'Monte Williams and Jacob Grandison, both of whom made over 41 percent from 3-point range. Utah transfer Alfonso Plummer (13.6 ppg) gives Brad Underwood's club another capable shooter, which should help spread the floor around Cockburn. The Illini ranked in the top 10 in both offensive and defensive efficiency a season ago, and while a repeat of that performance feels highly unlikely, having an All-American like Cockburn gives the team something to build around on both ends of the floor.
Baylor – Following last season's dominant NCAA tournament run, Scott Drew is faced with replacing the trio of guards who were the heart and soul of that championship team. Guard Adam Flagler (9.1 ppg) will assume one of the starting spots after coming up big in multiple March Madness games, while the bulleted Matthew Mayer (8.2 ppg) is poised to step into a larger role as well. Jonathan Tchamwa Tchatchoua and Flo Thamba are also back to hold down the center spot. Former Georgetown and Arizona guard James Akinjo (15.6 ppg, 5.4 apg) will be counted on to play the point and pick up some of the scoring slack, especially with freshman Langston Love lost for the season with a knee injury. One freshman who will figure prominently in the Baylor attack is five-star Kendall Brown, whose athleticism should lead to some highlight-reel plays. While it would be surprising to see Baylor repeat in the Big 12, Scott Drew's track record suggests they won't fall as far as you might expect.
Alabama – There weren't many teams I enjoyed watching more last season than the Crimson Tide, as Nate Oats' club played fast and focused on shooting layups or 3-pointers offensively while also playing outstanding defense, finishing third in adjusted defensive efficiency. While there are plenty of pieces that Oats will need to replace, Alabama does return its top two scorers in Jaden Shackelford (14.0 ppg) and Jahvon Quinerly (12.9 ppg, 3.2 apg), the latter of which is the team's top returning 3-point shooter after making 43.3 percent last year. The Tide added a pair of transfers, but Nimari Burnett of Texas Tech tore his ACL and will miss the season. The other transfer comes from Furman, as Noah Gurley (15.4 ppg, 5.8 rpg) brings his versatility to the SEC. A pair of freshmen should figure prominently in the rotation with JD Davison providing another option in the backcourt and big man Charles Bediako potentially starting at a center. Filling the shoes of Herb Jones on both ends of the floor won't be easy, but Oats' system and the players he brought in should keep Alabama toward the top of the SEC.
2 Seeds
Kentucky – Even in the wake of a dismal 9-16 season for the Wildcats, there is plenty of optimism in Lexington, as John Calipari has once again restocked the cupboard with talent, this time with high-level transfers playing a bigger role. Three of those transfers are expected to be in the starting five. Point guard Sahvir Wheeler (14.0 ppg, 7.4 apg) make the intra-conference move as he comes over from Georgia after posting an absurd 37.8 assist rate as a sophomore. Davidson transfer Kellan Grady is the best scorer of the bunch, scoring at least 17.1 points per game over all four years there, and West Virginia big man Oscar Tshiebwe (8.5 ppg, 7.8 rpg) will provide a strong presence in the paint and on the glass. Like Grady, Iowa transfer CJ Fredrick should help solve some of Kentucky's shooting woes of last season. It wouldn't be a Kentucky team without at least a couple highly-rated freshmen, and this year is no different with guard TyTy Washington, who should start alongside Wheeler in the backcourt, and athletic forward Daimion Collins added to the roster. The Wildcats also return two double-digit scorers in junior Keion Brooks (10.3 ppg, 6.8 rpg) and Davion Mintz (11.5 ppg, 3.1 apg). Kentucky struggled to take care of the basketball last season and finished 312th nationally in 2-point shooting, which caused a precipitous drop in efficiency, but the additions to the roster serve to address those issues, which makes UK the favorite to win the SEC.
Villanova – Once again, the Wildcats are the favorite in the Big East after claiming the regular-season crown last year. They lose leading scorer and Jeremiah Robison-Earl, but Collin Gillespie (14.0 ppg, 4.6 apg) has some unfinished business after a knee injury knocked him out of the Big East and NCAA tournaments. Plenty of other key pieces are back as well, including Justin Moore (12.9 ppg, 3.0 apg) and Jermaine Samuels (12.0 ppg, 6.4 rpg). Samuels does a bit of everything for 'Nova, posting high rebounding rates on the offensive and defensive glass, getting to the line regularly, and shooting the ball well from the stripe (82.8 percent) and beyond the arc (37.1 percent). Caleb Daniels (9.6 ppg) gives the team another veteran shooter, and the Wildcats are hoping Bryan Antoine can shake off the injury issues that have plagued him in college. The big question mark is at center and how they attempt to replace Robinson-Earl. They don't have anyone who can replace JRE's production, but Eric Dixon figures to get the first crack at the starting spot. Ultimately Jay Wright just needs to find a way to cobble together minutes at the five spot and let the guards and wings do their thing.
Purdue – The Boilers return virtually everyone, and the top seven scorers are all either sophomores or seniors. Trevion Williams (15.5 ppg, 9.1 rpg) leads the group of seniors after ranking first in the nation in shot percentage, second in usage rate, and fourth in offensive rebounding percentage. One of the key storylines is whether Matt Painter will try to play Williams and sophomore behemoth Zach Edey (8.7 ppg, 4.4 rpg) on the floor at the same time. The development – and more specifically the shooting – of Jaden Ivey (11.1 ppg) will be critical as well after he flourished down the stretch last season and acquitted himself well on the U19 USA team over the summer. Seniors Sasha Stefanovic (9.3 ppg) and Eric Hunter (8.5 ppg) will provide a steadying influence in the backcourt, with Stefanovic contributing 40 percent 3-point shooting and Hunter setting the tone defensively. Redshirt sophomores Brandon Newman and Mason Gillis also showed flashes last season, and the two main additions to the roster are in-state recruits Caleb Furst and Trey Kaufman-Renn, both of whom ranked in the top 75. Last season marked the sixth straight where Purdue finished in the top 25 at KenPom, and this year projects to be no different with the Boilers neck-and-neck with Michigan atop a loaded Big Ten.
Texas – The "T" in UT may as well stand for transfer, as new coach Chris Beard landed seven transfers in the hopes of getting Texas to the top of the Big 12. Five of the transfers averaged in double figures at their prior schools, including Marcus Carr (19.4 ppg, 4.9 apg) of Minnesota, Tre Mitchell (18.8 ppg, 7.2 rpg) of UMass, Timmy Allen (17.2 ppg, 6.4 rpg) of Utah, and Dylan Disu (15.0 ppg, 9.2 rpg) of Vanderbilt. Those pieces, along with Creighton transfer Christian Bishop and Kentucky transfer Devin Askew, will have to be integrated with a pair of returning guards who scored in double figures last season. Andrew Jones (14.6 ppg) had the highest shooting percentage on the team last season, while Courtney Ramey (12.2 ppg) posted a solid assist rate and knocked down over 41 percent from beyond the arc. Given all that production, the question is not one of talent but one of how to handle all those mouths to feed. Beard's Texas Tech teams have ranked inside the top 20 in adjusted defensive efficiency the last four seasons, so look for Texas to establish its identity on that end of the floor while offensive roles sort themselves out.
1 Seeds
Michigan – After winning the Big Ten and nearly making the Final Four, Juwan Howard has his work cut out for him as five of the top seven scorers from that team are gone. That said, the return of big man Hunter Dickinson (14.1 ppg, 7.4 rpg) is a great place to start. As a freshman, he made 60.7 percent of his 2-pointers while establishing himself as a strong rebounder and rim protector, winning Big Ten freshman of the year in the process. The other key returnees are Eli Brooks (9.5 ppg, 3.1 apg) and Brandon Johns (4.9 ppg), with Brooks a tenacious defender who can knock down open shots and Johns a role player who stepped up down the stretch with Isaiah Livers out. The lone transfer entering the fray this season is DeVante' Jones, who comes over from Coastal Carolina after scoring 19.3 ppg, grabbing 7.2 rebounds, and posting 2.8 steals per game. Howard got a lot out of Columbia transfer Mike Smith last season, and from a skillset perspective, I like his chances to have similar success with Jones. A highly rated freshman class will be counted on to fill in the rest of the gaps. Five-star Caleb Houstan is the most likely to start right away, as his size and scoring will be needed on the wing. The other five-star is big man Moussa Diabate, who comes from prep school like Houstan, and a trio of four-stars will also be in the rotation. If you wanted to flip-flop Purdue and Michigan, I think that's justifiable, but I have been impressed with Juwan Howard's first two seasons at the helm and think he can get the team to continue playing at a high level despite a lot of roster turnover.
UCLA – After losing their last four regular-season games, the Bruins barely made it into the NCAA tournament but caught fire once they got there, surging all the way to 13th in the final KenPom rankings. That March run totally changed the perception of the team heading into this season since every key contributor to that success is back along with Rutgers transfer Myles Johnson and five-star prospect Peyton Watson. The star of their run to the Final Four was Johnny Juzang (15.5 ppg), who scored at least 23 points in four of UCLA's six tournament games. Jaime Jaquez (12.1 ppg, 6.1 rpg) provides great versatility, while Tyger Campbell (10.2 ppg, 5.3 apg) will once again be running the show. Big man Cody Riley (9.8 ppg, 5.2 rpg) will join with Johnson to former a two-headed monster at the center spot, providing rim protection and strong rebounding on both ends. The addition of Watson gives Mick Cronin another talented offensive weapon after the team finished 11th nationally in adjusted offensive efficiency. It's fair to question whether the real UCLA team is the one who finished fourth in the Pac-12 or the one that nearly knocked off Gonzaga in the Final Four, but they are a clear favorite to win the league and project as one of the nation's top teams.
Kansas – The Jayhawks "only" finished second in the Big 12 last season, and with most of that roster back to go with a few key transfers, Kansas once again appears to the be favorite to win the conference. Remy Martin comes over from Arizona State after scoring 19.1 points and dishing out 3.7 assists per game, while Drake transfer Joseph Yesufu (12.8 ppg) will also push for a starting backcourt spot following a strong showing in the NCAA tournament. Four players return who scored at least 9.7 points per game, led by juniors Ochai Agbaji (14.2 ppg) and David McCormack (13.4 ppg, 6.1 rpg). Jalen Wilson (11.8 ppg, 7.9 rpg) got off to a hot start but was inconsistent in Big 12 play, and he's now suspended for the first three games following a DUI arrest. On the perimeter, Christian Braun (9.7 ppg, 5.2 rpg) saw his 3-point shooting drop off as a sophomore, but the Jayhawks also added Jalen Coleman-Lands, who is now on his fourth school but did make nearly 40 percent from deep at Iowa State last season. Amazingly, last season's final KenPom rank of 27th was the worst in Bill Self's tenure and the first time they finished lower than 18th, due in large part to shooting woes and struggles getting to the line. The additions of Martin and Yesufu are designed to solve some of those deficiencies, and the race atop the Big 12 should be an exciting one as a result.
Gonzaga – Despite losing in the national championship game and subsequently losing three of their top four scorers to the NBA, the Bulldogs are once again ranked atop most preseason polls. That optimism starts with the return of big man Drew Timme (19.0 ppg, 7.2 rpg), who made 67.7 percent of his 2-pointers, ranked 10th in effective field goal percentage, and posted an absurd 129.3 offensive rating. Andrew Nembhard (9.1 ppg, 4.3 apg) is back to run the point, while Anton Watson (7.1 ppg) and Julian Strawther (3.4 ppg) should be key bench players. A pair of five-stars are among the new additions to the roster. Seven-footer Chet Holmgren was the Gatorade player of the year and has a versatile and impressive skill set for someone his size. Guard Hunter Sallis is the other blue-chipper and will look to fill in some of the scoring gap left by Jalen Suggs' departure. Gonzaga added only one transfer to the mix, as Rasir Bolton (15.5 ppg, 4.8 rpg, 3.9 apg) looks to finish his college career in Spokane after stops at Penn State and Iowa State. The Zags figure to run roughshod over the WCC, but as usual, they've lined up a number of tough non-conference tests, featuring games with Texas, UCLA, Duke, Alabama, and Texas Tech.
Follow Andy on Twitter (@andybottoms) for more thoughts on college hoops and to receive an update whenever new brackets are posted.
Filed to: 2021-2022 Bracketology