2021-22 Preseason Bracketology: 13-16 Seeds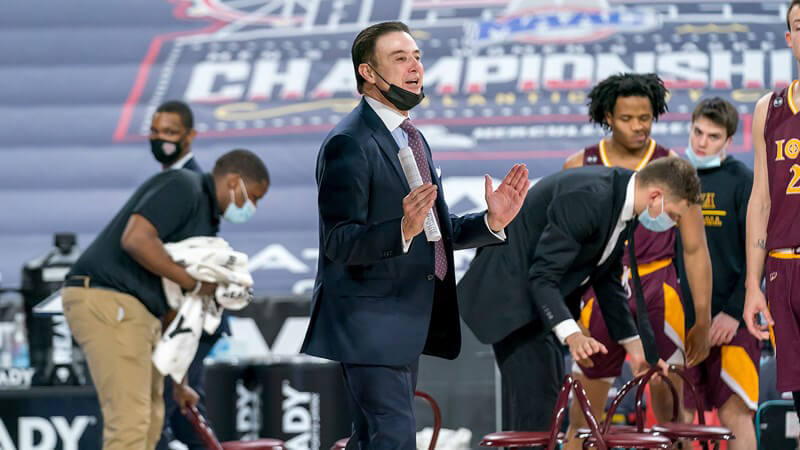 With just one week left before college basketball returns, it's time to go on record with my preseason bracket projections. This set of projections is always the toughest to do since there simply isn't actual data to use, and we also have an unprecedented number of players changing teams. Early season results provide the opportunity to overreact, but at least those overreactions are based on things we've actually seen as opposed to complete speculation. Ultimately that's why I rarely produce another set of projections until after the first of the year.
In terms of methodology, I try to absorb as much preseason content as I can, whether that's online or in print, data-driven or subjective. I review the 1-358 rankings that many sites are posting and look through past performance, returning production, and potential breakouts for the teams that profile as contenders in their league or the at-large pool. From a practical standpoint, this exercise is a useful way to build out my initial list of teams to monitor as the season begins.
The field will be released over the next four days, four seed lines at a time. So without further ado, here's a look at the 13-16 seeds, who represent my picks to win the automatic bids in their respective conferences.
16 Seeds
Morgan State (First Four) – The MEAC looks like a three-team race between Morgan State, Norfolk State, and NC Central, but I'm giving the Bears the nod here. They return two of the league's best guards in De'Torrion Ware (17.2 ppg, 5.7 rpg) and Malik Miller (12.1 ppg, 8.0 rpg, 2.0 spg), and coach Kevin Broadus was active on the transfer market, adding Trevor Miller (Cincinnati), Seventh Woods (South Carolina), and Keith McGee (New Mexico).
Texas Southern (First Four) – Coach Johnny Jones has largely continued Mike Davis' success with the program, finishing in the top three in the SWAC in each of his three seasons at the helm. The Tigers won the SWAC tournament last year but will need to replace top scorer Michael Weathers. Virtually every other key contributor is back though, led by John Walker III (12.2 ppg, 5.2 rpg). The transfer market has been key for Texas Southern in recent years, with this season's key addition A.J. Lawson (11.8 ppg, 5.1 rpg, 5.5 apg) coming over from McNeese State. Prairie View A&M and Jackson State will also be in the mix in the SWAC.
Nicholls State (First Four) – The Colonels lost a lot from last year's regular-season champs in the Southland, but they do return Ty Gordon (14.6 ppg, 3.6 rpg, 3.7 apg), who should be one of the league's top players. A bevy of transfers, led by former Norfolk State guard Devante Carter (14.9 ppg, 5.1 rpg, 4.0 apg), will be counted on to help Nicholls repeat in a weakened Southland, which saw a number of last season's top teams move to the WAC.
Bryant (First Four) – Former Rutgers guard Peter Kiss (16.6 ppg, 6.5 rpg, 3.2 apg, 1.9 spg) leads four returnees who scored in double figures last season. The Bulldogs played at one of the fastest paces in the nation last season and also ranked 16th in 3-point shooting percentage, with Kiss and Charles Pride (13.7 ppg, 7.0 rpg) both hitting over 40 percent from long range. A handful of transfers bolster the roster, as Bryant looks to make its first NCAA tournament appearance.
James Madison – Six CAA teams received a first-place vote in the preseason poll, which speaks to the level of parity in the league. The Dukes won a share of the regular season title last year, and they return a few key pieces from that team, led by Vado Morse (14.4 ppg). They do lose CAA player of the year Matt Lewis, but they got some experience playing without him following an injury late last season and hit the transfer market hard to bring in a quartet of new rotation players.
Winthrop – After a 23-2 season, Coach Pat Kelsey moved on to College of Charleston, but the Eagles still look like the favorite in the Big South. D.J. Burns, Jr. (10.1 ppg) is the preseason player of the year in the league, and while a few other players return, Winthrop will also be relying on a slew of transfers to produce, including Cory Hightower (13.8 ppg, 6.2 rpg), who followed new coach Mark Prosser from Western Carolina.
15 Seeds
Weber State – It should be a terrific race atop the Big Sky between Southern Utah and Weber State, but I'm giving the Wildcats the slight edge thanks in part to coach Randy Rahe's overall track record and the addition of Marquette transfer Koby McEwen (10.2 ppg, 3.0 apg). Rahe also brings back three double-figure scorers (and six players who scored at least 7.3 ppg) from last year's squad, which finished 12-3 in the league and ranked eighth in the nation in effective field goal percentage.
Georgia State – COVID issues limited the Panthers to just 12 league games last season, but they made it to the conference tournament final where they fell to Appalachian State. This year, coach Rob Lanier brings back virtually everyone from that team, including five double-digit scorers. Guard Corey Allen (15.0 ppg, 4.1 rpg) led the team in scoring and made over 40 percent of his 3-point attempts, while big man Eliel Nsoseme averaged a double-double with 11.7 points and 10.1 boards.
Iona – There may not be a larger favorite to win a league in all of college basketball. Despite losing their top two scorers, the Gaels should run away with the MAAC thanks to Rick Pitino roaming the sidelines and a trio of down-transfers in Elijah Joiner (Tulsa), Tyson Jolly (SMU), and Quinn Slazinski (Louisville). Nelly Junior Joseph (11.1 ppg, 7.5 rpg) is the reigning MAAC freshman of the year and should continue to progress as a fixture in the frontcourt.
Yale – The Ivy League is back after taking last season off, but as you might suspect, there has been a ton of roster churn since the end of the 2019-2020 season. Yale, Harvard, and Princeton look to be the top three teams in the league, and I lean toward the Bulldogs in part due to the return of Azar Swain (16.0 ppg, 4.0 rpg), who may wind up being the Ivy player of the year by the end of the season. Yale has finished third or better in eight straight seasons, including four regular season titles, which is a credit to long-time coach James Jones.
14 Seeds
Chattanooga – Thanks to the backcourt duo of Malachi Smith and David Jean-Baptiste, I gave the Mocs the edge over Furman in the SoCon. Those two combined to average 32.9 points, 12.1 rebounds (most coming from Smith), 5.8 assists, and 3.1 steals last season, with both also hitting at least 38.1 percent of their 3-pointers. The main addition is Kansas transfer Silvio De Sousa, and if he can put his past issues behind them, he will be a force in the conference.
Vermont – The Catamounts are a heavy favorite to win the America East thanks to the return of reigning player of the year Ryan Davis (18.5 ppg, 6.3 rpg) and most of the key pieces from last year's squad, which won the regular season title. Last year broke a streak of four straight years where Vermont finished in the Top 100 at KenPom, but they should push for a return this season.
Colgate – Despite losing leading scorer Jordan Burns, the Raiders remain the favorites in the Patriot League, as everyone else returns from last year's NCAA tournament squad. It's worth noting that the Raiders played only league games last season, but they ranked fifth in turnover rate and third in 3-point shooting with Jack Ferguson (12.5 ppg) knocking down 50.7 percent from long range. Nelly Cummings (12.4 ppg) should also take on a more prominent role in Colgate's efficient offense.
Wright State – The Raiders have finished first in the Horizon League for three straight seasons, and they look to be the class of the league again this year. Wright State does have to replace big man Loudon Love, but Tanner Holden (15.8 ppg, 7.3 rpg, 2.7 apg) and Grant Basile (15.0 ppg, 7.0 rpg, 1.6 bpg) lead a solid core of returning players. Despite the Raiders' recent track record in the league, they are looking to get to the NCAA tournament for the first time since 2018.
13 Seeds
New Mexico State – After losing just three WAC games over the previous three seasons, the Aggies finished 7-6 in the league last year as they were forced to relocate to El Paso due to COVID-19 restrictions. Coach Chris Jans brings back four players who averaged at least 8.2 points and 4.4 rebounds last season, and as has become customary, he's also loaded up on transfers, including a couple from major conferences in Teddy Allen (Nebraska) and Nate Pryor (Washington). Even with the influx of teams from the Southland, New Mexico State should ascend back to the top of the WAC.
South Dakota State – Lost amidst the great March run from Oral Roberts is the fact that it was actually the Jackrabbits who won the Summit League regular season title. SDSU returns everyone from that team, including five players who averaged in double figures. Doug Wilson led the way with 16.7 points per game, but Baylor Scheierman (15.4 ppg, 9.2 rpg, 4.0 apg) led the team in boards and assists while also knocking down 44 percent from long range. As a team, the Jackrabbits ranked second nationally in 3-point shooting, making 40.9 percent from deep.
UC Santa Barbara – After finishing second behind UC Irvine for three straight seasons, the Gauchos finally got over the hump to win the Big West last year. They have now won at least 21 total games and at least 10 league games for four straight seasons, and they will be battling UCI once again this year. Big man Amadou Sow (13.6 ppg, 7.6 rpg) is the top returnee, but replacing point guard JaQuori McLaughlin will be a tall order. If the Gauchos come close to repeating their performance on the defensive end where they took a huge leap last season, there's enough talent on the roster to win the conference again.
Liberty – The Flames are a combined 82-17 over the last three seasons, including a 38-7 mark in A-Sun play. They have made the last two NCAA tournaments and had already won the automatic bid in 2020 before the event was ultimately canceled, and they appear poised to go dancing once again. The headliner is reigning A-Sun player of the year Darius McGhee (15.5 ppg), who hoisted 209 3-pointers last season and made nearly 40 percent of them. Liberty plays at one of the slowest paces in the country, but it's tough to argue with the results.
Follow Andy on Twitter (@andybottoms) for more thoughts on college hoops and to receive an update whenever new brackets are posted.
Filed to: 2021-2022 Bracketology