2021-22 Preseason Bracketology: 5-8 Seeds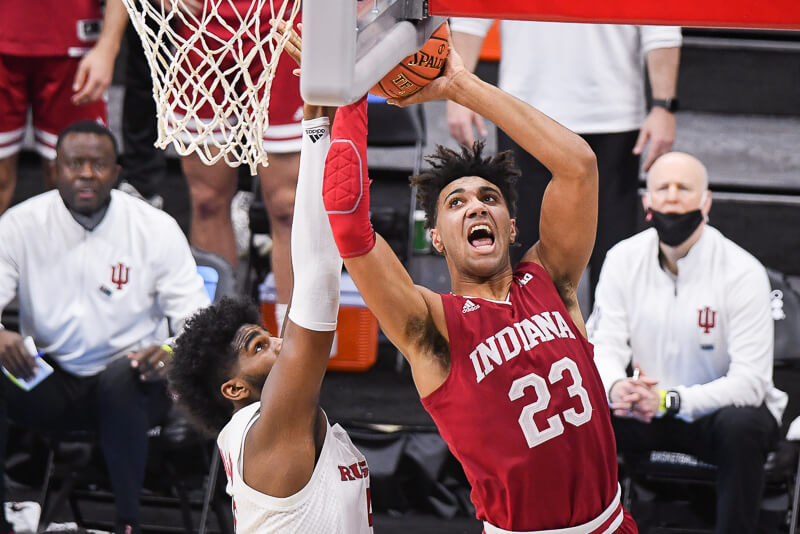 Today's installment of the preseason bracketology series focuses on seed lines five through eight, which are comprised predominately of teams from the major conferences, including five from the ACC. In fact, the top team from the Atlantic-10 is the lone non-power six team on these seed lines. (Previously: 13-16 Seeds and 9-12 Seeds)
Note: Shortly after yesterday's post went live, the NCAA announced it had upheld the post-season ban for Oklahoma State. When the full bracket is posted on Monday, this will be taken into account.
8 Seeds
Louisville – After being the first team out of last year's NCAA tournament field, there's a hint of pressure on Chris Mack this season. The Cardinals lose their top two scorers and assist men, but Mack has once again used the transfer portal to fill those holes, adding Jarrod West (Marshall), Noah Locke (Florida), and Mason Faulkner (Western Carolina) to the backcourt along with the nation's top junior college player in El Ellis. Jae'Lyn Withers (10.0 ppg, 7.7 rpg) and Samuell Williamson (9.6 ppg, 8.1 rpg) are the top returnees, and Louisville is also hoping Malik Williams is fully recovered from a foot injury that cost him most of last season. Poor shooting led to a huge drop in offensive efficiency last season, but the newcomers should help in that regard. Either way, with so many new pieces, this is a tough team to peg.
USC – The Trojans will be looking to replace their top two scorers, including lottery pick Evan Mobley, but there are a handful of pieces back from a team that finished sixth in KenPom last season and made it to the Elite Eight. Isaiah Mobley (9.9 ppg, 7.3 rpg) and Drew Peterson (9.8 ppg, 5.0 rpg) are the top returnees, but USC also added Memphis transfer Boogie Ellis (10.2 ppg) to provide backcourt help. Point guard play is a definite question mark, but the loss of Evan Mobley cannot be overstated. If you look at areas where the Trojans excelled statistically, his fingerprints are all over them. His block rate and rim protection helped USC rank second in 2-point defense, and his work on the offensive glass contributed to a top 20 offensive rebounding percentage as a team. The Trojans ranked in the top 15 in both offensive and defensive efficiency, and it's not really a question of if those drop off, it's a matter of how much.
Arizona – Much has changed in Tucson with four of the top six scorers gone and a new coach roaming the sidelines, as Tommy Lloyd assumes the lead role after years as an assistant at Gonzaga. Returning sophomores Azuolas Tubelis (12.2 ppg, 7.1 rpg) and Bennedict Mathurin (10.8 ppg, 4.8 rpg) both made the Pac-12 all-freshman team a season ago and should be fixtures in the starting lineup. Like many new coaches, Lloyd attacked the transfer portal to bolster the roster, adding Justin Kier (Georgia), Pelle Larsson (Utah), Oumar Ballo (Gonzaga), and Kim Aiken (Eastern Washington), who came on board late in the offseason. It's been a weird few seasons for the Wildcats with Sean Miller's uncertain status and the looming FBI investigation hanging over the program, but perhaps a fresh start with Lloyd at the helm is just what they need. UCLA and Oregon are the class of the Pac-12, but there's no reason Arizona can't end up in third.
Indiana – Hopes are high in Bloomington thanks to the hire of Mike Woodson, the return of Trayce Jackson-Davis (19.1 ppg, 9.0 rpg), and the addition of multiple newcomers expected to contribute right away. While it's not yet clear what Woodson's offensive scheme will look like, you can be certain it will be centered around creating opportunities for Jackson-Davis, who was recently named a preseason AP All-American. Perimeter shooting has been a massive issue for the Hoosiers in recent seasons, but Woodson is hopeful the additions of Parker Stewart, who sat out after transferring from UT-Martin following his father's passing, Miller Kopp of Northwestern, and five-star freshman Tamar Bates can help rectify that. Pitt transfer Xavier Johnson (14.2 ppg, 5.7 apg) will get first crack at running the show, but a regime change may also give new life to Rob Phinisee (7.1 ppg, 2.9 apg). The unsung hero is Race Thompson (9.1 ppg, 6.2 rpg), who has proven to be a capable defender and a leader willing to do the little things. The Hoosiers seem firmly in the second tier of the Big Ten, but getting to the NCAA tournament in Woodson's first season would represent progress.
7 Seeds
Virginia Tech – Coach Mike Young saw solid improvement in both offensive and defensive efficiency in his second season in Blacksburg, and although COVID-19 issues limited the Hokies to just 13 ACC games, they finished third at 9-4. They return four of the top six scorers from that team, led by Keve Aluma (15.2 ppg, 7.9 rpg), a transfer who followed Young from Wofford. Another Wofford transfer figures prominently in Virginia Tech's plans this year as Storm Murphy (17.8 ppg, 4.3 apg) brings his deadeye shooting to the ACC after hitting 41.8 percent from deep in his four years with the Terriers. Given the offense's reliance on 3-point shots, the return of Nahiem Alleyne and Hunter Cattoor looms large, as both scored at least 8.5 points per game and made over 40 percent from distance. Depth is a huge question mark here, so any injuries could derail things pretty quickly.
Texas Tech – The Red Raiders are another team with a wide range of outcomes. They replace Chris Beard with former assistant Mark Adams, who promptly added seven transfers to the returning trio of Terrence Shannon (12.9 ppg, 4.0 rpg), Kevin McCullar (10.4 ppg, 6.3 rpg), and Marcus Santos-Silva (8.3 ppg, 6.4 rpg). The transfers should provide a little bit of everything for this club. Davion Warren (Hampton) scored over 21 points per game last season but moves to a much bigger stage. Kevin Obanor (Oral Roberts) nearly averaged a double-double and acquitted himself well on ORU's March run. Mylik Wilson (Louisiana) will fill some of the backcourt needs, while Bryson Williams (UTEP) and Adonis Arms (Winthrop) provide a couple more big bodies inside. The defensive scheme that's been so successful under Beard is not expected to change, but it will be interesting to see if Adams can mesh all the new pieces together and put his own stamp on the offense.
Michigan State – With just two players returning who scored more than five points per game, there are plenty of questions in East Lansing. Those start in the backcourt, as Northeastern transfer Tyson Walker (18.8 ppg, 4.8 apg, 2.4 spg) will slide in at the point. The Spartans need him to flourish even with the step up in competition. Among the issues for Sparty last year was a lack of shooting, as MSU ranked 241st in 2-point shooting and 252nd from distance, but freshman and McDonald's All-American Max Christie is expected to provide some help there. Forwards Joey Hauser (9.7 ppg, 5.6 rpg) and Gabe Brown (7.2 ppg) are the top returnees, but Tom Izzo needs some of last year's role players like Malik Hall and A.J. Hoggard to step up their production. With so many new or unproven players in prominent roles, pegging the Spartans here is essentially a bet on Izzo.
Virginia – The Cavaliers finished 13-4 in the ACC last season despite their adjusted defensive efficiency falling outside the top 10 for the first time since 2013. I'm not expecting that defensive decline to continue, but there will certainly be questions on offense without the top three scorers, who also accounted for nearly 70 percent of UVA's made 3-pointers. Point guard Kihei Clark (9.5 ppg, 4.5 apg) is the key holdover, which gives Tony Bennett a steady present at the point and a ballhawk on defense, while Reece Beekman (4.7 ppg, 3.0 apg) is the only other returnee who scored more than four points per game. Reinforcements come in the former of IU transfer Armaan Franklin (11.4 ppg, 4.1 rpg) and East Carolina transfer Jayden Gardner (18.3 ppg, 8.3 rpg), who Bennett hopes can fill the shoes of Trey Murphy and Sam Hauser. Not unlike what I just said about Michigan State, the fact that Virginia is slotted here is a nod to Bennett's impressive track record even when faced with having to replace key personnel year over year.
6 Seeds
Auburn – The Tigers were already faced with the prospect of having to replace a ton of production from last year's team, but an injury to Allen Flanigan (14.3 ppg, 5.5 rpg) presents additional challenges. Flanigan is expected to return this season, but that leaves Jaylin Williams (10.9 ppg, 4.7 rpg) and Devan Cambridge (8.9 ppg) as the only returnees of note. Like so many other coaches, Bruce Pearl has revamped his roster via the transfer portal, adding the likes of Wendell Green (15.8 ppg, 5.0 apg) of Eastern Kentucky, K.D. Johnson (13.5 ppg) of Georgia, Zep Jasper (15.6 ppg) of Charleston, and Walker Kessler (4.4 ppg) of North Carolina. Throw in highly-ranked freshman big man Jabari Smith, and the quality depth is there to finish at the top of the second tier in the SEC.
St. Bonaventure – All five double-digit scorers return from a club that won the regular season and tournament titles in the Atlantic-10, and all five logged at least 33 minutes per game. Guard Kyle Lofton (14.4 ppg, 5.5 apg) led the team in points, assists, and steals, while big man Osun Osunniyi (10.7 ppg, 9.4 rpg, 2.9 bpg) anchored a defense that finished 20th in adjusted defensive efficiency. A general lack of depth contributed to the slow tempo the Bonnies have employed in recent years, but a pair of ACC transfers and two more from the junior college ranks should give St. Bonaventure more bench options. There's certainly room to improve on both 2-point and 3-point shooting, but even a repeat of last season's performance would put the Bonnies in the driver's seat for the A-10 title.
Connecticut – The hole left by James Bouknight's departure will be a tough one to fill, but virtually everyone else is back for the Huskies. Guards R.J. Cole (12.2 ppg, 4.3 apg) and Tyrese Martin (10.3 ppg, 7.5 rpg) should be the strength of the team, but there is plenty of depth in the frontcourt, particularly with Tyler Polley (7.5 ppg) and Akok Akok both another year removed from their injuries. The inside duo of Isaiah Whaley (8.0 ppg, 6.2 rpg, 2.6 bpg) and Adama Sanogo (7.3 ppg) both contributed to UConn's top 10 marks in both offensive rebounding percentage and block rate. After ranking in the top 30 in both offensive and defensive efficiency last season, the Huskies seem likely to take a step back on the offensive end, but the pieces are there to make the defensive results stick.
Arkansas – Three of the top four scorers are gone from last year's Elite Eight squad, but Eric Musselman is as adept at using the transfer portal as any coach in the nation. This season's crop of transfers is led by Stanley Umude, who scored 21.5 points per game at South Dakota, along with Chris Lykes (Miami, FL) and Au'Diese Toney (Pittsburgh), who averaged a combined 29.9 points, 9.9 boards, and 7.8 assists in the ACC. JD Notae (12.8 ppg) and Devo Davis (8.5 ppg, 4.5 rpg) are the top returnees from a team that ranked 10th in adjusted defensive efficiency last season. Given the defensive talent the Razorbacks lost, a repeat of that is unlikely, but the Hogs will still fall in the top tier of the SEC with a shot to win the league if things break their way.
5 Seeds
Maryland – Despite finishing 9-11 in the Big Ten, the Terps rightfully earned a spot in the Big Dance last year, knocking off UConn in the first round. But after a season where it felt like they overachieved, Mark Turgeon brings back just three key contributors. Eric Ayala (15.1 ppg, 4.3 rpg) took a huge leap last season, flourishing in a larger role and relentless attacking the basket. After essentially playing center last season, Donta Scott (11.0 ppg, 5.9 rpg) will be able to slide back into his more comfortable role as a stretch four. Turgeon will be counting on a number of transfers to fill out the rotation, with guard Fatts Russell (Rhode Island) and Qudus Wahab (Georgetown) being the most important. Russell averaged 14.7 points and 4.5 assists, but his efficiency numbers suggest there may be some bumps in the road as he transitions to the Big Ten. Wahab (12.7 ppg, 8.2 rpg) shot just over 59 percent from the floor and has proven to be an effective rebounder on both ends of the floor while also protecting the rim defensively. Like so many teams, Maryland's fate will be determined by how quickly the new faces can integrate and contribute.
Tennessee – The Vols sat at 10-1 in mid-January, but they went just 8-8 the rest of the way, never winning more than two games in a row and finishing the season by getting blown out by Oregon State in the NCAA tournament. Rick Barnes now must replace his top two scorers as well as defensive stalwart Yves Pons, but the cupboard isn't totally bare. Tennessee returns four players who scored at least eight points per game, led by Victor Bailey (10.9 ppg) and John Fulkerson (9.5 ppg, 5.5 rpg), who will be looking to bounce back after a disappointing 2020-21 season. Auburn transfer Justin Powell (11.7 ppg, 6.1 rpg, 4.7 apg) joins a deep freshman class, which is headlined by five-star point guard Kennedy Chandler. Much like Auburn, Tennessee isn't the favorite in the SEC but still sits in the top tier.
North Carolina – It will certainly be odd not to see Roy Williams roaming the sidelines for the Tar Heels, but hopes are high as Hubert Davis takes over. After a few key losses in the frontcourt, Armando Bacot (12.3 ppg, 7.8 rpg) is the lone inside returnee of note, but Davis picked up multiple transfers to fill the void in the form of Dawson Garcia (13.0 ppg, 6.6 rpg) of Marquette and Brady Manek (10.8 ppg, 5.0 rpg) of Oklahoma. The backcourt has far more continuity, as Caleb Love (10.5 ppg, 3.6 apg), RJ Davis (8.4 ppg), and Kerwin Walton (8.2 ppg) are all back as sophomores. The raw numbers don't look bad, but only Walton posted an offensive rating over 100. Love's development will be critical here, as poor shooting and a turnover rate near 25 percent drove his offensive rating to an ugly 87.1 for the season. If he can make a leap and provide steady play at the point, there is a lot to like in Chapel Hill.
Florida State – The 'Noles lose four of their top five scorers from last year's Sweet Sixteen squad, but Leonard Hamilton's recent track record suggests that FSU won't fall too far. Anthony Polite (10.1 ppg, 4.5 rpg) is the top returnee after making nearly 57 percent of his 2s and 43.6 percent from distance, which led to a gaudy 122.3 offensive rating. Malik Osborne (5.9 ppg, 4.5 rpg) should slide into the starting lineup as well with RaiQuan Gray gone. The backcourt and wing spots will be comprised predominately of freshmen and transfers. Matthew Cleveland gives Hamilton a five-star scorer to backfill Scottie Barnes, and combo guard Jalen Warley ranked in the top 50 as well. Houston transfer Caleb Mills (9.8 ppg) missed most of last season due to injury but shot 36.5 percent from distance as a freshman. And of course, it wouldn't be a typical FSU roster without multiple 7-footers to protect the rim, which should help the 'Noles continue their five-year streak as a top 35 defense on KenPom.
Follow Andy on Twitter (@andybottoms) for more thoughts on college hoops and to receive an update whenever new brackets are posted.
Filed to: 2021-2022 Bracketology