2021-22 Preseason Bracketology: 9-12 Seeds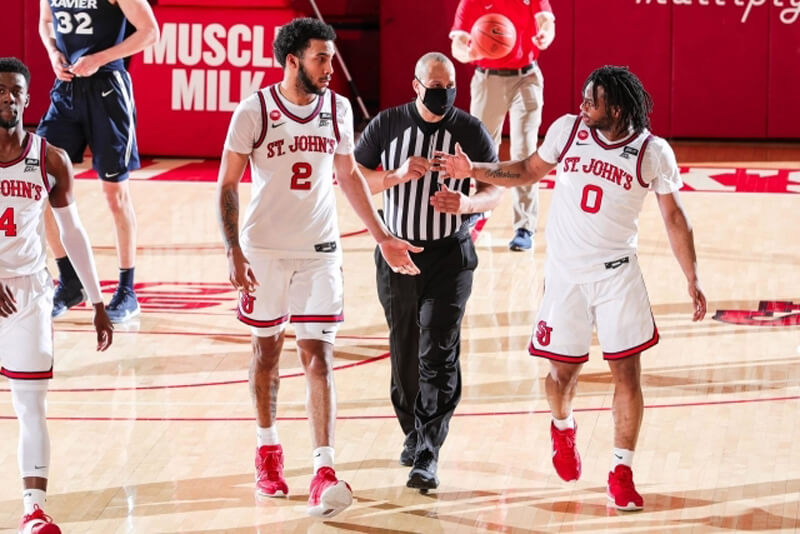 Yesterday we hit the 13-16 seeds, and today we'll hit the top teams from single-bid leagues as well as the squads I project as the final at-large teams to make the field.
12 Seeds
Buffalo – The Bulls boast two of the MAC's top players in JeeNathan Williams (17.6 ppg, 6.8 rpg) and Josh Mballa (15.3 ppg, 10.8 rpg), and a number of other key players return from a team that finished second in the league last season. Buffalo plays at a fast pace and ranked sixth in offensive rebounding rate last season, thanks in large part to Mballa's work on the glass. Ohio should be a factor in the league once again, but the Bulls feel like the team to beat.
UAB – Andy Kennedy's first year with the Blazers saw them rank in the top 75 of all four factors defensively and 50th overall in adjusted defensive efficiency. UAB also returns its top three scorers in guards Michael Ertel (13.2 ppg), Tavin Lovan (12.2 ppg, 4.0 rpg), and Quan Jackson (10.8 ppg, 5.3 rpg, 2.1 spa), who is the reigning C-USA defensive player of the year. Kennedy has bolstered the roster with six transfers, including three from the SEC, so the talent is there to best Louisiana Tech and Western Kentucky in Conference USA.
Loyola Chicago (First Four) – Interestingly enough the final spot came down to Porter Moser's old team and his new one, but I gave Loyola the nod over Oklahoma for a couple reasons. First, it feels like the committee has made a slightly more concerted effort to give non-power conference teams at-large bids, as we've seen with Drake last year, Belmont in 2019, and to some extent St. Bonaventure in 2018. Beyond that, the Ramblers' hiring of Drew Valentine should help with continuity, as should the fact that nearly everyone returns from last year's Sweet Sixteen team with six players back who averaged between 6.5 and 8.8 points. Loyola does, however, have to replace big man Cam Krutwig, who did it all for the Ramblers. Dartmouth transfer Chris Knight (14.8 ppg, 6.3 rpg) may get the first crack at that, but while the offense sorts itself out, Loyola will rely on its suffocating defense to keep games close. The Ramblers ranked second nationally in adjusted defensive efficiency last season, and given that Valentine played a key role in orchestrating the scheme, that should be their calling card once again.
St. John's (First Four) – The Red Storm roster has been a revolving door in the offseason with multiple transfers in and multiple transfers out. The two key holdovers are outstanding, as forward Julian Champagnie (19.8 ppg, 7.4 rpg) somewhat surprisingly returned to school and point guard Posh Alexander (10.9 ppg, 4.3 apg, 2.6 spg) showed great promise as a freshman and earned co-Big East defensive player of the year honors. A quintet of transfers is comprised of a couple mid-major guards in Tareq Coburn (15.2 ppg) of Hofstra and Stef Smith (13.6 ppg) of Vermont, a pair of Big Ten players in Montez Mathis (Rutgers) and Aaron Wheeler (Purdue), and ex-Fordham big man Joel Soriano (10.4 ppg, 9.2 rpg). Mike Anderson needs to get those pieces to gel around the two stars in order to get the Johnnies back into the NCAA tournament.
Drake – After starting 18-0 last season, the Bulldogs suffered injuries to Tank Hemphill (13.2 ppg, 5.9 rpg) and Roman Penn (11.2 ppg, 5.5 apg) and limped into the post-season, where they did manage to beat Wichita State in the First Four. Joseph Yesufu transferred to Kansas, but everyone else is back, including four other players who scored at least 7.7 points per game. Drake takes great care of the basketball and runs efficient offense, which should help them stave off Loyola Chicago and get back to the Big Dance.
11 Seeds
Belmont – The Bruins got off to a 24-1 start last season before losing their last two OVC games and eventually falling to Morehead State in the conference tournament final. Belmont returns basically everyone from that squad and is the prohibitive favorite to win the league once again. Big man Nick Muszynski led the team in scoring at 15.1 ppg on 60.9 percent 2-point shooting, while do-it-all guard Grayson Murphy (10.9 ppg, 8.0 rpg, 5.8 apg, 2.3 spg) made almost 70 percent of his 2s en route to posting a gaudy 128.1 offensive rating, which ranked 23rd nationally.
Syracuse (First Four) – Putting Syracuse on the bubble hardly feels like a stretch after the Orange's recent track record, as once again last year they fell on the right side of the cut line only to make plenty of noise once the tournament began. Buddy Boeheim (17.8 ppg) and Joseph Girard (9.8 ppg, 3.5 apg) are the only returning players who scored more than two points per game last season. As a result, Jim Boeheim will be counting on some combination of transfers, four-star freshman Benny Williams, and last season's bit players to step up. The two transfers most likely to fit that bill are Jimmy Boeheim, who scored 16.7 points per game at Cornell, and Cole Swider, who comes over from Villanova.
Rutgers (First Four) – The offseason was a mixed bag for the Scarlet Knights, as Geo Baker (10.4 ppg, 3.2 apg) and Ron Harper, Jr. (14.9 ppg, 5.9 rpg) opted to return while Jacob Young and Myles Johnson transferred out. Rutgers finished 16th nationally in adjusted defensive efficiency last season, but that figures to take a step back without Young and Johnson. The question is how much. At the same time, the offense should improve as Young and fellow transfer Montez Mathis posted two of the highest usage rates on the team but two of the lowest offensive ratings. Much hinges on the development of big man Cliff Omoruyi (3.8 ppg, 4.0 rpg) as well as the contributions from transfers Ralph Agee (San Jose State) and Aundre Hyatt (LSU). As much as anything, Rutgers' inclusion here is a nod to the overall quality of the Big Ten and the job that Steve Pikiell has done since taking the job.
Richmond – An early-season win over Kentucky raised expectations for the Spiders, but injuries and multiple COVID-19 pauses proved to be Richmond's undoing. Hopes are high again though, as the Spiders return four players who scored between 12.0 and 12.7 points per game, and they get Nick Sherod back, who averaged 12.7 points and 5.4 rebounds in 2019-20 before missing last season with a knee injury. Forward Grant Golden (12.7 ppg, 6.0 rpg, 3.5 apg) does a little bit of everything for Richmond, hitting 57.1 percent of his 2-pointers while also posting an impressive 26.4 assist rate. If everything breaks right, the Spiders could challenge the Bonnies for the A-10 crown.
Colorado State – The Rams just missed out on an at-large bid last season after finishing third in the Mountain West, eventually earning a one seed in the NIT and winning a couple games there. Virtually everyone is back from that team, and coach Niko Medved is looking to get CSU back into the NCAA tournament for the first time since 2013. The Rams boast one of the league's top duos in David Roddy (15.9 ppg, 9.4 rpg) and Isaiah Stevens (15.3 ppg, 4.3 rpg, 5.4 apg), and they added a little more firepower when they grabbed D-II All-American Chandler Jacobs, who initially committed to Texas Tech.
10 Seeds
Mississippi State – After making it to the NIT Championship game to close out last season, the Bulldogs hit the transfer market hard in the hopes of getting to the Big Dance. Garrison Brooks (10.2 ppg, 6.9 rpg) is the headliner following a somewhat disappointing season at North Carolina, while D.J. Jeffries (Memphis) and Rocket Watts (Michigan State) should also slide into starting roles. Iverson Molinar (16.7 ppg) is the top returnee, and Tolu Smith (12.6 ppg, 8.4 rpg) gives Ben Howland another big body inside. Mississippi State was among the nation's best in offensive rebounding percentage, which should be the case again this season. But without a true point guard on the roster, the Bulldogs may continue to be plagued with turnover issues after turning it over on over 22 percent of their possessions last year. Given the new faces, there is a wide range of outcomes here.
BYU – The Mark Pope era is off to a great start in Provo, with the Cougars finishing in the top 20 at KenPom in both seasons and compiling a 23-6 mark in the WCC. They'll need to replace a couple key pieces, but guard Alex Barcello (16.1 ppg, 4.7 rpg, 4.3 apg) is the straw that stirs the drink. Barcello posted a gaudy offensive rating of 123.3 thanks in part to a 25.8 percent assist rate and 47.2 percent shooting from deep. Caleb Lohner (7.0 ppg, 7.1 rpg) will step into a larger role offensively as a sophomore, and transfers Te'Jon Lucas (Milwaukee) and Seneca Knight (San Jose State) will need to contribute right away. The gap between Gonzaga and BYU is wide in the WCC, but the Cougars are still a tournament-caliber squad.
San Diego State – The Aztecs won the regular season and tournament titles in the Mountain West last year, as they ripped off 14 straight wins to close out the regular season before falling to Syracuse in the first round of the NCAA tournament. Unlike MWC foe Colorado State, SDSU will have a lot of new faces and needs to replace its top three scorers from a year ago. Coach Brian Dutcher hit the transfer portal hard, with former Cal guard Matt Bradley (18.0 ppg, 4.6 rpg) the headliner. Bradley is a 40.4 percent career 3-point shooter and will be counted on to carry the scoring load. Dutcher's defenses have ranked 30th or better in adjusted efficiency in three of his four seasons, and the offense has been top 50 the last two years.
LSU – With Darius Days (11.6 ppg, 7.8 rpg) the only returning player to score more than 3.6 points per game last season, there will be no shortage of new faces for Will Wade. Missouri transfer Xavier Pinson (13.6 ppg, 2.9 apg) already has experience in the SEC, but the Tigers were dealt a tough injury blow when Illinois transfer Adam Miller (8.3 ppg) suffered a season-ending knee injury. Consequently, LSU will be relying pretty heavily on incoming freshmen. Big man Efton Reid is the most highly-touted of the newcomers and is expected to start immediately, while the others will likely come off the bench early on. After finishing fifth in adjusted offensive efficiency last year, a step back feels inevitable, but if Wade can figure out how the pieces fit together, the talent is there to earn an at-large bid.
9 Seeds
Florida – The Florida roster is littered with transfers, as all three of the Gators' key returnees are former transfers and will be joined by four new transfers in the rotation this season. Former Michigan big man Colin Castleton (12.4 ppg, 6.4 rpg) broke out last season, while Tyree Appleby (11.3 ppg, 3.3 apg) also returns after scoring in double figures in his first year with the program. Incoming transfers include Myreon Jones (Penn State), Brandon McKissic (Kansas City), CJ Felder (Boston College), and Phlandrous Fleming (Charleston Southern). Coach Mike White will also need to integrate freshman Kowacie Reeves into the rotation, and the infusion of so many new players will certainly be a test.
West Virginia –Replacing Deuce McBride and Derek Culver won't be easy for Bob Huggins, but he does have Taz Sherman (13.4 ppg) and Sean McNeill (12.2 ppg) back in the mix. The Mountaineers will be relying heavily on Old Dominion transfer Malik Curry (15.7 ppg, 3.6 apg) to run the show, while fellow transfers Pauly Paulicap (DePaul) and Dimon Carrigan (Florida International) will be counted upon as rotation players. WVU seems destined to take a step back offensively after ranking 12th in adjusted offensive efficiency, but there should also be room to improve upon last season's defensive performance. There's a wide range of outcomes here, but Huggins has missed just one of the last six NCAA tournaments.
Oklahoma State – The Cowboys only have to replace one player from last year's team, but the problem is that one player was Cade Cunningham. That said, there is still plenty of returning talent with six players back who scored at least 7.3 points per game, and it's worth noting the Pokes did win at West Virginia without Cunningham last season. Avery Anderson III (12.2 ppg, 4.0 ppg), Kalib Boone (9.4 ppg, 5.4 rpg), and Isaac Likekele (9.1 ppg, 6.6 rpg, 3.6 apg) are the top returnees, but a number of transfers, including two from within the league, will slide into the rotation as well. Among the transfers are big man Moussa Cisse, a highly touted recruit who managed just 6.6 points per game in his lone year at Memphis, and former Kansas guard Bryce Thompson (4.6 ppg). Oklahoma State ranked 17th in adjusted defensive efficiency last season, and solid defense should remain the team's calling card as they adjust to life without Cunningham.
Xavier – After starting the season 8-0, the Musketeers finished 13-8, including a 2-6 run to close the season after multiple COVID-19 related pauses. Virtually every key contributor returns though, led by breakout big man Zach Freemantle (16.1 ppg, 8.9 rpg) and veteran point guard Paul Scruggs (14.0 ppg, 4.0 rpg, 5.7 apg). Xavier added a couple Big Ten transfers in Jack Nunge (Iowa) and Jerome Hunter (Indiana) to bolster the frontcourt as well. While offensive efficiency improved last season despite relatively poor long-range shooting, the defense took a step back, dropping from 20th in adjusted efficiency to 94th. Outside of Villanova, the Big East isn't loaded by any means, and the Muskies look to be right in the thick of the second tier if they can show improvement on the defensive end.
Follow Andy on Twitter (@andybottoms) for more thoughts on college hoops and to receive an update whenever new brackets are posted.
Filed to: 2021-2022 Bracketology