6-Banner Sunday: Hoosiers finish critical week 2-1 with wins over Iowa, Northwestern and a loss at Ohio State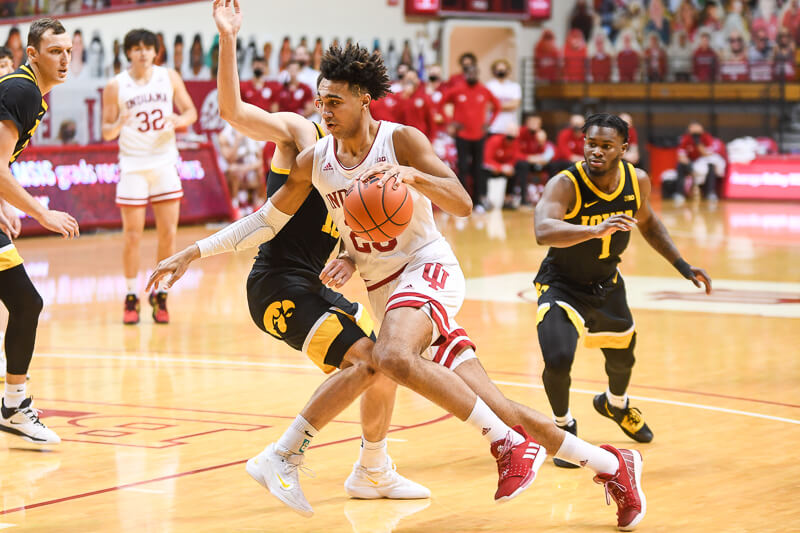 6-Banner Sunday is Inside the Hall's weekly newsletter in partnership with The Assembly Call. More than 7,500 Indiana fans receive the newsletter each week. In addition to appearing each week on the site, you can also opt to receive 6-Banner Sunday by email. A form to subscribe via email is available at the bottom of this week's 6-Banner Sunday.
Welcome to another edition of 6-Banner Sunday, a joint production between The Assembly Call and Inside the Hall where we highlight the five most essential IU basketball stories of the past week, plus take a look at how the other IU sports programs are doing.
Indiana went 2-1 this week, beating No. 8 Iowa and Northwestern while losing to No. 4 Ohio State. The Hoosiers now have an overall record of 11-9 and 6-7 mark in the Big Ten.
Indiana was outmanned in Saturday's game on the road against Ohio State. The Hoosiers fell into a big deficit early in the game and were unable to fight their way out.
The first two games of the week were won by Indiana in dramatic fashion. The Hoosiers topped Iowa thanks to a game-winner by Armaan Franklin in the last couple of seconds. Then, Indiana took Northwestern to double-overtime before coming out with a 3-point win.
Now, the Hoosiers are scheduled to be back at home this week to host Minnesota on Wednesday at 9 pm ET on BTN and Michigan State on Saturday at 12 pm ET on ESPN.
You can listen to this week's edition of Assembly Call radio here and the newest episode of Podcast on the Brink with guest Ryan Corazza here.
• Indiana gets blown out by No. 4 Ohio State
• Indiana escapes Northwestern with double-OT win
• Hoosiers sweep regular-season series against Hawkeyes
• Class of 2022 guard CJ Gunn commits to Indiana
• Indiana hosts Minnesota on Wednesday
• Hoosier Roundup
Banner #1
Indiana gets blown out by No. 4 Ohio State
Indiana was unable to pull off a road upset, falling to Ohio State 78-59 in a blowout loss on Saturday afternoon. The Hoosiers shot just 42 percent from the field while allowing a season-high 1.22 points per possession.
"We didn't have our best game by far," IU head coach Archie Miller said postgame. "If you look at Al and Armaan and them having seven turnovers, we need those guys to play better. But they also played terrific the other day."
The Hoosiers were outplayed in nearly every statistical category. They committed 15 turnovers which led to 21 Ohio State points. They also allowed 20 second-chance points from Ohio State.
Trayce Jackson-Davis had a team-high 23 points for Indiana and shot 10-of-14 from the field. Jerome Hunter was the only other Hoosier to score in double-figures. Indiana's freshmen, who had been playing well of late, combined for zero points.
Banner #2
Indiana escapes Northwestern with double-OT win
Despite playing one of its worst games of the season, Indiana pulled out a 79-76 double-overtime win over Northwestern on Wednesday evening.
The Hoosiers shot just 35 percent from the field as a team, 33 percent from beyond the 3-point line and committed 13 turnovers. Northwestern, who entered the game on a nine-game losing streak, held a lead for a majority of the game.
Indiana trailed by seven with less than two minutes remaining in regulation when Al Durham hit five free throws in less than one minute to shrink the deficit to just two points. Durham was at it again with 24 seconds left, hitting a floater to knot the score and send the game to overtime.
"We needed this win," Durham said. "I feel like this win was very important to us because we haven't been able to put two together. We haven't been able to string two along."
Indiana fell into another hole in overtime and this time Armaan Franklin came through, scoring 10 of the Hoosiers' 12 overtime points. Durham hit a long 2-pointer with less than two seconds remaining to tie the game and send it to another extra period.
In the second overtime, Jerome Hunter hit a huge 3-pointer to essentially ice the game, giving the Hoosiers the victory.
"This one right here puts a smile on my face more than any of them just because what we had to go through to figure out how to do it," IU head coach Archie Miller said postgame. "You don't win today if you're not together, if you're not gritty, if you're not tough-minded."
Banner #3
Hoosiers sweep regular-season series against Hawkeyes
For the second time in three weeks, Indiana knocked off a top-10 ranked Iowa team. The Hoosiers closed out the regular-season sweep with a 67-65 win over the No. 8 Hawkeyes last Sunday in Assembly Hall.
With less than two seconds left in the game, Armaan Franklin hit a game-winning pullup jumper and pointed up to his family in the stands. Indiana's defense was superb again, holding Iowa's high-powered offense to just 37 percent from the field. Luka Garza was also held in check after picking up two quick fouls in the first half. He finished just 6-of-14 shooting from the field.
The story of the afternoon, though, was Indiana's freshmen, who energized the Hoosiers when they trailed by large-margins in the first and second halves. In all, the freshmen combined for 19 points, five assists and nine rebounds. Anthony Leal alone added three steals.
"To watch those guys come in, get hit around, get knocked down, it's not easy," Miller said. "Some guys just get up and leave. Some guys never get back up. These four guys have hung with it and made us better."
Banner #4
Class of 2022 guard CJ Gunn commits to Indiana
Class of 2022 four-star Lawrence North guard CJ Gunn announced his commitment to Indiana Sunday night. He became Indiana's first commit in the 2022 recruiting cycle.
Gunn, who stands 6-feet 5-inches tall and has a 6-foot 9-inch wingspan, is ranked No. 107 nationally, according to the 247Compsite. He chose Indiana over Cincinnati, Kansas State, Xavier and Missouri, among others.
"I think it was mainly coach Miller's consistency with checking up on me every day," Gunn told Inside the Hall. "Whether it was basketball related or not, he made me feel like a part of the family already. He was the head coach doing that. No other head coach was recruiting me like that."
As a sophomore for Lawrence North last season, Gunn averaged 7.1 points and 2.5 rebounds per game while shooting 35 percent from three.
Banner #5
Indiana hosts Minnesota on Wednesday
Indiana's next challenge will come when it takes on Minnesota in Assembly Hall on Wednesday. The game will be broadcast on the Big Ten Network at 9 pm ET.
The Golden Gophers defeated No. 24 Purdue on Thursday night thanks to a game-winning 3-pointer by dynamic guard Marcus Carr. As of Sunday, Minnesota holds an overall record of 13-7 and a Big Ten mark of 6-7. Earlier in the season, they were ranked in the top-25, but have slipped as of late.
Minnesota is led by Carr, who is averaging 19.9 points, 4.4 rebounds and 5.4 assists per game. The Golden Gophers also have a talented forward in Liam Robbins, who averages 13.1 points and 7.3 rebounds per game. Carr and Robbins are both threats from deep.
Minnesota is scheduled to play at Maryland on Sunday night, giving them a short turnaround when they continue their road trip in Bloomington on Wednesday.
Banner #6
Hoosier Roundup
Football and Women's Basketball both had huge weeks, with the former winning off the field and the latter winning on the court. Also, Volleyball, Track and Field, Women's Tennis and Water Polo saw competition this week.
• Football pulled off a major hire for their running backs coach as Deland McCullough returns to IU where he coached Tevin Coleman and Jordan Howard to the NFL several years back. Most recently he was an assistant for the two time Super Bowl participant Kansas City Chiefs.
• Women's Basketball had a terrific week knocking off Iowa in Iowa City for the first time since 1994. They then beat Penn State in dominating fashion behind a Grace Berger triple double to take sole control of second place in the Big Ten percentage points behind Maryland. They take on a struggling Illinois team at 3pm today on BTN+. Also, several Hoosiers received recognition as star guard Ali Patberg was named a CLASS Award Candidate and Berger was named to the Wade Trophy Watch List.
• Volleyball fell twice to top ranked Wisconsin. However, they had two players earn Big Ten recognition following a victory over Iowa last week.
• Softball announced their schedule which will be conference only and begins in Florida on Feb 26th.
• Men's Golf was named Golfweek's Team of the Week after their Big Ten Championship in match play. The victory also saw a Hoosier earn recognition by the Big Ten.
• Track and Field competed in both Iowa and Ohio. They also had a trio of athletes honored by the conference.
• Women's Tennis competed at the Illinois Invitational, fell to Penn State and had a Scholar Athlete of the Month.
• Water Polo once again dominated St. Francis and Salem to move up to No. 13 in the rankings. They also had a couple players receive recognition.
Thanks for your continued support for The Assembly Call. We'll be back next weekend with a new roundup.
Now go enjoy yourself a 6-banner Sunday.
Tyler Tachman – Student Intern The Assembly Call
Filed to: