Q & A: CJ Gunn and his father, Christopher Gunn, discuss commitment to Indiana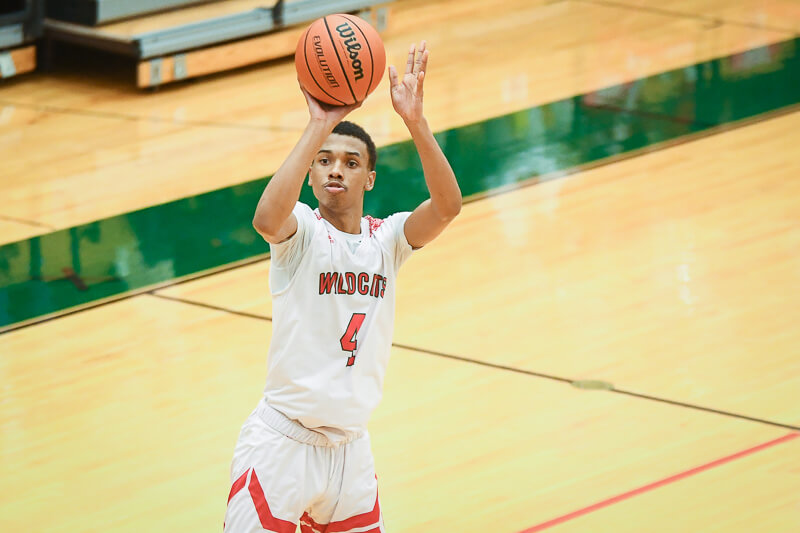 Indiana added its first commitment in the class of 2022 on Sunday night when Lawrence North guard CJ Gunn announced his pledge to the Hoosiers.
Gunn, a 6-foot-5 guard, chose Indiana over offers from Cincinnati, Xavier, Kansas State, Missouri and others. Inside the Hall had the opportunity this week to talk at length with Gunn and his father, Christopher, about his decision, his development and much more.
Our Q & A is available below:
What made you feel comfortable that Indiana was the right place for CJ and that now was the time to go ahead and make the decision?
Christopher Gunn: This was a decision that we didn't arrive at lightly. There was a significant amount of thought that went into it and also a process for us to approach the situation ultimately with CJ needing to be comfortable in the decision. It's his life and he'll be the one that bears the consequences – good, bad or indifferent – with this decision moving forward, of course with our support. CJ had a number of criteria that he was looking for in a college. And as we began to have those discussions with a number of universities, the discussions got fairly detailed, fairly quickly. IU stood out because they met more of those criteria that we were evaluating on than any other school.
Simply put, when you know, you know. The other thing I would mention is that the timing piece … he's a junior and obviously he has a lot of time between now and when he steps a foot on IU's campus as a student. That was more CJ's call at that point. We were in the midst of evaluating the schools and we got to a point where I was saying to him, "yeah, mom and dad wouldn't have any issue with you selecting any of these schools." And he came to us on a couple of occasions and said, "Hey, I'm ready to make a decision" and I was a little bit surprised that it came so early. And I said, "Why now? There's a lot time between now and then."
And he simply stated that the quality of the relationship that he developed with coach Archie (Miller) and coach Tom (Ostrom) was at a point where he is grounded in and ready for that decision. So we began to talk about why and I heard all of the things that I needed to hear and the confidence in his voice and his rationale and it was a good decision. For me personally, it made sense.
Once I had heard his reasons, I got comfortable with it because I believe in coach Archie. That's what it comes down to. I believe that he and his staff are in a position … it's almost like a passing of the baton. I believe that when CJ is passed off to college, that they are in a position to help continue raising him as a young man. And I believe that. I firmly believe that. I think IU is in a good position with their current staff to create an environment where they can help him with his maturity and continue his growth. He's a young man, but when he gets down there he'll be 18 or 19 years old. He still will have some development, but I firmly believe they have that down pat with their staff.
I think the other piece, from a basketball perspective, is that I believe in what Archie is trying to implement at Indiana. His time at Dayton and some of the ways that he was running his system, both offensively and defensively, I don't think that it's been fully realized with where IU is currently. And I think CJ is very well positioned to be a big part of what they're looking to implement. I think he brings some things to the table that, quite frankly, they have some of that, but maybe not enough of it, in terms of skillset. With his mom and I being confident with his continued development as a young man and some of the goals he has just in life with maturity in non-basketball oriented stuff combined with a firm belief of what Archie and the staff are looking for from the basketball side and there is a need and a fit, we were confident in going ahead and backing him and supporting the decision.
CJ, your dad laid out his thought process, but what was your thinking leading up to the decision? Why do you feel you were ready now? He talked a little about it, but what made you convinced that Indiana was the right fit for you?
CJ Gunn: I think it was mainly coach Miller's consistency with checking up on me every day. Whether it was basketball related or not, he made me feel like a part of the family already. He was the head coach doing that. No other head coach was recruiting me like that.
I think IU will offer me the best opportunity and is the best fit academically and athletically.
Obviously this is a different time in recruiting with COVID and the NCAA restrictions on taking visits. What was it like trying to build these relationships when you couldn't be there in-person and did that make it any more difficult?
Christopher Gunn: I think that universities that were closer in proximity to us benefitted from the current NCAA restrictions on open periods due to COVID. CJ has been to IU's campus before. He semi-remembered, but I actually have a picture of him and his sister standing center court when we went down for a women's game many, many years ago. He probably was seven or eight years old. Several of the schools that were interested in recruiting CJ, we actually went to the campus and spent a significant amount of time on those campuses.
The flip side of that is that the programs and coaches that were recruiting him that were six-plus hours away, we didn't have the benefit of actually visiting those campuses. With him getting really comfortable with IU, that was an advantage for them. We went, on our own accord, to Xavier, Cincinnati, Louisville and IU. We physically went to those campuses and spent three-fourths of a day or a full day at each of those universities. The flip side is that the programs further away, we didn't get to do that. That was one of the questions I asked CJ when he was talking that he was ready to commit. We had good relationships with those programs, but we didn't have an opportunity to visit them. What he said back to me was, "look, regardless of what those programs would share when I visit, the relationship with coach Archie (Miller) and coach Tom (Ostrom), isn't going to change."
CJ Gunn: I actually went to an IU practice last year with the LN basketball team. So I got to see how coach Miller coached during practice and I like his intensity during practice and he seemed like he really cares about his players.
We also went up there during fall break and I loved everything that I saw. We went to the arena, we saw where the players stay and I loved the setup of the campus. I feel like I can thrive there. I had a conversation with Armaan (Franklin) for probably an hour and a half and he really answered all of the questions I asked him. He took out any worries and he made everything about IU sound great. All the players, the coaches, the campus, the people. He really helped out a lot.
Christopher Gunn: IU did something that was unique. They had coaches with cameras and did a virtual tour. They took us around Cook Hall, Assembly Hall, the locker room, the recovery side. They had checkpoints with folks set up with cameras going live and walked us through the nooks and crannies. They took us through a pretty virtual tour. Some schools have that online, but this was personalized where they had people stationed at different places and took us around to show us everything.
CJ, in terms of your game, your dad mentioned your skillset and how you offer something that Indiana doesn't have enough of right now or needs more of, what do you think he's alluding to and what do you feel are your main strengths as a player right now?
CJ Gunn: I feel that I can score at all three levels – the three, the midrange or driving to the basket. I feel like scoring is a big part of it. I think I'm a two-way player. I can go out there and guard the best player on the other team.
When you go right now and do individual work, what are you emphasizing right now with your improvement? What do you need to get better at to be ready to play right away?
CJ Gunn: I feel like I need to work on getting my shot more consistent. I also need to work on my ball-handling to be able to switch through both guard positions, the point guard and the shooting guard. Right now, I'm working on getting my shot more consistent on my midrange pullups and my catch and shoot 3s. Later on in the summer, I'm going to be working on my guard skills.
When you've watched Indiana play this season, they've had some really good wins and some close, tough losses. But you look at the young players, how big were those guys in convincing you that Indiana was a place you could go and win a lot of games?
CJ Gunn: I think looking at those guys, all of them are great. Some of those guys also helped me with my recruiting process. They were actually texting me with advice. Just getting a chance to play with those guys, I feel that we'll be great together just from watching the games and the style of play. I also like how coach Miller gives his freshmen a chance to play. All of them have seen the court this year. I just want an opportunity to be able to play my freshman year and be able to prove myself early on.
Who were your influences in basketball? Who did you grow up watching and who do you enjoy watching now in the NBA?
CJ Gunn: Growing up, my favorite player was always Damian Lillard. He still is my favorite player. I watch his game a lot. I just like his killer instinct and the way he goes out there. Not only does he know he's the best player, he tries to prove himself every night. I really wouldn't say I looked up to anybody on TV, but me and my sister, we love basketball and she really helped bring out that dog in me when we were younger. Just from playing. We would bleed, cry, all that stuff. I think I can have that competitive nature towards my sister and she's blood, I can have that with anybody.
It sounds like your dad has also been a big influence on helping you grow as a player and a person. What has his impact been on you? And how has he helped you in terms of basketball?
CJ Gunn: He's always been supporting me. He knows how to motivate me after good games and bad games. I think he knows a good way to get on me without bringing my confidence level down. He knows that when he's getting on me, that I'm going to try to prove him wrong. He's always motivated me, even since I was little. My mom has also been that way, too.
Mr. Gunn, from your perspective, what can you tell us about CJ off the court and the person that he is beyond basketball?
Christopher Gunn: CJ, he comes from a two-parent household. We're both college-educated and professionals and we have demanding careers. Having said that, in our household, family and our children, outside of God and our marriage, are first. So we pour as much love as we can into them.
But this right now, is not about us. And we recognize that. I would tell you right now that CJ's superpower, and I'm not talking about with basketball, but he has two superpowers, as I call them, that stand out.
One is that he is very compassionate. He's very caring and compassionate. I think that bleeds over to the basketball court and him being a team player. He's just blessed with that.
I think he's also super confident. I've not met another young person that is as confident as CJ is. He's the type of individual that you say, you can't do something, he's already made up in his mind that he can do it. And when challenges arise, it doesn't seem to bother him. He's just supremely confident in whatever he sets his mind to. It's never been an issue for us to have to motivate him that way. Those are two superpowers that God has just blessed him with. So me and my wife as stewards, we're just trying to make sure that those strengths that he has as a person, we're putting him in the right position to demonstrate those superpowers. It just so happened that he chose basketball as one of the areas that he wants to demonstrate those superpowers.
CJ, this basketball season is unique with the challenges from COVID. Has it been difficult at all? Or has it affected your routine at all?
CJ Gunn: It's been normal as far as going out there and giving it my all. A little bit of the crowd is allowed at the games and the vibe is a bit different because the crowd. But other than that, I feel like the way that I am playing and the way I'm giving it my all is still the same. I feel like with COVID, you never know what can happen. With our team, we give it our all every time we step on the court because you never know when our last game could be.
What's the goal for this season and how will you measure success?
CJ Gunn: I want to be the best version of myself and I want to do whatever it takes to help my team win. I feel like the goal of every team should be to win state. And that's our goal.
Filed to: C.J. Gunn