Five takeaways from Indiana's win over Northwestern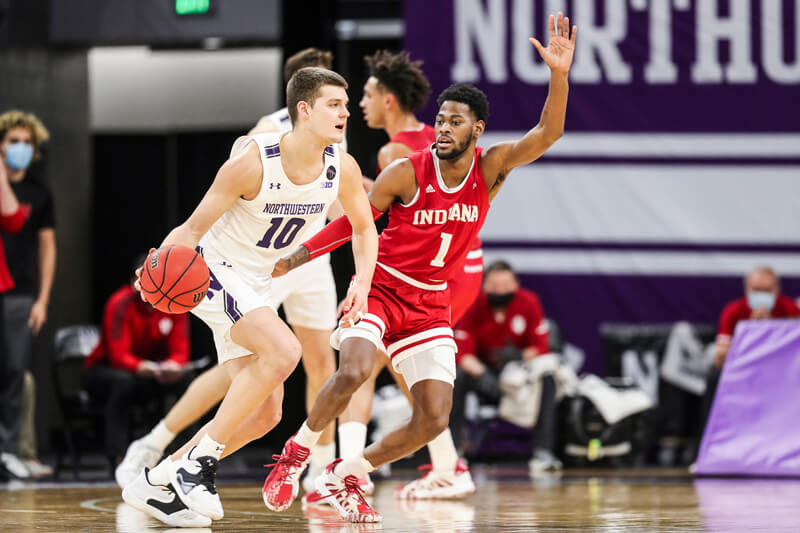 It will go down in the record books as a win.
For much of the game in Evanston, Indiana looked like it was going to fall to a Northwestern team that had lost nine consecutive games.
After beating No. 8 Iowa on Sunday, the statistic that kept resurfacing was Indiana's 2-9 record after beating a top-25 opponent in Archie Miller's tenure. Everything about Indiana's play on Wednesday pointed to it becoming 2-10 as the Hoosiers slipped into deficits late in regulation and in the first overtime.
Had Indiana been in the same situation a month ago, they most likely would've come up short.
Instead, the Hoosiers escaped what would've been an atrocious loss and pulled out a 79-76 win in double-overtime. It was a game that, by all means, Indiana shouldn't have won. But they did, thanks to clutch plays down the stretch by Armaan Franklin, Al Durham and a huge 3-pointer by Jerome Hunter.
"This one right here puts a smile on my face more than any of them just because what we had to go through to figure out to do it," IU head coach Archie Miller said postgame. "You don't win today if you're not together, if you're not gritty, if you're not tough-minded."
Here are five takeaways from the win:
• Armaan Franklin and Al Durham carry Indiana to victory: Indiana's backcourt of Armaan Franklin and Al Durham combined for 47 of Indiana's 79 points, including 7-of-13 from beyond the 3-point line. Franklin and Durham hit clutch shot after clutch shot while the rest of Indiana's offense slumped.
When the Hoosiers were down by seven with less than two minutes remaining in regulation, Durham hit five free throws in less than a minute to pull Indiana within two points. Durham then proceeded to hit a jump shot with 24 seconds left to knot the game and eventually send it to overtime.
In the first extra period, Franklin scored ten points, including seven made free throws. Durham came through again, too, hitting a jump shot just inside the 3-point arc to tie the game with under two seconds to go and sending the game to double-overtime.
"I do think that here lately we've done a better job of executing later in the game just so we can get a shot up," Miller said. "I think so many times in overtime in earlier games we struggled to execute, we've struggled to get a quality shot."
Fittingly, Durham hit four free throws in the second overtime period and iced the game with three seconds remaining.
"We needed this win," Durham said. "I feel like this win was very important to us because we haven't been able to put two together. We haven't been able to string two along."
• Free throw shooting becomes a deciding factor: Indiana has had its dealt with its share of struggles from the line this season. Earlier in the year, Miller compared missing free throws to essentially being a turnover.
To begin the game, the Hoosiers were awful from the line, making just 2-of-8 in the first half. Trayce Jackson-Davis and Rob Phinisee both missed a pair.
But Indiana improved in the second half, converting on 10-of-14 attempts from the stripe. Then, Indiana broke through in the two overtimes.
Franklin made 7-of-8 in the first overtime. In the second overtime, Phinisee and Jerome Hunter both hit two and Durham knocked down four more. Near the end of the game, the Hoosiers converted on 14 of its last 15 free throws.
One of Indiana's downfalls in the first half became its redeeming quality in the clutch.
• Indiana's puts on horrendous offensive performance: This offensive performance may have been Indiana's worst since the game against Texas where they scored just 44 points. If it wasn't as bad, it was close.
The Hoosiers scored just 20 points in the first half with only four players contributing. Franklin and Durham had eight apiece and Jackson-Davis and Jordan Geronimo had two each. Indiana was just 7-of-29 from the field.
The second half wasn't much better. Indiana went 11-of-33 from the field and made 2-of-6 on 3-pointers. Race Thompson added seven points, while Franklin and Durham carried the load. But other than those three, it was a lot of misses.
The Hoosiers finished the game making 8-of-16 layups and scoring just one point per possession.
• Trayce Jackson-Davis doesn't dominate and Rob Phinisee continues struggles: Trayce Jackson-Davis finished with a double-double of 10 points and 14 rebounds but was a nonfactor for most of the game. He was constantly picked on by Northwestern's big men in isolation situations.
In the first half, Jackson-Davis shot just 1-of-6 from the floor and had a plus/minus of -5. He contributed six points in the second half, but was far from the dominant player that Indiana needs him to be.
There was nothing particularly special about Northwestern frontline and Jackson-Davis couldn't seem to get into any sort of rhythm.
Then there was Phinisee, who's been an enigma all season. In 32 minutes of action on Wednesday, Phinisee had just two points and was 2-of-5 from the free-throw line and 0-of-4 from beyond the arc. He did, however, have five assists and his two free throws were extremely important.
Phinisee's veteran guard counterpart in Durham has done his share recently, but Phinisee has still failed to hit his groove.
• Turnovers become a major issue: Indiana's inability to take care of the ball nearly lost them the game on Wednesday. Miller has constantly reiterated the importance of his team holding on to the rock.
In the first half, the Wildcats turned seven Hoosier turnovers into eight points. Indiana coughed it up another six times in the second half, leading to 11 more Northwestern points.
Many of the turnovers were fixable. There were lots of errant passes and miscommunication. Franklin ended with four turnovers, while Jackson-Davis, Durham and Khristian Lander each had a pair each.
In the end, however, Indiana was able to overcome all of the mistakes.
"We kind of fought our way through it the whole time defensively," Miller said. "Even when we gave up a couple of runs late, we were able to find a way to get it back in."
(Photo credit: IU Athletics)
Filed to: