Film Session: Northwestern
While Indiana's offense floundered in the first half against Northwestern on Wednesday night, the Hoosiers turned things around significantly after the break. They got to the line a ton, and for once this season, actually converted at a high rate. But in a game Northwestern packed the paint and sent a lot of attention at Trayce Jackson-Davis (season-low 10 points) and Race Thompson, Indiana also had to keep working things, often running multiple ball screens a possession, to get buckets.
Such a style wasn't always successful. Sometimes Northwestern's attention down low meant that an Indiana guard ran into trouble even if they got an advantage off the perimeter. And some of the looks Indiana got off the double teams simply just didn't go down. But a look at the film also reveals an Indiana team getting creative and sticking with things down the stretch in regulation to score points against a defense taking away the inside.
We'll take a look at four such plays from the Hoosiers in today's Film Session:
Here's a high ball screen for Al Durham set by Jackson-Davis. Ryan Young hedges: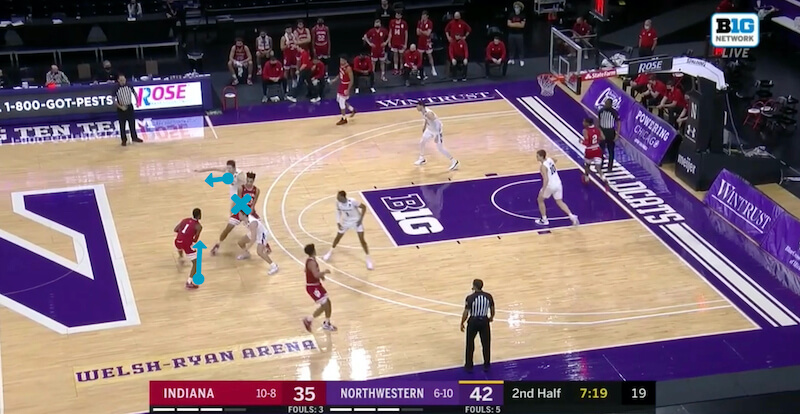 Ryan Greer is able to get over the screen and stop Durham. Young starts to recover back to Jackson-Davis. Chase Audige is in help position on Jackson-Davis' roll, but he starts to move back out to Phinisee on Durham's pass to the right wing. We also see Miller Kopp with a foot in the paint, helping off Armaan Franklin on Jackson-Davis' roll: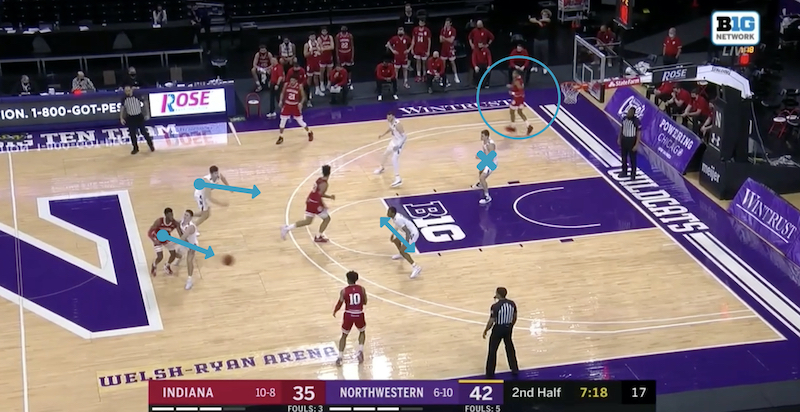 Audige recovers back out to Phinisee with his hands high as Young moves to recover to Jackson-Davis. Kopp is now fully in the paint and leaning towards Jackson-Davis on the roll. On the weak side, Robbie Beran has also moved in a touch towards Jackson-Davis. Franklin has now moved out past the 3-point line: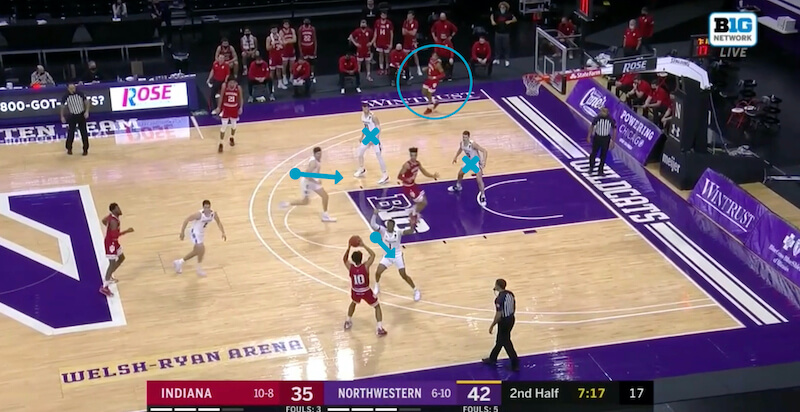 Jackson-Davis has now moved all the way to the strong side on the right low block. Kopp and Young both guard him on a double-team. So Phinisee tries a bit of a risky pass, throwing it across the court to Franklin: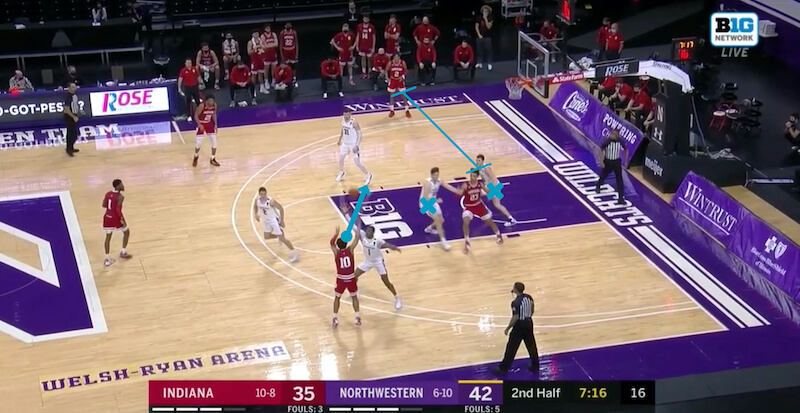 It catches Beran off guard and he's slow to react, which allows the pass to get out to Franklin untouched. Beran moves out to Franklin. Kopp has a lot of ground to make up on the closeout, but he's running after Franklin too: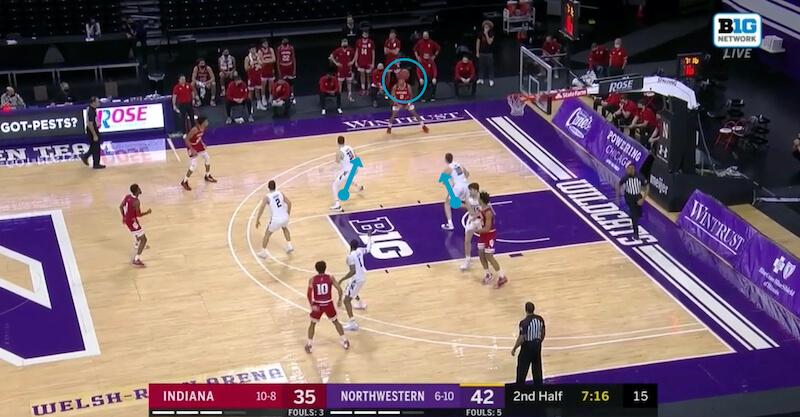 Hopp ends up being the only one getting a hand up on Franklin's attempt, as Beran draws his attention back to a moving Jerome Hunter. Franklin drops in the 3-point to pull Indiana within four points: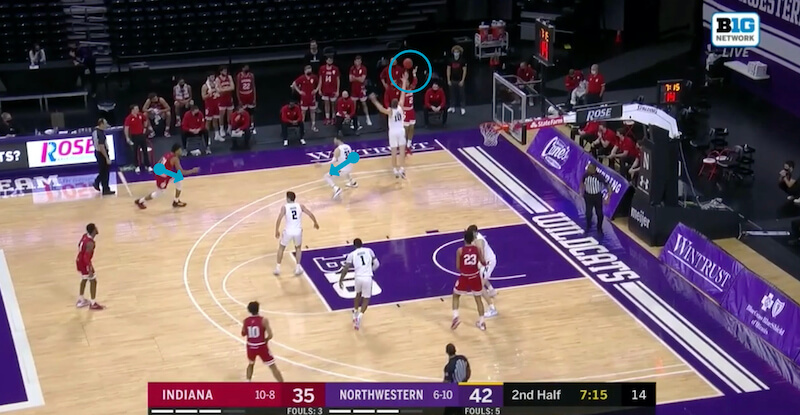 You don't usually see a pass from the wing to the opposite corner. But Kopp's strong side double team left Franklin a lot of space and Phinisee's gamble here paid off.
Video:
Filed to: Northwestern Wildcats