The Minute After: Ohio State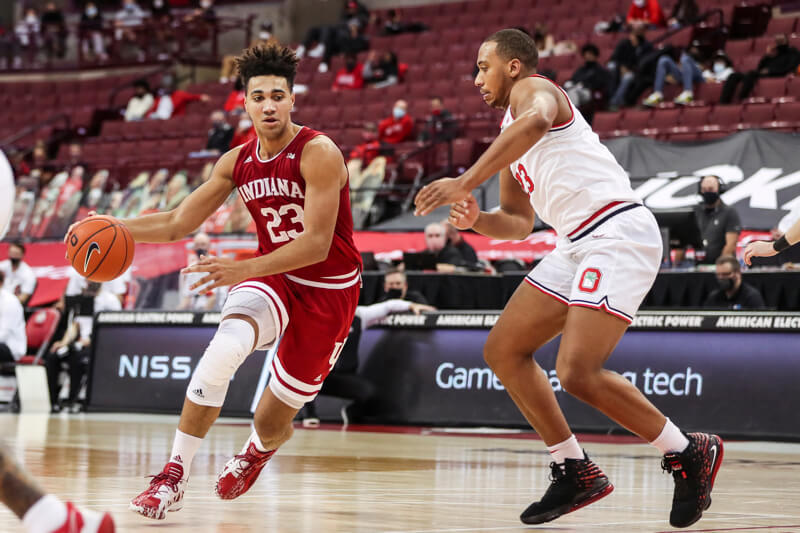 Thoughts on a 78-59 loss to the Buckeyes:
Dig an early hole against struggling Iowa or Northwestern squads? Climbing out isn't so hard. But against Ohio State, a potential No. 1 seed in the NCAA tournament? You stay stuck down in that hole, the dirt piling on top of you with each turnover and missed layup, eventually buried for good in a double-digit loss.
Indiana made a couple of runs in each half to try and get back into this thing, but each time the Hoosiers cut it to single digits, they made a mistake or Ohio State simply kept putting the ball in the basket. The closest Indiana got it in the second half was five points at 45-40 with 14:11 to go. But Ohio State threw a quick 9-0 run on the Hoosiers to go up 14 points. That was pretty much the ball game right there.
Despite Ohio State often choosing to double-team Trayce Jackson-Davis or send extra attention his way, the sophomore was able to work through it to great effect, scoring 23 points on 10-of-14 shooting. Quicker, decisive action helped him today after scoring a season-low 10 points against Northwestern on Wednesday night. But Indiana's offense otherwise was a catastrophe with the ball. The Hoosiers turned it over on 23.5  percent of their possessions, their second-worst mark there of the season. It led to 21 points off turnovers for the Buckeyes. Khristian Lander and Armaan Franklin each turned it over four times. Al Durham had three.
Ohio State was also excellent on the offensive glass, rebounding 41.4 percent of its misses for the contest. That led to 20 second-chance points. When Indiana wasn't gifting the Buckeyes points off turnovers or on the boards, the Hoosiers allowed the Buckeyes to get comfortable all over the floor in the one. We know Ohio State has a number of guys that can put the ball in the basket and that was the case today, as the Buckeyes had four players in double figures with E.J. Liddell leading the way (19).
They were also excellent from the line (17-of-19, 89.5 percent). It all led to 1.22 points per possession for Ohio State, the most the Hoosiers have surrendered all season.
Jerome Hunter added 10 points of the bench in this one, doing a nice job getting position inside and hitting 2-of-4 from deep. But he also picked up a technical foul for saying something to a ref after picking up a foul call. After shooting better than usual from the line against Northwestern, Indiana shot worse than usual today, hitting just 12-of-22 (54.5 percent) from the charity stripe.
Indiana has played well on the road against better teams in the conference up to this point, but that wasn't the case today. The Buckeyes won this game with ease in a game Indiana was too mistake-prone and failed to do the little things. And so the Hoosiers continues to have problems against the Buckeyes in the Archie Miller era, as today's loss drops them to 1-6.
This was going to be a hard one to pick up regardless. But it's also a lost opportunity against a quad 1 team. And it feels like Indiana is going to need another one or two wins against top competition to feel better about its NCAA tournament chances.
(Photo credit: IU Athletics)
Filed to: Ohio State Buckeyes