Armaan Franklin's enduring hero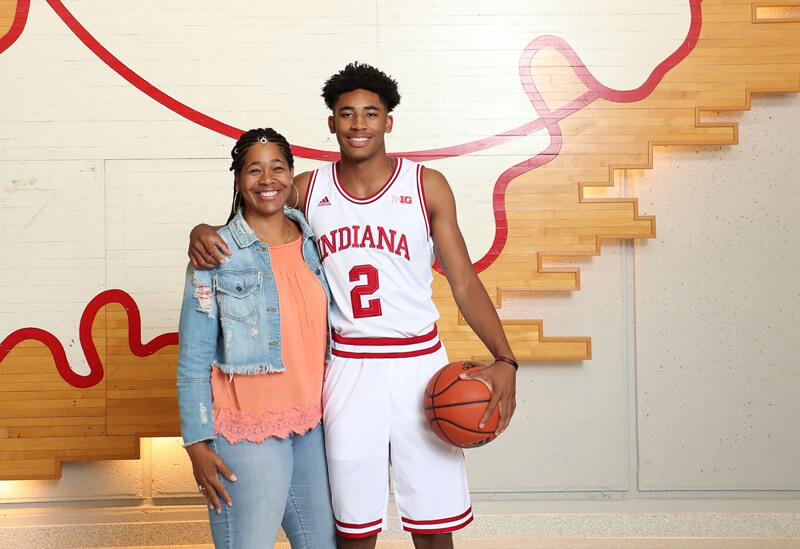 The first word is love.
Armaan Franklin takes a deep breath and shakes his head as he lets the memories flood back. He swivels back and forth on a chair inside his room, his eyes darting down at the carpet.
Armaan's mother India is on his mind. He lets the first thought about her tumble out.
"Just love," Armaan says smiling.
Then he laughs, realizing it's fitting. He extends his left arm, giving way to a four-letter tattoo wrapped around his forearm. Over the summer, Armaan and India got matching ink.
"Love," it reads.
By late-December of this season, Armaan, a sophomore guard at Indiana, had become one of the most improved players, not only in the Big Ten but in the country. His impressive transformation was already evident as he was averaging 13.8 points and 4.6 rebounds per game. Last year, his freshman season, he averaged just 3.7 points and 1.6 rebounds per game.
But in a game against Maryland in early-January, he crumpled to the hardwood, clutching his ankle. He didn't return to the floor that night.
One day during his recovery, Armaan texted India that he was frustrated. His ankle, which was diagnosed as a sprain, wasn't healing as fast as he'd hoped. India told him to keep praying. She reached out to all of her friends to check in on Armaan. India and Armaan talked every day.
"I needed some of those talks," Armaan says.
India Facetimes Armaan and his two brothers every day. India talks to her mom every day. She talks to her sisters every day. She talks to her grandchildren every day.
"If I miss a day talking to anybody, it feels like a week or something like that," India said. "And it bothers me."
More than a decade ago, as a single mother, India was juggling a full-time job and getting her Master's degree in healthcare management while raising her three sons along with a young woman she had welcomed into her household.
She worked a full-day at Saint Joseph Medical Center in Mishawaka, Indiana, before diving into her schoolwork at night. Sometimes, Armaan would tag along to her meetings at Panera Bread. He'd munch on a giant cookie.
India has always been leading the way for Armaan. She was there during his childhood. She was there when he was an overlooked recruit and when he struggled during his freshman season.
Now, as Armaan navigates a season amid a pandemic, and through an injury, she's still there for him.
"I'll never be able to repay her for what she's done for me," Armaan said. "She wants me to be my best at all times so that's how I can make her happy and try to repay her. But it'll never happen."
"There's nothing I can do to repay her."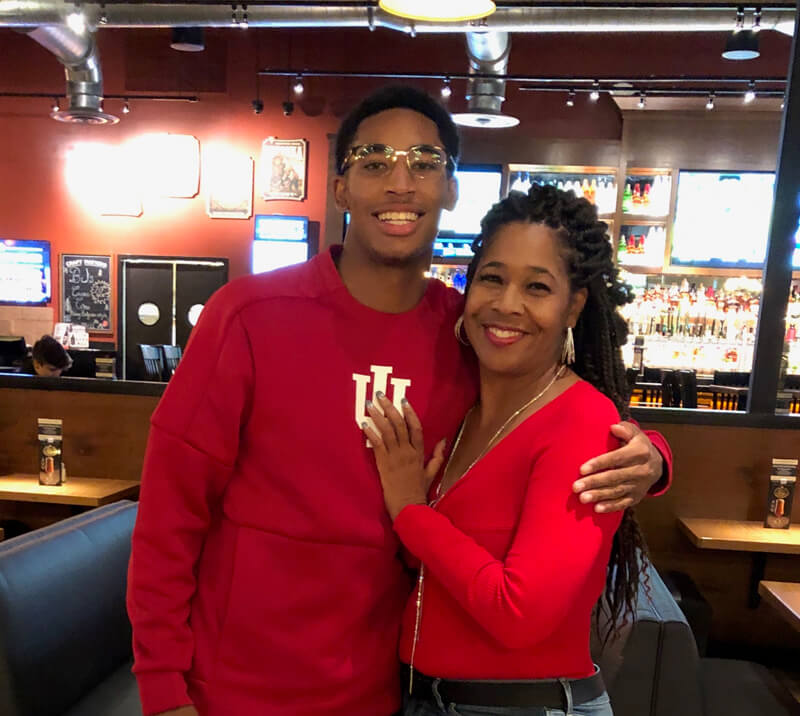 ***
Armaan Franklin attacks the basket with unabashed ferocity. On defense, his eyes are unblinking. Earlier this season against Stanford, he held potential lottery pick Ziaire Williams to 1-of-10 shooting. Under pressure, Armaan's expression is usually as stoic as Mount Rushmore.
During games in Assembly Hall this season, India is somewhere in the socially distanced seats. She chants "defense," and "let's go number two." She sometimes wears a mask with "Momma Franklin" printed in crimson. As India watched Indiana's win over Iowa in her home, she thinks her neighbors could hear her screaming.
But before Armaan had his time on the court and before India watched her son play, the story begins with India's mother, Velma Washington.
Washington raised India and her four siblings as a single mother in Flint, Michigan. She had a job at General Motors, working on the assembly line.
Washington sent her kids to band or theatre camp every summer. They'd pile into the car and drive to Detroit to watch plays. They'd lay on the grass at night and talk while gazing up at the stars. They loved playing board games, too.
India and all of her siblings played sports. Washington would make an effort to attend the games, but it became more difficult when she was assigned to a later shift at General Motors.
"She worked hard, she was tired a lot, but she always made time for us," India said.
A turning point in India's life came in her junior year of high school during track practice.
She was seated on the ground with a group of her teammates when they were supposed to be running. The coach lashed out in front of the whole team. He yelled in India's face. He clapped his hands at her.
India tossed her shoes and jacket on the ground. She quit the team, ran home and told her mom what happened. Washington wasn't having any of it.
"C'mon let's go," Washington told India. "You're not quitting. We don't quit."
She marched India back to the track and made her rejoin the team. India made the city and regional competitions in hurdles that season. She stayed on the team for her senior year.
"When my mom did that to me, it was a lasting impression," India says now.
When India had kids of her own, she knew she wanted to be that same role model.
India's kids were athletes, too, and she played it all with them: football, baseball, ice skating and bowling. She wasn't afraid to talk trash, either.
"I don't sit back," India said. "I'm bowling because I want to win."
It was the same with board games. They'd get into heated clashes of Monopoly and Scrabble. In non-competitive family time, they watched the "Shrek" movies. "Elf" was also a favorite.
When India would wake up at 5 a.m., her first goal was to create a positive environment. Everyone had to be awakened in a different way. India would hum a song and gently rub Armaan's back until he rose. She'd make a breakfast of pancakes or waffles. As a treat on Fridays, India would take the kids to get donuts before school.
Later, she'd take Armaan to practice before making dinner. She arranged a family study hall to complete her school work and help her children with their homework. By the end of the night, she was on the brink of exhaustion.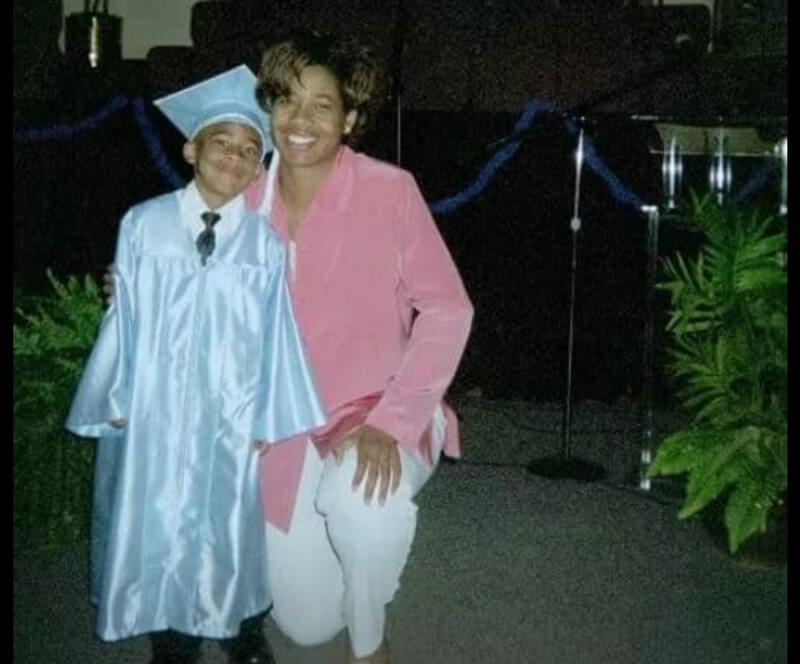 "I didn't realize how hard that was until I grew up," Armaan said. "To have a full-time job and three kids and still trying to get your Master's (degree). That's a tough thing to do."
Despite India's demanding work schedule, she drove Armaan all around the country to play basketball. During their long trips, they listened to "Lovely Day" by Bill Withers and had a competition to see who could sing a note the longest. When other parents went out at night during tournaments, India stayed back to complete school work.
There were times when young Armaan could see India's stress bubbling. He'd make a goofy face or do a silly dance to cheer her up. Other times, it was just a hug or laying his head on her lap.
Even now when her kids are grown, India has the same energy. She gives lots of hugs and tells her kids she loves them all the time.
"I owe thanks to God and thanks to my mom," India said. "Without those two, I wouldn't be who I am and Armaan wouldn't be who he is."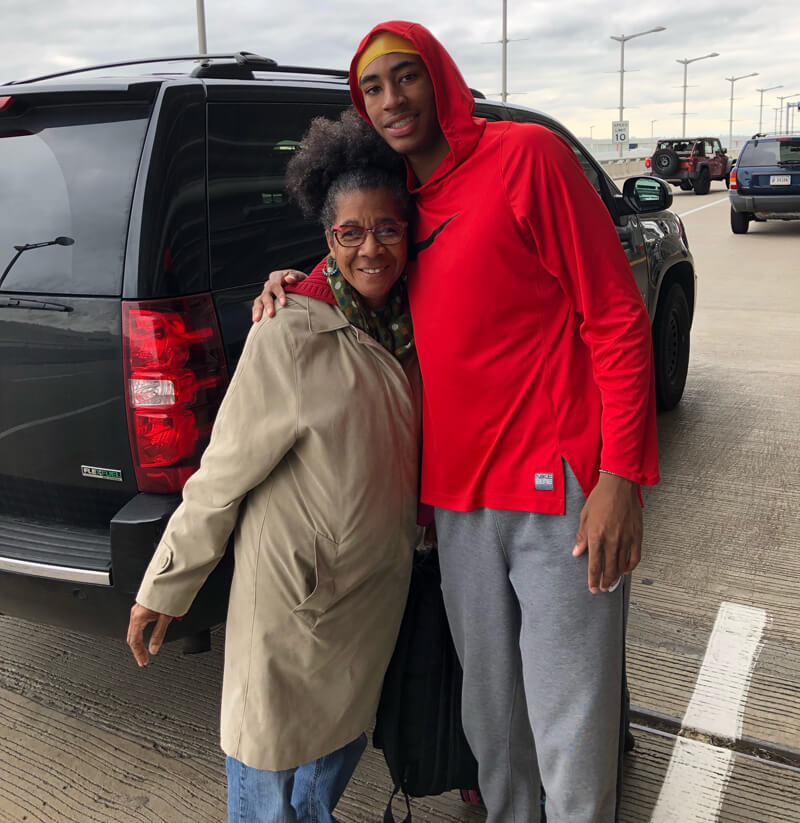 ***
India Franklin used to tell her kids that their siblings would be their best friends. They didn't believe her.
India is careful about who she lets into her life. In high school, when Armaan started working out with basketball trainer Lloyd McBride, India stayed for the whole workout. As time went on, McBride gained India's trust and she felt comfortable leaving during the sessions.
"I had to explain to them that everyone won't be your friend," India said. "People will pretend to be friends, but you got to pay attention to what people do and what people say to figure out who your real friends are."
After his youth sports practices, Armaan mostly came home to hang out with his family. In his British Literature class in high school, he sat in the back of the room and mostly kept to himself.
"He likes to keep his circle small," Lisa Blamey, Armaan's high school teacher, said. "He trusts his circle."
It was sports, India said, that often allowed Armaan to slowly peel off his layers. During an AAU tournament in Las Vegas, Armaan and his teammates were at an outlet mall when he slapped the cement in front of a stranger, squatted in an athletic position and pretended to play defense. The man played along, shuffling from side to side as Armaan's teammates giggled.
"Armaan, when you first get to know him, is quiet," Trayce Jackson-Davis said last season. "But after a while, he'll get out of his shell."
India's caring nature became evident in Armaan, too. One time at school, Armaan was sent to the office because he intervened after watching a classmate being bullied. India told him she would've handled it the same way. Later, during basketball workouts, Armaan would take time to give advice to younger players.
"You can see where those traits with Armaan come from," McBride said.
When Armaan was a sophomore at Fishers High School, he was a 6-foot 3-inch tall guard but was inserted in the lineup as a center. India told him about finding other ways to impact the game like defense and creating shots through offense rebounding. Armaan wasn't getting much attention from college coaches, so India made recruiting profiles for him.
The following year, Armaan transferred to Cathedral High School in Indianapolis. That fall, Cathedral head coach Jason Delaney told college coaches about Armaan's promise on the court, but most of them didn't listen.
Armaan responded by improving his ball-handling skills and sharpening his confidence. He increased his bench press by 50 pounds. Much like India, Delaney demanded Armaan to impact the stat sheet in every category. Armaan did. He asked Armaan to play point guard. Armaan did.
It led to Armaan becoming a multi-faceted star, averaging 23 points, 7.8 rebounds and 3.8 assists per game. The coaches that were skeptical before were back on Delaney's phone.
After Cathedral's season ended in sectionals, McBride told Armaan that he could take a week off to let his body rest. No more than two days later, McBride got a call from Armaan.
"Hey, I'm bored," Armaan told him. "I'm ready to work again."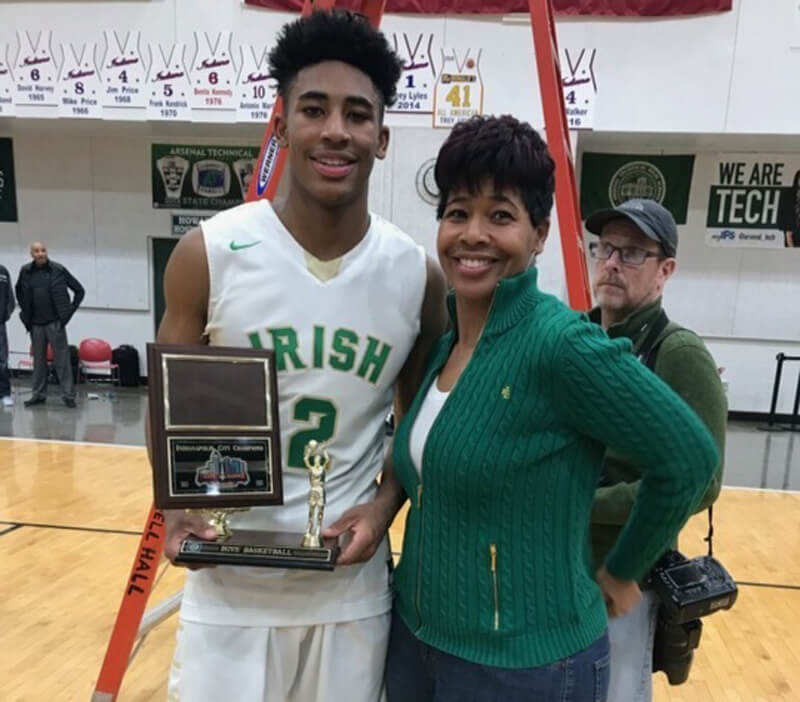 As a result, the high-major attention finally came. In September of his senior year, Armaan committed to Indiana by posting a picture of him and India on social media.
Early in his freshman season at Indiana, Armaan was in the starting lineup for the Hoosiers, but soon after, his minutes dwindled. He shot just 26 percent from beyond the 3-point arc and averaged just seven minutes per game over the last nine contests. His confidence plummeted.
Armaan spoke to his siblings. India and Armaan talked every day, too. "Your time is coming," she'd tell him, "you just got to be ready." "Get in the gym," she'd say after every game. And he would. But sometimes, India just needed to be mom.
"It was rough emotionally for both of us," India said. "When they're little, you can fix a lot of things for them and as they get older you can't fix as much."
When he came back to Cathedral last season to talk to Delaney, Armaan would keep repeating his mother's message: "I'm going to take advantage of the opportunity when I get it."
After Indiana's season ended early due to the COVID-19 pandemic, Armaan asked for a hoop in their driveway. India got it that day. She rebounded for him and even tried to play one on one. She also bought bikes and they rode around their neighborhood.
Over the summer, Armaan analyzed all of the film from his freshman season. The good and bad games. He noticed his shot mechanics were a bit off and made slight adjustments. He added 10 pounds of muscle. He got the tattoo with India.
It all led up to his return to campus. In the preseason, Armaan wasn't the most talked about. Names like Jerome Hunter, Khristian Lander and Race Thompson stole the attention as possible breakout players. But as the season started, it became evident that this was Armaan's time.
He earned his way back into the starting lineup and carried the team's backcourt at the Maui Invitational. The following week, he set a career-high in scoring in back-to-back games. Then he broke it for a third time with 23 points against Illinois at the State Farm Center.
"My mom is definitely my hero, my role model," Armaan said. "She taught me all about hard work and staying dedicated to what you want to do. She let me know that I can do anything I put my mind to if I just work hard."
"She still teaches me to this day."
***
Armaan Franklin used to watch them. The athletes that would appear in front of a camera after games to say "hi mom." Armaan wanted to do the same.
It was after Indiana's blowout win over North Alabama and Franklin had just scored a career-high 19 points. He showed off his swiss-army knife like versatility with five assists and four rebounds.
As Armaan walked off of the Assembly Hall court, he tugged down on his mask and stared at the camera.
"Hi mom," Armaan said.
"That literally melted my heart," India said. "I think I had the biggest grin on my face that could ever have. I think I replayed it 10 times."
Armaan posted a video on Instagram with the caption of "hi mom," too. Then, after the win over Butler, he scored a career-high again, this time with 20 points. As he headed into the Bankers Life Fieldhouse tunnel, he found the camera.
"Hi, mom," he said grinning. "Hi, momma."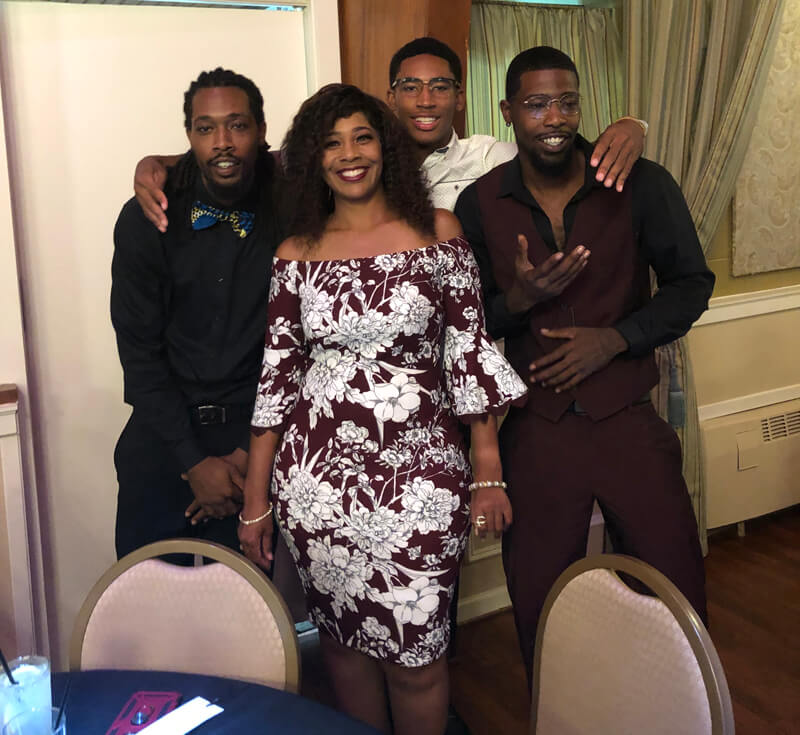 Now, they constantly talk in a family group chat. They'll send out random movie quotes and everyone laughs. India is usually the last one to understand the reference. Her kids make fun of her for it.
Armaan talks to his siblings every day. He chuckles now, raising his eyebrows and shrugging his shoulders, understanding that, yes, his siblings are his best friends. He aspires to be the "cool uncle" to his niece and nephew.
"Most of the advice I give to my nephew is just he can't beat me (in basketball)," Armaan said.
Armaan spent last Christmas Eve with his family. They sang karaoke, did a white elephant gift exchange and played board games. Nowadays, Armaan can hardly get through a full game without quitting in frustration.
"I hate playing UNO with them because they always gang up on me," he said.
India's two older sons along with the young woman she brought in have all graduated college. Armaan is on his way to be the next. Her kids show appreciation by doing little tasks for her like picking up the wrapping paper after Christmas. If they're out, they'll ask India if she wants a lemonade. She loves lemonade.
"To me, the sacrifices are worth it," India says all these years later.
After missing about two weeks, Armaan is back on the court after his injury. Over the last three games, he's played an average of more than 34 minutes on an ankle that head coach Archie Miller said may not be fully healthy the rest of the season. Armaan is now averaging 12.8 points, 4.4 rebounds and 1.9 assists per game in his sophomore season.
"I tell him all the time how proud I am of him," India said. "And that's on and off of the court. I'm definitely proud of who he's become as a 20-year-old grown man."
It's reasonable to wonder how Armaan Franklin came to be this season. What changed from last year that made him a fearless, ice-cold, dagger-delivering baller? What led to this transformation over the summer?
As it turns out, those are the wrong questions.
Think about his childhood. Think about Velma Washington. Think about India Franklin. Think about the love. It'll become clear.
He's been here all along.
Filed to: Armaan Franklin