Five takeaways from Indiana's win over Iowa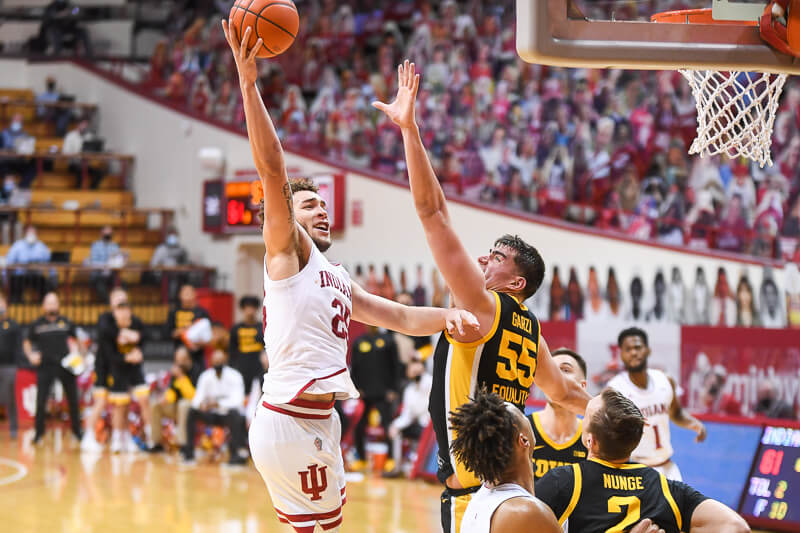 Indiana recorded its 10th win of the season and its fifth victory in Big Ten play on Sunday afternoon at Simon Skjodt Assembly Hall.
Fueled by strong games from Race Thompson and Trayce Jackson-Davis, solid play from its freshmen and clutch shooting late from Rob Phinisee and Armaan Franklin, the Hoosiers completed a season sweep with a 67-65 win over Iowa.
The win, Indiana's third that falls into quad 1 in the NCAA NET ratings, broke a two-game losing skid. Here are five takeaways from the win over the Hawkeyes:
• Indiana locks down Iowa again: For the second time this season, Indiana's defense shut down the nation's most efficient offense.
In Iowa City, Indiana limited the Hawkeyes to just 1.01 points per possession in an 81-69 win. On Sunday afternoon, the Hoosiers were even better in holding Iowa to just .957 points per possession in a 67-65 victory. The points per possession and the 65 points were both season-lows for the Hawkeyes.
Indiana held Luka Garza, who was benched for a large part of the first half with two fouls, to just 6-of-14 shooting from the field. Garza didn't get any offensive rebounds.
"You really just have got to give him different looks," Race Thompson said of IU's plan against Garza. "He is a great player so I mean you really have just got to focus on giving him different looks and not really letting him feel you, and really focusing on trying not to let him get the ball in the first place."
Jordan Bohannon did manage to hit three 3-pointers, but was just 3-of-9 from the field. Iowa's bench combined to shoot 0-of-12 from the field and scored just five points.
• After struggling all day, Phinisee and Franklin come up big down the stretch: It was a quiet afternoon for both Rob Phinisee and Armaan Franklin until the final two minutes.
Phinisee committed a turnover on a bad post feed with 3:34 and Iowa tied the game at 57 on the next possession. Until he hit a clutch 3-pointer with 1:39 to play, Phinisee was 0-of-7 from the field and was scoreless.
"He stuck with it, did not have his best outing, did not have his best week," Archie Miller said. "But I thought he had a good finish to the game."
Franklin didn't make his first field goal until the 5:05 mark of the second half, but Indiana put the ball in his hands with the game tied at 65 with less than 30 seconds to play. Franklin rewarded that confidence in him by delivering a dagger with under two seconds to play to lift the Hoosiers to a 2-point win.
"They believe in us you know; we are going to hit the big shot," Franklin said. "So, it was not really a confidence thing. You have got to go out there and keep shooting because everybody has confidence in you and they are going to get you the ball in those moments."
• Hoosiers turn Iowa turnovers into scoring opportunities and win second-chance points battle: Iowa entered Sunday's game with the Big Ten's best turnover percentage at 13.2.
Indiana forced Iowa into 11 turnovers for a turnover percentage of 16.2, the third-highest mark of the season for the Hawkeyes. More importantly, Indiana scored 17 points off of Iowa's turnovers. Iowa scored only five points off nine Indiana turnovers.
Indiana also grabbed 15 offensive rebounds and scored 11 second-chance points compared to just six offensive rebounds and six second-chance points for Iowa.
"The 11 turnovers that led to 17 points, that was problematic," Iowa coach Fran McCaffery said. "And 15 offensive rebounds. Our defense was good, but they got too many of them back."
• Thompson delivers strong offensive output to go along with stellar defense on Garza: In addition to his strong defensive effort on national player of the year favorite Luka Garza, Race Thompson put forth another strong scoring game after going for 18 points in Tuesday's loss to Illinois.
Thompson's 15 points were second on the team to Trayce Jackson-Davis (18 points) and he was 5-of-10 from the field and 5-of-7 from the free throw line.
The Minnesota native also had his third game of the season with four blocked shots and now ranks fourth in the conference with a block percentage of 6.06 against conference foes. Only Myles Johnson, Liam Robbins and Jackson-Davis have a better block percentage than Thompson in Big Ten games.
"He does everything for us," Miller explained. "The fact that he is playing well right now to me gives us great confidence he has turned into a real leader. Of any player I've been around, I'm not sure I've been around a guy that has evolved more from the first day he got on campus to today. Not even as a player, as a person. He has really grown up, matured, has turned into a leader. He does it all for us and he doesn't say anything about it."
• Bench provides huge lift late in first half: Iowa appeared to be on its way of breaking the game open as it built double digit leads more than once in the first half.
After the Hawkeyes led 27-18 on a Joe Wieskamp 3-pointer with 4:22 to play in the first half, Anthony Leal and Khristian Lander helped change the direction of the game.
Leal made a pair of 3-pointers in the final 3:08 of the half and Lander also made a 3-pointer and got a steal that led to a Trayce Jackson-Davis dunk to help the Hoosiers claim a 33-31 halftime lead.
Each of Indiana's four freshmen contributed in some way statistically as Jordan Geronimo added six points and Trey Galloway hit a huge 3-pointer in the second half.
"Props to the young guys," Thompson said. "They bring it to practice every single day. Even when they were not getting the minutes they wanted to, they brought it every single day, and that is just showing the work they have put in day in, day out."
Filed to: Iowa Hawkeyes