Five takeaways from Indiana's loss at Ohio State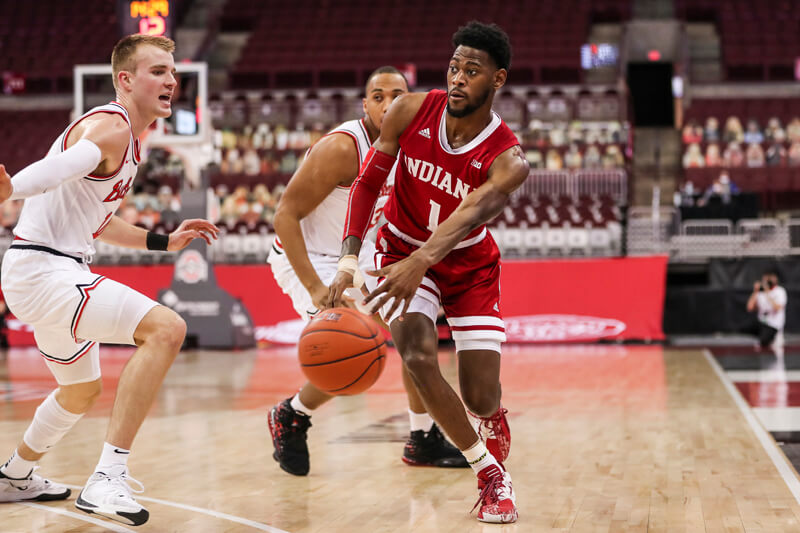 Indiana had its second-most lopsided loss of the season on Saturday afternoon, falling 78-59 to Ohio State at Value City Arena. The loss snapped a two-game winning streak and dropped the Hoosiers back below .500 in league play at 6-7.
Here are five takeaways from the loss to the Buckeyes:
• Another slow start buries Indiana's chances as Hoosiers can't stave off runs from the Buckeyes: The Hoosiers have gotten off to slow starts frequently this season. In many cases, they've been able to recover and pull out wins. But on Saturday in Columbus, they were up against an opponent that left little margin for error.
Ohio State, picked to finish seventh in the Big Ten in the preseason, took control early with a 19-0 run in the first half. And each time Indiana climbed back into the game – the Hoosiers got within five on two occasions – the Buckeyes were there to make plays to put the game back out of reach.
The final backbreaker for Indiana came after a Trayce Jackson-Davis dunk pulled the Hoosiers to within five at 45-40 with 14:11 to play. Ohio State's Duane Washington missed a jumper on the next possession, but Indiana couldn't corral the defensive rebound and Zed Key scored a second-chance bucket. That began a 10-1 run for the Buckeyes, who needed less than four minutes to push the lead to 14 at 55-41 on an EJ Liddell free throw. Indiana never got closer than 12 the rest of the way as the Buckeyes cruised to their 17th victory.
"It's something we're mindful of," Archie Miller said. "Our starts have been slow. But if you look at our starts, it really comes down at the end of the day to making a couple of layups, making a couple of free throws. We get down 17-4 or whatever it is and we have a couple of point blank shots and we have to knock in the easy ones to be able to stay in there and help the confidence level of our team."
• Turnovers lead to easy offense for Ohio State: Ohio State ranked 14th in the Big Ten in defensive turnover percentage entering Saturday's game. Conference foes were turning it over on just 13.8 percent of their possessions against the Buckeyes.
Indiana, however, turned it over 15 times for a turnover percentage of 23.5. It was the second-highest mark of the season for Indiana behind a 23.9 percent mark in a late December loss to Northwestern.
And Ohio State capitalized off the mishaps by scoring 21 points off the turnovers. Three of Indiana's guards – Al Durham, Armaan Franklin and Khristian Lander – accounted for 11 turnovers.
• Buckeyes dominate Indiana on the glass: Both teams were struggling on the offensive glass entering Saturday's game, ranking 9th and 10th respectively in offensive rebounding percentage in Big Ten play.
Ohio State, however, used second-chance opportunities to fuel its offense on Saturday. The Buckeyes grabbed 41.4 percent of their missed shots – a season-high – and scored 20 second-chance points.
Freshman Zed Key played just 13 minutes for Ohio State, but finished with five offensive rebounds and six points. And Justice Sueing – a 6-foot-7 wing – grabbed five offensive boards as well. The five offensive rebounds for both players were career-highs.
"They were getting to their spots on the floor, their guards were crashing hard and their post players were getting position underneath us," Jackson-Davis said. "At the end of the game we got called soft. I know me and my teammates aren't soft. We have to work harder and push forward to the next game."
Indiana grabbed 31.5 percent of its missed shots – higher than its season average – but only scored nine second-chance points.
• Guard play underwhelms: After Armaan Franklin and Al Durham helped lift Indiana to a win on Wednesday night at Northwestern, the duo struggled at Ohio State.
Franklin was just 1-of-4 from the field and finished with only three points. Franklin committed four turnovers. Durham was just 2-of-8 from the field and finished with eight points.
Indiana's other guards struggled as well. Rob Phinisee had only seven points on 2-of-5 shooting in 19 minutes. Khristian Lander didn't score and committed four turnovers in 17 minutes. And Anthony Leal and Trey Galloway played a combined 18 minutes and did not score.
Ohio State, meanwhile, got 10 points off the bench from senior guard CJ Walker, which tied Indiana's entire bench production.
• Jackson-Davis starts slow, but finishes strong: Jackson-Davis continues to struggle early in games, but the sophomore forward rebounded from a poor performance at Northwestern with a strong overall effort on Saturday afternoon.
Jackson-Davis finished with a game-high 23 points on 10-of-14 shooting from the field. He was one rebound shy of notching a double-double and added two assists in 34 minutes.
"The last few games I've been starting slow," Jackson-Davis said. "I'm taking my time at the rim and finishing those shots. I thought I did better at that as the game progressed."
The Center Grove product has scored in double figures in all 20 games this season and is sixth nationally in KenPom's national player of the year standings.
(Photo credit: Ohio State Athletics)
Filed to: Ohio State Buckeyes