Slow start hampers Indiana in loss at Ohio State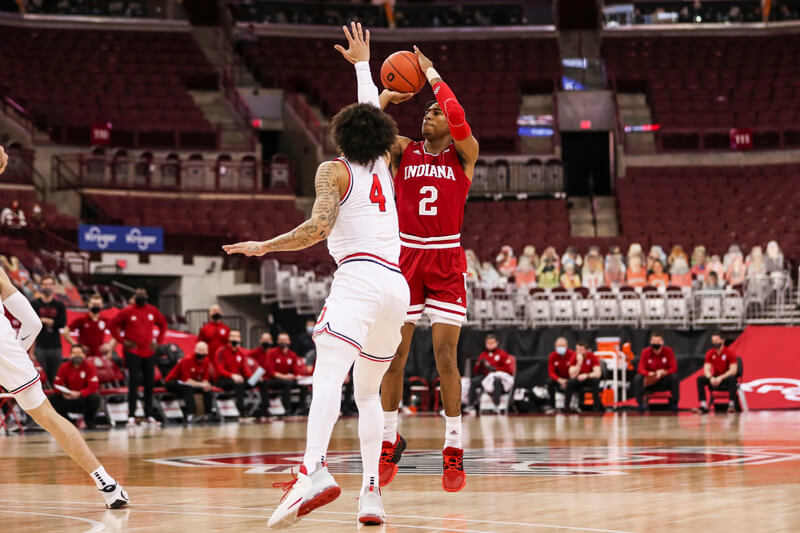 COLUMBUS, Ohio – The amber-colored digital numbers above the baskets in Value City Arena had just flickered under 12 minutes when Archie Miller decided to burn a timeout. It was still the first half of Indiana's 78-59 blowout loss to Ohio State, yet the tone of the game was already decided.
Ohio State had just embarked on a 15-0 run, outmanning the Hoosiers in nearly every aspect of the game. It was a stretch that, ultimately, Indiana was never quite able to recover from.
That's when Miller called a timeout to try to regroup his team. But right after the breather, the Buckeyes hit two more shots. And just like that, the Hoosiers were in a 21-6 hole against a top-5 team in the nation.
Indiana tried to scrape its way back. And to a certain extent, they did. The gap became just five late in the first half. But the Hoosiers weren't the aggressor early, causing them to spend energy trying to dig themselves out of the deficit. For a team that doesn't boast offensive firepower, that isn't an effective formula for success.
"It's something we're mindful of," Miller said. "Our starts have been slow. But if you look at our starts, it really comes down at the end of the day to make a couple of layups, making a couple of free throws."
This isn't a new issue for Indiana. In the past week, it's been a defining factor of Indiana's performances. Last Sunday in Assembly Hall, Iowa jumped out to a 23-11 lead in the opening ten minutes. On Wednesday, Northwestern surged to a 21-7 lead in the first 13 minutes of the game.
In both of those contests, though, Indiana was able to recover and pull out victories behind its defense while its offense gained traction.
This isn't always the case, though, as displayed in Saturday's game against Ohio State. It was the same story against Rutgers two weeks ago, too, when the Hoosiers were down 15-8 early in the game and were unable to complete a comeback.
After the loss to Rutgers, Miller referenced his personal method of chopping the game into 10 "four-minute wars" with the opening and closing segments being critical. Early in the season, Indiana had trouble closing games. On Saturday, the final segments weren't even a factor in the game's outcome because of Indiana's poor performance in the first couple of "wars."
"We get down 17-4 or whatever it is and we have a couple of point-blank shots and we have to knock in the easy ones to be able to stay in there and help the confidence level of our team," Miller said.
Indiana's cold streak began shortly after Armaan Franklin and Al Durham each hit a 3-pointer to give Indiana the 6-2 advantage. After that it had seven consecutive misfires from the field. Conversely, Ohio State made seven of its next 13 attempts, including two 3-pointers to flip the score to 21-6 in favor of the Buckeyes.
"I think our defense collapsed," Trayce Jackson-Davis said.
Indiana's inability to rebound also became a factor in the run. With a guard-oriented lineup this season, the Hoosiers haven't been dominant on the glass like they were last season with Justin Smith was playing the three.
On Saturday, with less than ten minutes gone in the first half, Ohio State had already grabbed six offensive rebounds. Nine of Ohio State's first 17 points came via second-chance opportunities. Miller yelled at Jackson-Davis to box out.
By the end of the afternoon, Ohio State held a 36-28 advantage on the boards. They also snatched 41.4 percent of their missed shots, leading to a total of 20 second-chance points.
"By far and away coming into the game, and I knew this was going to be our challenge, was the physicality of the game," Miller said. "Especially here at home, the way their guys compete in terms of the backboard and post, how they defend. They can really ruffle you and rattle you."
The offense, however, was as much of a problem as the defense and rebounding during that stretch. Indiana's enduring inability to take care of the ball was exposed.
Through the first ten minutes of the game, Indiana committed six turnovers. Many of them were unforced like, at one point in the game, when Durham simply dribbled the ball off his foot into the awaiting hands of an Ohio State defender. Indiana can't afford to gift away possessions especially since they don't have a reliable attack on offense.
The final piece to Indiana's downfall during that run was Jackson-Davis' inability to finish easy looks around the rim. It became an issue during the Maui Invitational when he was putting pressure on himself and missing chip shots from close range.
It was evident again on Saturday where Jackson-Davis was unable to establish himself early and missed attempts from near the basket. Eventually, Jackson-Davis got into a rhythm, finishing with 23 points and nine rebounds. It just took him a bit to get going.
"I think for me it's really just mentally," Jackson-Davis said. "I'm in my head a lot and got taken out for a second and just cleared my head. When I went back in I felt like I was ready to go. So just moving forward, getting that out of the way because the last few games I've been starting slow."
Outside of that start, Indiana didn't play terribly. They showed fight, just as they have throughout the season. Now, for Indiana to take its game to the next level, it's a matter of holding intensity for the full game.
As for how to change the slow starts, Miller could try to change the starting lineup, although there aren't many obvious options. Trey Galloway, who was deployed for Rob Phinisee in the starting five earlier this season, is playing with an injured back. Putting Khristian Lander in the starting lineup would be a bigger risk, but could also lead to a bigger reward.
At this point, it doesn't seem likely that Miller will deviate from the starting group, meaning that in the last few weeks of the season, they'll have to figure it out on their own.
Miller has been preaching all season that Indiana's fate will be determined by its most experienced players, all of which are in the starting lineup. Now, it's up to them to make it happen, especially from the opening tip.
(Photo credit: IU Athletics)
Filed to: Ohio State Buckeyes