6-Banner Sunday: Big Ten-ACC Challenge set, recruiting dominoes begin to fall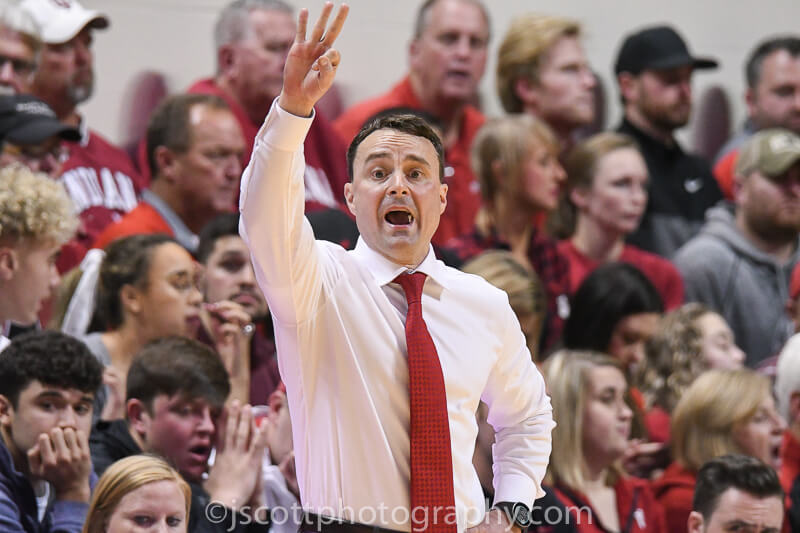 6-Banner Sunday is Inside the Hall's weekly newsletter in partnership with The Assembly Call. More than 7,500 Indiana fans receive the newsletter each week. In addition to appearing each week on the site, you can also opt to receive 6-Banner Sunday by email. A form to subscribe via email is available at the bottom of this week's 6-Banner Sunday.
Welcome to another edition of 6-Banner Sunday, a joint production between The Assembly Call and Inside the Hall where we highlight the five most essential IU basketball stories of the past week, plus take a look at how the other IU sports programs are doing.
It was a wild week for both Indiana basketball recruiting and the ongoing pandemonium surrounding college basketball scheduling.
Trey Kaufman, one of Indiana's top recruits in the 2021 class, shocked some by announcing that he will be heading West Lafayette for his college days rather than Bloomington. The Hoosiers are in a interesting recruiting position now, only having one commitment in the 2021 class. Instead, Kaufman picked Purdue over his finalists of Indiana, Virginia, North Carolina and Indiana State.
The Hoosiers also missed out on 2021 four-star power forward Bryce Hopkins, who committed to Kentucky on Monday. Hopkins was a former Louisville commit that included Indiana in his top nine schools.
Also, there was news this week with a lot of scheduling mayhem. All of the multiple team events scheduled for Orlando were canceled earlier this week due to disputes about COVID-19 testing protocols. This leaves many programs scrambling to find non-conference games less than four week away from the start of the season. The Hoosiers, who weren't scheduled to play in Orlando, are still set to play in the Maui Invitational in Asheville, North Carolina.
You can also listen to this week's edition of Podcast on the Brink and Assembly Call Radio.
• Trey Kaufman picks Purdue over Indiana
• ACC/Big Ten Challenge matchups released
• Trayce Jackson-Davis earns the gold jersey
• Four-star forward Bryce Hopkins commits to Kentucky
• Inside the Hall publishes IU player previews
• Hoosier Sports Roundup
Banner #1
Trey Kaufman picks Purdue over Indiana
Trey Kaufman announced his commitment to Purdue Friday night. The Hoosiers were regarded as a front-runner for a majority of Kaufman's recruitment.
Kaufman is touted as the No. 41 overall prospect in the nation and No. 2 recruit in Indiana, according to the 247Composite. As a junior last season, Kaufman averaged 25.8 points, 9.6 rebounds and 1.6 blocks per game for Silver Creek High School. Kaufman's teammate on Indiana Elite, center Logan Duncomb, committed to the Hoosiers in April.
Kaufman was viewed as a priority for Archie Miller, considering the uncertain future of Indiana's frontcourt. Center Joey Brunk will graduate following this season, barring his decision to use the extra year of eligibility granted by the NCAA. There's also a strong chance that sophomore Trayce Jackson-Davis will depart for the draft if he has the All-American caliber season that many expect.
The recruitments of four-star forward Mason Miller and five-star small forward Aminu Mohammed becomes even more important now as Indiana attempts to round out its 2021 class.
Banner #2
ACC/Big Ten Challenge matchups released
Indiana will take on Florida State for the second consecutive year in the ACC/Big Ten challenge.
Last season, the Hoosiers upset the No.17 Seminoles 80-64 in Assembly Hall behind a stellar performance from Devonte Green. The senior guard scored 30 points off of the bench, including a 5-of-7 display from beyond the arc. Current sophomore Trayce Jackson-Davis added in 15 points and Justin Smith (who has since transferred out of the program) contributed 14 more. As a team, Indiana shot 55 percent from the field and 46 percent on 3-pointers.
This year, Indiana will travel to Tallahassee on Dec. 9 as Florida State looks for revenge. Game times and TV schedules haven't been released yet. Other headlining matchups include Illinois vs. Duke, Michigan State vs. Virginia and Iowa vs. North Carolina.
Indiana is 8-11 all-time in the ACC/Big Ten challenge and haven't won a road game since 2011 at NC State. The Hoosiers are 2-3 in the last five years in the annual event.
Banner #3
Trayce Jackson-Davis earns the gold jersey
Sophomore forward Trayce Jackson-Davis was awarded the first gold jersey of preseason practice. The gold jersey is given to the IU player that is most productive during practice. Jackson-Davis was also the first to receive the honor last season.
As a freshman last season, he was named to the Big Ten All-Freshman team after averaging 13.5 points, 8.4 rebounds and 1.8 blocks per game. He was also runner-up for the conference's Freshman of the Year award, after being slightly edged out by Illinois' Kofi Cockburn.
There are high expectations for Jackson-Davis this year. Earlier, Jackson-Davis was named a Third Team Preseason All-American by the Blue Ribbon College Basketball Yearbook. This week, he was touted as a Second Team Preseason All-American by both CBS Sports and Stadium.
"It's an honor to get those, but at the same time I'm just here to win basketball games and accolades can come with all of that" Jackson-Davis said at Indiana's media day.
Banner #4
Four-star forward Bryce Hopkins commits to Kentucky
Class of 2021 power forward Bryce Hopkins announced his commitment to Kentucky Monday night. Indiana was in Hopkins' top nine schools along with Kentucky, Iowa State, Texas, Michigan, Providence, Oregon, California and Illinois.
The Fenwick, Illinois native had originally committed to Louisville, but announced he would be re-opening his recruitment in August due to the impending NCAA sanctions. The 6-foot 7-inch, 220 pound Hopkins is ranked as the No. 30 prospect in the class, according to the 247Composite. He's the type of dynamic scorer that Indiana head coach Archie Miller has been targeting recently as a part of his shift to create a more versatile lineup this season.
Indiana wasn't expected to land Hopkins, but missing out on both him and Kaufman is a major blow to the 2021 recruiting class. Miller continued his pursuit of 2022 big men, though, offering four-star power forward Tarris Reed on Monday. Reed, who attends Chaminade High School in St. Louis, said that the IU staff had him watch film of Trayce Jackson-Davis.
"(Trayce) is very explosive down low," Reed told Inside the Hall. "I saw a lot of lobs and getting penetrated dishes to him. Able to finish above the rim frequently. And that's what I really like about his game."
Banner #5
Inside the Hall publishes IU player previews
Inside the Hall started releasing its series of IU player outlooks for the upcoming season, following the conclusion of its Big Ten team previews.
The series began with the newcomers Jordan Geronimo, Khristian Lander and Anthony Leal. Trey Galloway's season outlook will round out the freshman class early next week.
Lander arrives as the most highly-touted prospect out of the group. He was the former No. 1 point guard in the country in the 2021 class before deciding to finish high school early and suit up for IU this season. Lander has a legitimate shot to find his way into the starting lineup with the departure of Justin Smith to Arkansas in the offseason.
The roles of the other freshmen are still fairly uncertain. Leal, Galloway and Geronimo will all be competing with sophomores Armaan Franklin and Jerome Hunter for playing time. Leal, who was the Indiana Mr. Basketball winner as a senior, is a dead-eye three-point shooter, which could prove to be useful for the Hoosiers, who shot just 32 percent from beyond the arc as a team last season.
Banner #6
Hoosier Sports Roundup
Indiana Football beat Rutgers 37-21 for their first 2-0 start in Big Ten play since 1991. The Hoosiers will take on Michigan next week in a contest where they are likely to be ranked higher than the Wolverines going into the game for the first time since 1988. Below are articles recapping IU's win over the Scarlet Knights yesterday:
• iuhoosiers.com Pete DiPrimio wrote a recap of the IU win that included postgame press conferences as well as notes about the game.
• The Herald Times' Jon Blau wrote about a crazy series of laterals for Rutgers toward the end of the game that didn't count.
• The Indystar's Zach Osterman came up with three reasons the Hoosiers were victorious.
• Rutgers beat writer Chris Iseman of the Asbury Park Press, wrote about the loss from a Rutgers perspective.
In other Hoosier sports news:
• Cross Country cracked the top 20 in a preseason poll.
• A current IU golfer won the PGA Indianapolis Open.
• Track and Field lost a legend.
• Baseball and Softball each had a player named Scholar-Athlete of the Month.
Thanks for your continued support for The Assembly Call. We'll be back next weekend with a new roundup.
Now go enjoy yourself a 6-banner Sunday.
Tyler Tachman – Student Intern The Assembly Call
Filed to: