ESPN cancels multi-team events scheduled for Disney bubble, further complicating schedule for 2020-21 season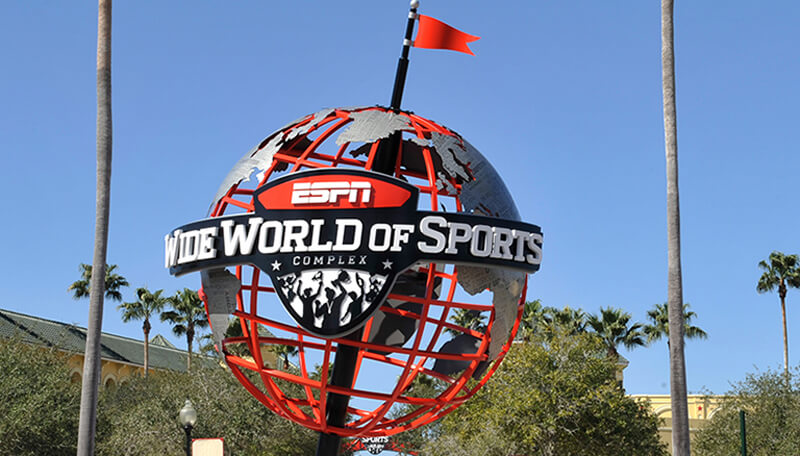 ESPN events announced Monday a cancelation of several early season college basketball events that were scheduled to be played at Disney's Wide World of Sports near Orlando, Florida.
"ESPN Events set out to create a protected environment for teams to participate in early-season events in Orlando. Based on certain challenges surrounding testing protocols, we opted to resume these tournaments during the 2021-22 season," ESPN said in a statement.
Among the multi-team events that were scheduled to take place at Disney: NIT Season Tip-off, Orlando Invitational, Diamond Head Classic, Wooden Legacy, Charleston Classic and Myrtle Beach Invitational. The Big Ten teams impacted include Illinois, Michigan State and Penn State.
According to Jeff Goodman of Stadium, two other ESPN owned events, the Champions Classic and the Jimmy V Classic, could still be played but not in Orlando. Matt Norlander of CBS Sports reported Monday that the bubble was canceled "due to complications and lack of agreement on COVID-19 testing and protocols put forth by Disney."
ESPN is owned by The Walt Disney Company.
The Maui Invitational, which is set to be played in Asheville, North Carolina, is broadcast by ESPN but not owned by the network. That event is still scheduled for Nov. 30 – Dec. 2.
Maui Invitational in Asheville, N.C. still on as scheduled, sources told ESPN. 95% of COVID protocols agreed-upon with teams at this point.

Also possible that some of the teams on the move after Orlando's cancellation could end up playing in Asheville after Maui ends.

— Jeff Borzello (@jeffborzello) October 26, 2020
The Disney events cancelation won't directly impact Indiana as the Hoosiers were not slated to play in an event on the Lake Buena Vista campus, but it further complicates an already challenging scheduling environment for the 2020-21 season.
Most conferences and programs around the country have not released schedules despite the fact that the season begins on Wednesday, November 25.
Earlier this month at Indiana's media day, Archie Miller offered the following when asked about his team's schedule for this season, which will be a maximum of 27 games.
"Everyone in college basketball lost, I think, four games," Miller said. "When you lose four games, it changes the complexion of things. For Indiana, it is a little different. You are obligated to play in the ACC Challenge, the Gavitt Games in certain years, we are already in Maui and we have the Butler Crossroads game in stone. Those games are already in stone and usually we have dates, but we do not have those dates yet.
"You add in the complexity of a conference that is trying to maybe start earlier, maybe put more games on the frontside of December and early January, and you are squeezing things in and looking for dates. At the end of the day, you cannot jump one stone to get to the next until you have a definitive answer. Television plays a role, school plays a role, and there are health issues that the NCAA and certain events have to go through."
Filed to: