Offseason storylines: What will Joey Brunk's role look like next season?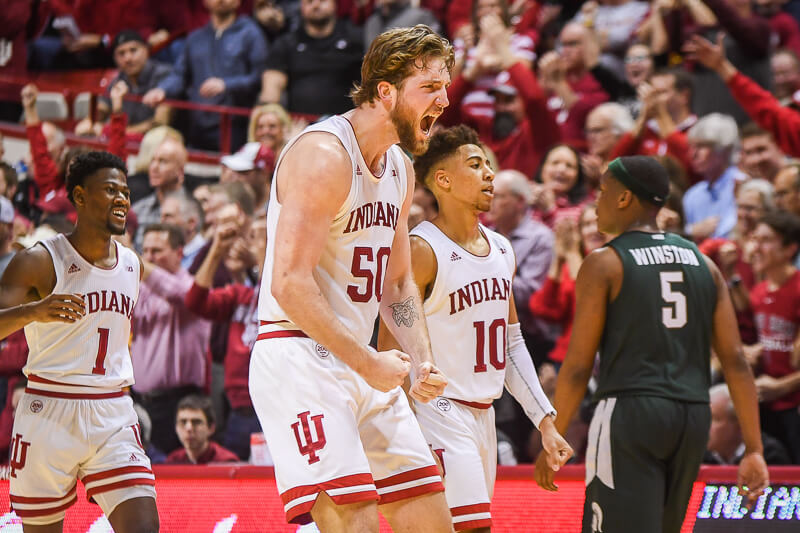 Welcome to offseason storylines, a look into some of the biggest storylines surrounding the 2020-2021 Indiana Hoosiers. Today's topic: What will Joey Brunk's role look like next season?
Previously: IU's breakout candidates for 2020-2021, Where will Trayce Jackson-Davis fit among the Big Ten's best in year two?, Al Durham may have to adapt yet again as a senior, Realistic expectations for Archie Miller and IU basketball, What are realistic expectations for Archie Miller and IU basketball?
In the aftermath of Indiana's early-March home win over Minnesota, a victory that all but confirmed IU's spot in the NCAA Tournament, Archie Miller pushed back against one of the biggest criticisms of his 2019-20 team.
Joey Brunk's spot in the starting lineup was a sticking point for fans and media members alike.
As the production of Race Thompson increased, especially toward the end of the season, many called into question Brunk's seemingly secure spot as an IU starter. His statistical output cratered during the winter months, and plenty of enthusiasm was behind swapping him out for Thompson in the Hoosier starting five (this would have meant either Thompson or Trayce Jackson-Davis taking over the 5 spot, with the other player at the 4).
But Miller stuck with Brunk. And while there were moments when it seemed his loyalty to the Indianapolis native was a fruitless endeavor, that Minnesota victory was a shift in the opposite direction.
Brunk returned to his 'Brunkyard Dog' status that night inside Assembly Hall, recording 12 points and eight rebounds in 28 minutes of action.
So when Miller was asked somewhat-cryptically postgame about past questions concerning his starting lineup, which in truth meant questions about Brunk's qualifications to be a starter, Miller hit back.
"The bottom line is here is the deal. You're in March. If you change your starting lineup, you change your starting lineup with a specific reason or a specific adjustment," Miller said. "I'll tell you this much, the minute you change, you lose guys. There's no reason to do that.
"Part of it is I think what Joey did tonight, you hang in there, hang in there…I think Joe played extremely hard tonight."
Miller went on to further explain Brunk's mid-season struggles, the ones Miller said dealt with Brunk over-thinking things and nerves associated with failing.
While Indiana only got to play two more games last season following Brunk's remergence, offseason developments have left Brunk's future as a starter in question, despite Miller's attempts to dismiss those claims.
Justin Smith's transfer to Arkansas means Indiana will have to replace him at the 3. This opens up several possibilities for how IU's starting lineup could take shape next season, ranging from more three-guard lineups to the inclusion of Thompson.
The question of how Brunk would fit into these scenarios still remains.
One of Brunk's best calling cards as a redshirt junior in Bloomington was his post-up play. According to Synergy Sports, he led the Hoosiers by scoring 0.899 points per possession in post-up situations last season, which was much better than the 0.55 points per possession Thompson recorded in limited post-up opportunities.
While Brunk can count on his strength around the basket (5.2 rebounds per game) and the intangible leadership qualities that come with being a senior, most other metrics sway in the favor of Thompson as a better piece in the IU lineup.
Brunk's tendency to foul last season (66 fouls in 624 total minutes) coupled with a weakness to control more physical opponents around the rim gave credence to those who preferred to see the defense-focused Thompson receive more playing time.
But eventually that became the case, even as Brunk stayed a starter.
Brunk started six of IU's final seven games, but played just 89 minutes in those games. In the same span, and coming exclusively off the bench, Thompson played 141 minutes.
So it's worth noting that even if Brunk does retain his starting spot next season, it doesn't equate to more playing time than Thompson.
Brunk's future with Indiana is also dependent on Thompson's offseason progression.
Following IU's home win over Penn State in February (in which Thompson had eight points and four rebounds), Miller touched on the existing elements of Thompson's game that make him such an asset.
"Race is physical…Race is not afraid," Miller said. "To be honest, he saves us…His minutes are big. He's changed the course of our season here as we've been able to get through February. He's a blue-collar guy."
Playing Brunk and Thompson together remains a far-fetched thought as long as Jackson-Davis remains healthy, and it should be given the impact Jackson-Davis had as a freshman.
But watching the way Brunk and Thompson emerge from an unusual offseason will be paramount to determining who gets a starting spot in the IU frontcourt, because it will likely stay that way.
Filed to: Joey Brunk