Five takeaways from Indiana's win over Minnesota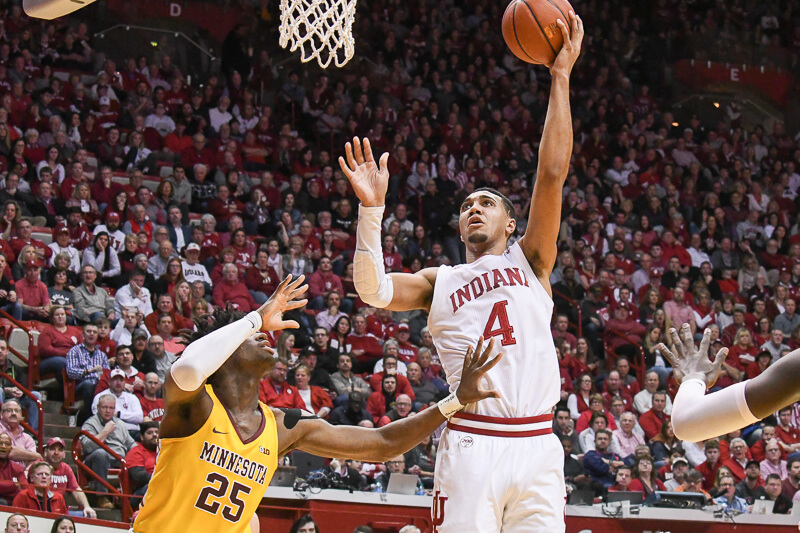 Indiana recorded its 19th win of the season – 72-67 over Minnesota – on Wednesday night at Simon Skjodt Assembly Hall. The victory, which completed a season sweep of the Golden Gophers, improved the Hoosiers to 19-11 overall and 9-10 in conference play with one regular season game remaining.
Here are five takeaways from the win against Minnesota:
· Trayce Jackson-Davis continues carrying Hoosiers: There aren't many freshmen at the major conference level that have been as productive and consistent as Indiana's Trayce Jackson-Davis.
Jackson-Davis nearly notched another double-double in Wednesday's win as he finished with 18 points and nine rebounds in 31 minutes. Through 19 league games, the freshman forward from Center Grove is averaging 13.2 points, 7.8 rebounds, 1.7 blocked shots and 1.4 assists in 29.9 minutes per game.
As the season has hit its most critical stretch, Jackson-Davis appears to be hitting his stride. He's scored in double figures in 10 of Indiana's last 13 games and has six double-doubles in Big Ten play.
"Played well," Archie Miller said of Jackson-Davis in his postgame press conference. "Did a good job for us most of the time. Have to get him more engaged."
On a team that has been devoid of consistent offensive production from most of its rotation players, Jackson-Davis continues to prove that he's Indiana's best and most reliable contributor.
· Indiana kept chipping away and ultimately, was rewarded: The Hoosiers had multiple chances to stretch out their lead against Minnesota in Wednesday's victory, but each time they built a lead, the Gophers had a response.
In the first half, Indiana built leads of seven and 10 points before Minnesota closed with a strong rally to take a two-point lead into halftime. Early in the second half, the Hoosiers led by seven before Minnesota quickly came roaring back to make it a one-possession game less than two minutes later.
Indiana, however, never flinched each time Minnesota had a response to one of its runs. The Hoosiers kept plugging away and over the game's final stretch, simply out-executed the Gophers. In the final 8:19, six different players scored as IU finished the game by outscoring Minnesota 17-12.
"Tough team to play against. Fortunate to beat them twice," Archie Miller said. "For us to be 19-11, 9-10 with one to go in this league, I think we're continuing to trend in the right way."
· Hoosiers continue cutting down on turnovers: Indiana's poor decision making and ball handling has been an issue for a good chunk of the season.
But over its last six games, Indiana has done a much better job of limiting its turnovers. In Wednesday's win, the Hoosiers only had 10 turnovers for a turnover percentage of 14.7.
Indiana still ranks in the bottom two of the conference in turnover percentage (18.4), but over its last six games, is turning it over on just 15.5 percent of its possessions.
· Win inches Hoosiers closer to securing NCAA tournament bid: Indiana battled twice on the road last week and came up short both times, which made Wednesday's game critical to its hopes of securing an at-large NCAA tournament bid.
Although the Hoosiers have been solidly in most tournament projections for weeks, a low NET ranking and weak road record have kept this group from reaching lock status for March Madness.
The win over Minnesota – which falls into quadrant two on IU's tournament team sheet – put the Hoosiers one step closer to finishing with a .500 record in Big Ten play.
A win on Saturday against Wisconsin would likely clinch IU's first tournament bid since 2016. Following last night's win, Bart Torvik's Tourney Cast has the Hoosiers at a 97.2 percent chance to land in the bracket.
· Hoosiers make Oturu work for monster effort: Minnesota's Daniel Oturu is going to earn first team All-Big Ten honors and his performance on Wednesday was another example of why he's one of the league's best players.
The sophomore center finished with 24 points and 16 rebounds in Indiana's 72-67 win, but the Hoosiers made him work hard to attain those numbers.
Oturu was an inefficient 11-of-27 from the field and Richard Pitino mentioned his team's fatigue in his postgame comments. Fatigue was definitely a factor for Oturu, who only came out of the game for 38 seconds. The 6-foot-10 center missed several point blank shots and committed four turnovers. Joey Brunk, who turned in a resurgent effort, deserves a ton of credit for his defensive work on Oturu as do Jackson-Davis and Race Thompson.
"Coming out of Illinois, the one thing that we've done a poor job of as a staff and getting our players to respond to it is things around the basket are too easy," Miller said. "Whether it's a one-on-one post-up, a one-on-one drive, whether it's a guard going in there, we're giving up too many one-legged little layups. Where is the help?
"I know when our guard goes in there, that thing comes flying off the backboard or somebody is on the ground. We haven't been making those plays. I thought what Joe did tonight is he tried like crazy to stay between him and the rim. We got other guys to help a little bit. There was a lot of challenged balls around the basket tonight. Maybe there was a lot of contact at times, but this is the Big Ten. If there's no contact, there's something wrong."
Filed to: Minnesota Golden Gophers