Offseason storylines: What are realistic expectations for Archie Miller and IU basketball?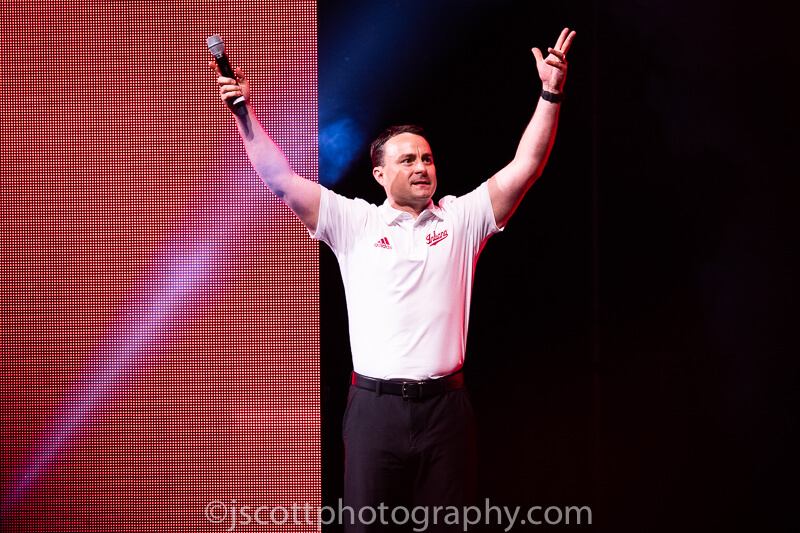 Welcome to offseason storylines, a look into some of the biggest storylines surrounding the 2020-2021 Indiana Hoosiers. Today's topic: Archie Miller, wins and losses and expectations for the Hoosiers.
Previously: IU's breakout candidates for 2020-2021, Where will Trayce Jackson-Davis fit among the Big Ten's best in year two?, Al Durham may have to adapt yet again as a senior
As Archie Miller enters his fourth season at the helm in Bloomington, it has been a slower than expected rise for the Indiana program under his leadership.
But the reality is expectations are going to be ramped up for Miller the next time he roams the sidelines at Simon Skjodt Assembly Hall.
Recently, Inside the Hall spoke with three respected national college basketball writers – Pat Forde of Sports Illustrated, Mike DeCourcy of The Sporting News and Rob Dauster of NBC Sports – to get their views on Miller's performance so far, when fans should judge him on wins and losses and expectations for the Hoosiers in the 2020-21 season, if it happens.
Here's our virtual roundtable with Forde, DeCourcy and Dauster:
How would you characterize Archie Miller's tenure through his first three seasons in Bloomington?
Forde: Underwhelming. They haven't won at a level expected. They haven't been terribly fun to watch. They just haven't seemed to put it together and play with that kind of ferocity that his Dayton teams had, especially the last three at Dayton. They've had some pieces. I don't know that he's really put together a complete team by any stretch yet. They've had some good recruiting successes, they've had some misses. But I don't think that anybody thought three years in that they would be six games under .500 in Big Ten play.
DeCourcy: I think it's been fine. They've shown fairly steady progress over that time. There have been a lot of structural problems to work through. I mean that much more in regards to the actual basketball program than to IU. In transitioning from one program to another, the challenges of building the program up and dealing with players who were recruited by previous coaches and dealing with the expectations and the hopes of fans who are hoping for a more immediate acceleration of the program.
All of that combined, I wouldn't say that he has excelled. I think that would be an exaggeration. I certainly don't think he's failed. It's a shame that as they've improved and they get to the third year, which was their best year and maybe something happens in the (NCAA) tournament. They never got that opportunity because there was no tournament. I think it's fair to say that much is expected in the next season and that's a fair expectation. I think it's reasonable for them to be seeded in the top half of the bracket and where it goes from there is obviously up to them.
Dauster: I think it has been a little bit underwhelming compared to what maybe expectations were for him coming in when he first got there. I think that some of it is a little bit understandable in the sense that it isn't necessarily easy to take a program that wasn't at the level that Indiana fans expected it to be and immediately jettison it up to being in the same breath as the Kentucky's or Kansas or at that level. I don't think I'm wrong in saying that is where Indiana fans view themselves and view that program, right? I do think that it has been a little underwhelming when you consider what his expectations were. If I'm not mistaken, he hasn't been to the NCAA tournament, but probably would have gotten his first trip last season if it hadn't been canceled. I don't think they've been as good as people thought they were.
I do think that that you can make the argument that it is trending a little bit in the right direction. I think getting Trayce Jackson-Davis back for a second year is big. Part of the problem when it comes to building programs is that to get the big names, you're getting the one-and-done guys. But if you only get those guys for a year, like Romeo Langford for example, then it's hard to build any kind of consistency when you aren't bringing in four or five of those guys every single season. The one-and-done thing really works for Duke and it really works for Kentucky because they can build these massive recruiting classes. But at the end of the day, they're only going to be there for one year and you're going to have to do it all over again.
So I think the reason we're seeing success from places like Virginia and Villanova is they are able to build a basketball program instead of building a basketball team, if that makes sense. I think that Arch is kind of caught in the middle of that, if that makes sense. I was expecting a little bit more when he got hired. I don't think it's been quite as bad as some Indiana fans characterize it to be. I think it does help when you get some of your best recruits to come back for another season, but I do think that it isn't unfair to criticize him and say that he hasn't been as good as he should be.
Because there are so many factors involved in building a program, when is it fair for fans to begin judging Miller by wins and losses?
Forde: I think it's fair now. This is still Indiana and it's reasonable for fans to expect the program to be really damn good. There's not much reason not to be in terms of recruiting ground, facilities, administrative support, everything. He took over a program that was not in a great position, that's for sure. But three years in, it could be expected that a little bit more had happened than they've seen so far.
DeCourcy: I think it starts sometime around now. Obviously every circumstance is different and every program is different. Every coaching change is different. Sometimes a coach takes a job to get a better job and leaves behind a wonderful team that's ready to thrive and do wonderful things. But when you have a coaching change that isn't voluntary, I think you have to understand that things weren't working the way you wanted them to work. So it takes longer to change that.
Dauster: This fourth season is probably the year where you can kind of say, 'this is when you really need to be able to take the leap,' if that makes sense. He's got Trayce Jackson-Davis coming back, he does have a five-star point guard coming in next season with Khristian Lander. Although I do think he is a guy that… I hope Indiana fans expect that Lander can be there for two or three years and be a really, really good point guard for them instead of coming in from day one and being at the John Wall level so to speak. I do think this is a year where they should be in the range of a top 25 team. You have someone you can build around in Jackson-Davis, you have experienced players on the roster and you have a little bit of talent coming in and you have some size. I think this is the year where, if the season does actually happen, Indiana's got to be in the tournament, right?
What are realistic expectations for Indiana next season with four starters back and a five-star point guard arriving?
Forde: I think expectations should be high. I honestly haven't really studied the rest of the Big Ten to know if it is going to be loaded, but I don't see any reason why Indiana shouldn't be in the top third of the league. I don't know that they can win a conference title, but they absolutely should be an NCAA tournament team if we have an NCAA tournament. And certainly have a winning record in the league and more than 20 wins. The Khristian Lander piece is interesting. He's obviously highly touted, but he's young and he's small… I think 165 pounds. So any belief that he's going to come in and just be this sensational point guard might be a little premature. He's going to need a little room to grow. With the rest of the roster in place, Trayce Jackson-Davis coming back, (Rob) Phinisee, (Al) Durham and some other guys, I think they have the makings of a good team.
DeCourcy: You look at the league and the league is going to be difficult again. Michigan State's got a lot. Wisconsin's got a lot. There are some really strong teams in the conference. It's going to be a challenge. But it also gives an opportunity to play great teams, get quality wins. So I'm not sure I'd put a number of where they are in the Big Ten… certainly the first division, I don't know where that would break down, maybe top five, top six-ish in the league. If you are in that group, you are probably one of the 25 or 30 best teams in college basketball. I don't think that is an unfair expectation for them at this point. They brought in some nice shooters, which they certainly needed. They brought in Lander, who is a very dynamic player.
I think it's going to be really interesting to see how Arch handles the dynamic between Lander and Rob Phinisee and how Khristian handles whatever that becomes because he is a freshman and the transition to Division I basketball is a challenge for most everyone. I'll be interested to see how he is able to manage whatever expectations are placed on him, whatever responsibilities are placed on him, whatever role he is asked to fulfill. To me, that is the biggest challenge for Arch is to figure out the dynamic between those two guards and the second biggest challenge is to construct a winning defense with the pieces he has in place. I think if he can do those two things, he can be really successful.
Dauster: I don't think they'll be in the same conversation as Iowa or Michigan State, assuming Xavier Tillman comes back and maybe the top teams in the Big Ten this season. But I do think that they should probably be in and around the top 25. I think they'll be one of those teams that bounces between others receiving votes and the back end of the top 25 depending on if they went 2-0 or 0-2 the week before. I think the expectations should be an NCAA tournament trip. But like I said before, if you think that just because you have a five-star coming in at the point who did reclassify and was always looked at as more of a longer term prospect, if that is your reason for thinking that Indiana is going to be a top 10 team, I think you need to adjust what you have in this group.
I do think there is reason for optimism that they'll keep getting better based off what they were last season, but you also have to remember last season they were like a 10 or 11 seed, maybe a nine, if they would have had the tournament. But if you can keep building on that and be a team that isn't on the bubble and can get to the seven or eight seed line, I think that is progress for the program and something that is very realistic. If you're thinking they should be competing for Big Ten titles, I think that's probably overstating just how good this team is going to be.
Filed to: Archie Miller