6-Banner Sunday: Taking a look at the defining moments from each player on Indiana's roster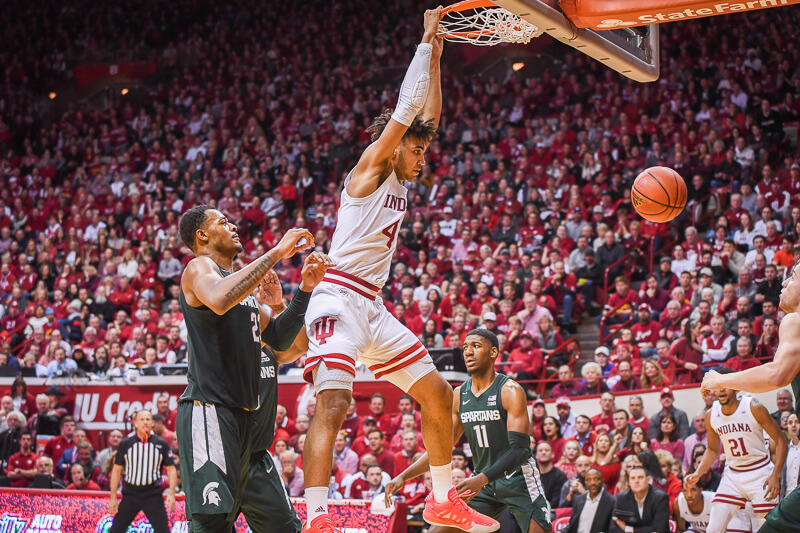 6-Banner Sunday is Inside the Hall's weekly newsletter in partnership with The Assembly Call. More than 7,000 Indiana fans receive the newsletter each week. In addition to appearing each week on the site, you can also opt to receive 6-Banner Sunday by email. A form to subscribe via email is available at the bottom of this week's 6-Banner Sunday.
Welcome to another edition of 6-Banner Sunday, a joint production between The Assembly Call and Inside the Hall where we highlight the five most essential IU basketball stories of the past week, plus take a look at how the other IU sports programs are doing.
As the world continues to adapt to the news and guidelines put into place regarding COVID-19, the folks at Assembly Call and Inside the Hall continue to find creative ways to give fans their Indiana basketball fix.
In a week of that would've consisted of Final Four coverage, Assembly Call provided a trip down memory lane with one of Indiana's most exciting Final Four victories.
The bracket to determine IU's greatest player continued, and there were plenty articles and podcasts reflecting on moments from the 2019-20 season.
• Reliving Indiana's defining moments from the season
• Inside the Hall's "That's A Wrap" series concludes
• Round of 32 complete for the "Greatest IU Basketball Player of All-Time" tournament
• Assembly Call 'rewatches' Final Four classic as Hoosiers advance to the 1987 title game
• The drive of Jordan Geronimo
• Hoosier Sports Roundup
Banner #1
Reliving Indiana's defining moments from the season
On this week's edition of Assembly Call Radio, host Jerod Morris was joined by Andy Bottoms and Brian Tonsoni to go player-by-player and talk about some of their defining moments from the 2019-20 season.
The idea was inspired by Austin Render of the Hoosier Network, who wrote about his defining moments from each player on the Hoosier roster.
The Assembly Call Radio Crew didn't look at Render's piece so they wouldn't be swayed by anything, and they explained their defining moment as a time in the season that showed what they are capable of moving forward.
On this episode, they discussed all the moments for the bench players, so Devonte Green, De'Ron Davis, Race Thompson, Jerome Hunter, Armaan Franklin and Damezi Anderson.
A lot of moments were brought up for each player, such as Green's 30-point outburst against Florida State, Davis' record performance at Michigan, Franklin's outside shooting in the Crossroads Classic and many, many more.
The defining moments for the five starters will be discussed on next week's episode.
Banner #2
Inside the Hall's "That's A Wrap" series concludes
The annual "That's A Wrap" series from Inside the Hall concluded this week.
It was a week that began with finalizing not just the season, but careers for Devonte Green and De'Ron Davis, two seniors who stuck it out all four years despite all the changes and adversity they dealt with throughout their careers.
Then were the recaps of Indiana's overall team offense and team defense. On the offensive side, they have now improved in three straight seasons, going from 92nd to 82nd to 65th in adjusted offensive efficiency. Perhaps more importantly, Indiana seemed to finally carve out an identity on that end of the floor with Trayce Jackson-Davis.
Then on the defensive side, the team improved for the third straight year in adjusted efficiency under Miller. The increase has been 65th to 32nd to this year 26th in the country.
Finally, the "That's A Wrap" series officially closed with Archie Miller himself. Ryan Corazza delved into Miller's development in his third season in Bloomington, both with improvements and wins on the floor as well as his personality off the floor.
All in all, things seem to be trending in the right direction for Miller and the Hoosiers.
Banner #3
Round of 32 complete for the "Greatest IU Basketball Player of All-Time" tournament
The Round of 32 for the "Greatest IU Basketball Player of All-Time" tournament was voted on this week.
In the Pre-Knight Region, Don Schlundt, George McGinnis, Slick Leonard and Walt Bellamy advanced to the Sweet Sixteen.
In the Knight Pre-'85 Region, it was Scott May, Quinn Buckner, Isiah Thomas and Kent Benson moving on.
In the Knight Post-'85 Region, Calbert Cheaney, Alan Henderson Damon Bailey and Steve Alford all advanced.
Then the
Post-Knight Region saw Yogi Ferrell, Jared Jeffries, Cody Zeller and Victor Oladipo move forward.
Each region has its 1-4 seeds remaining, except for the Pre-Knight Region, where McGinnis (a 12 seed) and Leonard (a 6 seed) are making cinderella runs.
The Sweet Sixteen is stacked with exciting match ups and voting will begin next week for that.
Banner #4
Assembly Call "re-watches" Final Four classic as Hoosiers advance to 1987 title game
Last night, as part of Assembly Call's live re-watch series of classic IU NCAA Tournament games, the Hoosiers took on UNLV in the Final Four at the Superdome in New Orleans.
It was a fast-paced, exciting game in which Steve Alford exploded for 33 points to help Indiana clinch a spot in the National Championship game.
This tight four-point victory was also one of Bob Knight's best coached games in his illustrious career.
If you missed the game, you can watch it here, or you can go back and watch Assembly Call's live post game show after the rerun concluded, or subscribe to Assembly Call's post game email list, where Cameron Drummond wrote a superb email recapping the game.
However, you won't see the 1987 game recap until April 12, but there will be two before that. Tomorrow, April 6, Assembly Call will be broadcasting the 1976 title game against Michigan, and then on April 10, it will be the 1981 title game against North Carolina.
Banner #5
The drive of Jordan Geronimo
Jon Blau, reporter for the Bloomington Herald-Times, produced a story on Jordan Geronimo this week about his meteoric rise as a player and his desire to get better.
There's a moment in the article where Geronimo, who committed to the Hoosiers in September, missed a layup in practice and turned to his head coach and said, "How'd I miss that layup? I'm going to Indiana."
Geronimo will come to Bloomington in the fall as one of the more athletic players on the roster, standing at 6-foot-6 with a 7-foot wingspan. He loves poster dunks and big blocks, and he has the potential to become a fan favorite in Assembly Hall.
Blau spoke with both Geronimo's AAU coach and high school coach, and both of them agree the potential is through the rook for the recently named New Hampshire Gatorade Player of the Year.
"He's like many of my freshmen in high school, excited to work and to get better," AAU coach Vin Pastore said. "Then, of course, it levels off for people because a lot of them reach their goal and they don't work as hard. He's still like the kid that is chasing. We need to keep that as long as possible."
Banner #6
Hoosier Sports Roundup
With sports still suspended for the foreseeable future due to Coronavirus, almost everything will be feature stories from here forward.
• Football sees new offensive coordinator Nick Sheridan looking to build on last years success. Also, freshman Dexter Williams was named scholarship athlete of month for men and senior Nick Westbrook is pursuing NFL dream.
• Baseball remains focused on the future.
• A recap of the Women's Basketball season. Also, Brenna Wise was named to the Senior Class Award First Team and redshirt junior Ali Patberg and sophomore Grace Berger received an award.
• Swimming's Ryley Ober has turned to her love of art. In addition, sophomore diver Kayla Luarde was named scholarship athlete of month for women.
• Men's Tennis had a feature written by former player Raheel Manji.
• A recap of the abbreviated Water Polo season.
• A recap of the Indoor Track and Field season.
• Q and A's with IU athletes Bayli Lebo, Payam Ahmadi and Caitlin Bernard.
Thanks for your continued support for The Assembly Call. We'll be back next weekend with a new roundup.
Now go enjoy yourself a 6-banner Sunday.
Filed to: