6-Banner Sunday: Good guard play a necessity for Indiana as final non-conference game arrives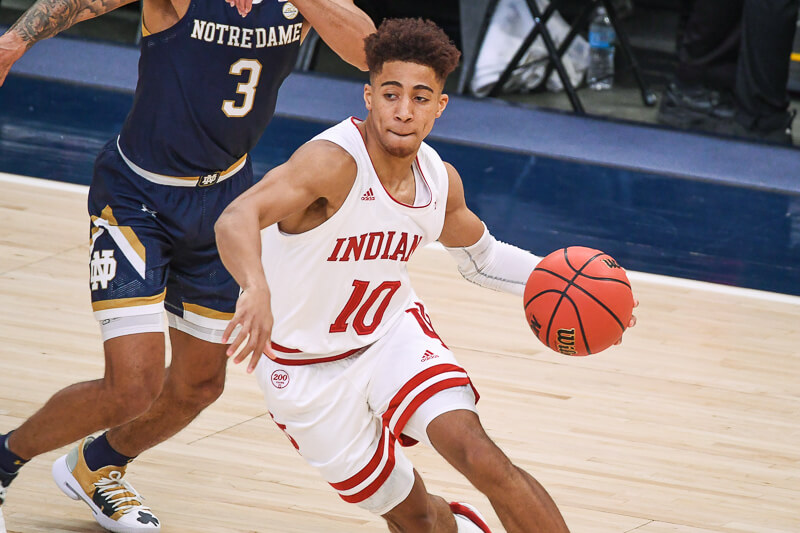 6-Banner Sunday is Inside the Hall's weekly newsletter in partnership with The Assembly Call. Close to 7,000 Indiana fans receive the newsletter each week. In addition to appearing each week on the site, you can also opt to receive 6-Banner Sunday by email. A form to subscribe via email is available at the bottom of this week's 6-Banner Sunday.
Welcome to another edition of 6-Banner Sunday, a joint production between The Assembly Call and Inside the Hall where we highlight the five most essential IU basketball stories of the past week, plus take a look at how the other IU sports programs are doing.
It's been a long week with no Hoosier basketball, but that ends today as Indiana rounds out its non-conference schedule against Arkansas at 6 p.m. Eastern.
Indiana will either be 12-1 or 11-2 heading into the new year, putting itself in a good position either way ahead of Big Ten play. But before everyone tunes into the Hoosiers later today, let's take a look back at what happened over the holiday break.
In this week's edition:
• The importance of good backcourt play
• Previewing Arkansas
• Are Indiana's returning players playing up to expectations?
• A look back at 2019
• The Assembly Hall experience
• Hoosier Sports Roundup
Banner #1
The importance of good backcourt play
The depth of the frontcourt was a big storyline heading into this season. And as important as the forwards and bigs are for this team, the backcourt has emerged as a vital presence that Indiana needs to play well.
Archie Miller talked extensively about his backcourt — Armaan Franklin, Devonte Green, Al Durham, and Rob Phinisee — before the Notre Dame game, and said he views them as a collective unit, a quartet.
Inside The Hall writer Cameron Drummond wrote about this concept earlier this week. It's taken 12 games for this quartet to finally get healthy, and now that they are, Miller needs them rolling on all cylinders.
Durham started out the season hot, but has struggled to get into any offensive groove as of late. Green hasn't scored more than 11 points since his 30-point performance against Florida State on Dec. 3. Phinisee has only played seven games this season, and after hitting big shots against Nebraska he played poorly at the Crossroads Classic. Franklin had not shot the ball well all season until his career-high 17 points last Saturday.
As you can see, the backcourt has been inconsistent, with much of that having to do with injuries and not enough repetitions with one another on the floor. Now, Miller hopes to refine that, and he stressed that they don't always have to score to be effective. Elements like assist-to-turnover ratio and defending the perimeter are key.
"If we're winning, we're going to get good guard play," Miller said. "If we're not winning, a big attribute to not winning is not getting good guard play."
Banner #2
Previewing Arkansas
Later today, Indiana hosts Arkansas looking to finish its non-conference slate with a perfect 11-0 record. The Razorbacks are 10-1, but haven't beaten a team ranked inside the top 100 of KenPom.
This game will complete a home-and-home deal the two programs agreed to in the summer of 2018. Last year, Indiana lost 73-72 at Arkansas after De'Ron Davis missed a last-second tip in to take the lead, then fouled to put Arkansas at the line to win.
These teams did meet again last season in the second round of the NIT, and Indiana won another close game, 63-60, in Assembly Hall. The Hoosiers and Razorbacks play each other tough, and expect to see more of that later today.
According to Pomeroy's numbers, the Razorbacks rank 10th nationally in adjusted defensive efficiency, sixth in effective field goal percentage defense, and 12th in defensive turnover percentage.
On this week's edition of Podcast on the Brink, Jerod Morris and Alex Bozich previewed Arkansas and said how important this game is for both teams, and Jerod made a bold prediction that Jerome Hunter will have a big game similar to the one that Franklin had against Notre Dame.
Banner #3
Are the returning players playing up to expectations?
Brian Tonsoni hosted this week's edition of Assembly Call Radio, and he was joined by Ryan Phillips and Chad Schwartzkopf (ChatMob Chad) to discuss how some of the returning players are performing in terms of their individual expectations.
Among the players evaluated are Phinisee, Green, Davis, Hunter, and Race Thompson. The similarity between all of these players is that they've each dealt with injuries over the last two seasons, and that's been a big reason why they've battled with inconsistency.
Phinisee and Green are assured of playing big minutes this year (when healthy), but the other three are a little more intriguing. Miller has stuck to his luxurious plan of being able to play all 11 scholarship players so far. But as Big Ten play hits, it will be interesting to see how much of an increase or decrease certain players receive.
For Davis, Hunter, and Thompson, they've each shown flashes of the types of impact they can bring to the floor. It's just about confidence and fitting into the flow of Miller's scheme that will dictate how much time they will get allotted to try and create that impact.
Banner #4
A look back at 2019
This year has been an interesting one for the Hoosiers.
Indiana fans would like to forget the 12 losses in 13 games and missing the NCAA Tournament for the third-straight year. But with those negatives, there have also been some positives as well.
Inside The Hall compiled its top 10 most read articles in 2019, including Trey Galloway and Jordan Geronimo committing, Joey Brunk transferring, Indiana beating Illinois on the road, Juwan Morgan and Romeo Langford heading to the NBA, and Bob Knight making his first public appearance in Bloomington in 19 years.
A lot of this is tailored to the future. Whether it be Indiana's 2020 recruiting class with Galloway, Geronimo and Anthony Leal, Brunk sticking around for two years, or the hope that Knight makes a return to Assembly Hall, Indiana fans seem excited for what's to come.
Here's to hoping 2020, Indiana University's bicentennial year, is filled with good memories for Indiana basketball.
Banner #5
The Assembly Hall experience
Some call it the mecca of college basketball, others say there's no environment superior, but most agree that Simon Skjodt Assembly Hall is one of the most prestigious venues in the country.
Unfortunately, not every Hoosier fan has the ability to make it to a game in Bloomington. But in the past year, donations have been made to help younger children and first-timers get that experience.
Inside The Hall writer Dylan Wallace caught up with the man who runs the Martha the Mop Lady Twitter account, and talked to him about his idea on giving away free tickets, which started earlier this year when the Hoosiers fell short of the NCAA tournament and were announced as a No. 1 seed in the NIT, meaning they would be hosting some home games. IU was offering $15 for a ticket in the NIT, so he thought it'd be a good idea to try and send some families to a game who had never been before.
They were able to send numerous families to every NIT game, and it worked so well it continued for all six Indiana football home games and so far through this men's basketball season.
"I had been in love with the Hoosiers for as long as I can remember, but you don't really know that love until you step inside that game atmosphere inside Assembly Hall," he said. "It's a unique atmosphere."
Banner #6
Hoosier Sports Roundup
This content was contributed by Aaron Shifron.
All 24 IU teams took Christmas off which resulted in less news this week. However, a few stories did take place over the previous weekend and off the field.
• December graduation saw 20 IU athletes receive degrees including Lily King.
• Football finally heads to Jacksonville for the Gator Bowl this week after a long wait.
• Women's Basketball fell to UCLA last weekend but Hoosiers fans can still be optimistic after a 10-2 non-conference season that saw several top wins. The Hoosiers opened Big Ten play on Saturday night with a home victory over Michigan State.
• Men's Soccer had four Hoosiers receive awards from Top Drawer Soccer.
• Women's Soccer added another player to their recruiting class.
Thanks for your continued support for The Assembly Call. We'll be back next weekend with a new roundup.
Now go enjoy yourself a 6-banner Sunday.
Filed to: