Draft watch: A look at where Romeo Langford and Juwan Morgan stand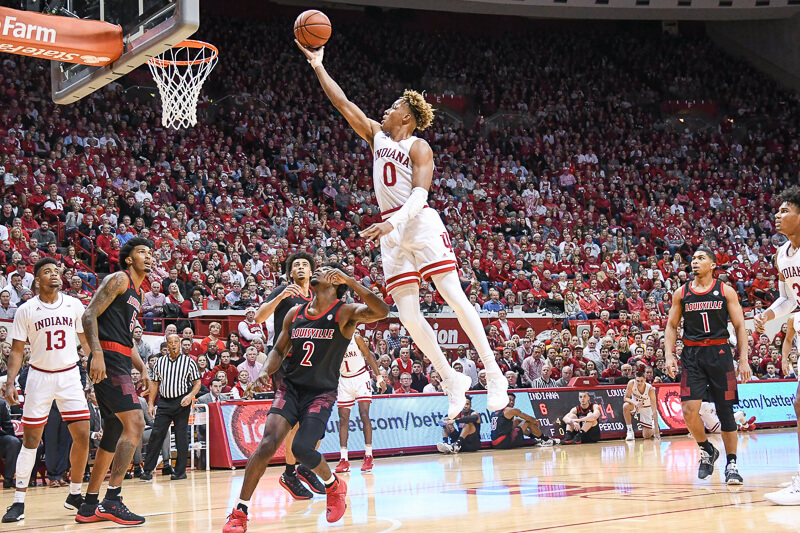 With the 2018-19 campaign in the books in Bloomington, the offseason is now in full swing.
Indiana is expected to lose freshman Romeo Langford as an early entry NBA draft candidate and senior Juwan Morgan could have a chance to make a roster next fall as a second round pick or an undrafted free agent.
The NBA draft early entry deadline this year is April 21 at 11:59 p.m. ET and the deadline to withdraw is May 29. The deadline for underclassmen to submit their names for an evaluation from the Advisory Committee is April 11 at 11:59 p.m. ET.
The NCAA recently sent a memo to member institutions which outlines many of the changes to the pre-draft process, which is available here.
Here's a current roundup looking at where Langford and Morgan currently stand in the various mock drafts and rankings:
Romeo Langford
ESPN/Draft Express – Jonathan Givony/Mike Schmitz: No. 11
The Ringer: No. 8
The Athletic – Sam Vecenie: No. 8
CBSSports.com – Reid Forgrave: No. 13
NBADraft.net – Aran Smith: No. 16
Sports Illustrated – Jeremy Woo: No. 20
Analysis: Most projections still have Langford going in the lottery, albeit in the back half. His 3-point shooting (27.2 percent) was a struggle this season, but the New Albany product still led the Hoosiers in scoring (16.5 ppg) before missing the final three games. There's plenty to like about the way Langford projects at the next level. He's long, athletic and is one of the best finishers at the rim in the college game. He also grew tremendously as a defender in Bloomington. If the shot comes around in pre-draft workouts, Langford could quickly vault up draft boards.
Danny Chau of The Ringer on Langford (mid-February):
Aesthetically, there is not a player in college basketball outside of Zion I enjoy watching more than Langford. He has a confident, unrushed floor game, with all the crossover stepbacks and pull-up ability required to be a high-level scoring guard these days. He might have the best glasswork of any athlete in the country—a skill that certainly translated with talents like Dwyane Wade, Brandon Roy, and early-career Derrick Rose. Langford has a remarkable feel for angles, touch, and body control required to get the ball softly through the cylinder by any means possible—likely something honed as a complement to his flowing style of play. With long arms and a compact frame, he has the tools to be both a volume scorer in the league and a solid two-way player. If he can improve his shooting consistency, he might wind up being the Markelle Fultz we never received. But if he can't reliably extend his range, much of what makes him special in college could make him a majorly inefficient player in the NBA.
Jeremy Woo of Sports Illustrated on Langford (early March):
There is some real reason for concern with Langford, who has turned in an uneven season without showing much tangible progression. It's not entirely his fault that Indiana has struggled, but expectations for him need to be reframed. There is some division of opinion about him, and some teams will have interest in his build and ability to finish, hoping they can flesh his skill set out. But upon close examination, Langford plays a predictable offensive game, struggles changing speeds, and if his three-point shot never comes around, he could end up on the fringes of the league sooner than anyone expected. This may seem like an overly negative tack to take with him, but at some point Langford's pedigree has to be couc hed against what we're seeing. He has not looked the part of a lottery pick, although it may be where he ends up based on perceived upside.
Juwan Morgan
ESPN/Draft Express – Jonathan Givony/Mike Schmitz: Unranked
The Ringer: Unranked
The Athletic – Sam Vecenie: No. 83
CBSSports.com – Reid Forgrave: Unranked
NBADraft.net – Aran Smith: Unranked
Sports Illustrated – Jeremy Woo: Unranked
Analysis: While it appears unlikely that Morgan will hear his name called on draft night, he still looks like a strong candidate to land on a summer league roster and receive a training camp invite. And while those types of opportunities don't often lead to making a roster for undrafted players, NBA teams now have a pair of two-way contracts they can use and Morgan could certainly be a candidate for an opportunity there. Like Langford, Morgan's perimeter shooting is the major question moving forward. He played the role of the undersized five well in college, but that doesn't translate to the next level. Morgan should get plenty of pre-draft workouts and will have an opportunity to latch on somewhere.
Jeremy Woo of Sports Illustrated on Morgan (early January):
Morgan has been among the most consistent, offensively versatile bigs in the country and an underrated force for the Hoosiers, doing damage in the post, facing up and as a set shooter. He's a strong defensive rebounder and passer, and will be an interesting investment for someone as a small-ball big who can help teams effectively run five-out offense. Morgan's outside shooting will be a key assessment and there's some reason to question it: he's shooting a career-best percentage from three, but his free throw percentage has bizarrely decreased in each of the last four seasons. He may not be able to defend many wings, but he blocks shots and racks up steals defensively. Morgan has a strong case to be drafted.
Filed to: Juwan Morgan, Romeo Langford