What to expect: Arkansas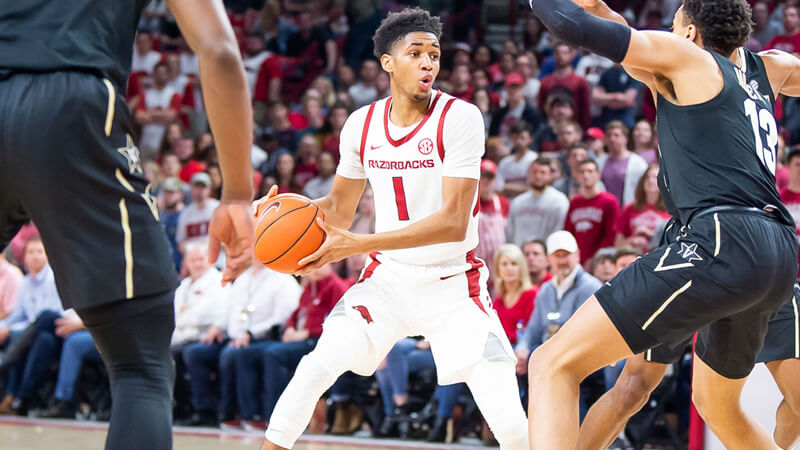 Indiana will look to finish the non-conference portion of its schedule with an 11-0 mark when it hosts Arkansas on Sunday evening at Simon Skjodt Assembly Hall. The Razorbacks are 10-1, but haven't beaten a team ranked inside the top 100 of KenPom.
Sunday's game will tip at 6 p.m. ET on BTN with Lisa Byington and Dan Bonner on the call:
Indiana's non-conference strength of schedule is ranked just 274th nationally entering Sunday's contest with Arkansas, but give the Hoosiers this: they've taken care of business so far.
With a win on Sunday, Indiana would finish the non-conference portion of its schedule with an unblemished record for the first time since the 2011-12 season. And even if the competition hasn't been particularly stiff, a challenging Big Ten slate will afford the program plenty of opportunities to earn wins that will strengthen the overall resume.
Sunday's game with Arkansas is the return game in a home-and-home deal that was agreed to in the summer of 2018 when Mike Anderson was still at the helm at Fayetteville. Arkansas won last season's meeting at Bud Walton Arena, 73-72, and the two teams met again in the NIT second round in Bloomington. That 63-60 Indiana win ended up being the final game for Anderson, who was fired and replaced with Eric Musselman.
MEET THE RAZORBACKS
Hoosier fans will be familiar with many of the names on the Arkansas roster as six of its seven regulars in the rotation are returnees from last season.
The Razorbacks play an uptempo, aggressive style with an emphasis on forcing turnovers. With Daniel Gafford now in the NBA, Arkansas has no post presence and is reliant on its stable of guards to generate offense.
The top four scorers on the roster are all backcourt players and Mason Jones is in the midst of a big season as a junior. The 6-foot-5 guard is averaging a team-best 19.6 points and scored 32 in the season opener against Rice and had 41 a few weeks ago in a win over Tulsa.
Jones is terrific in transition, according to Synergy Sports, as he's scored 78 points in 55 possessions. That ranks him in the 92nd percentile nationally. His steal percentage has doubled from last season and he's also an excellent free throw shooter (93 percent) and finisher (65.5 percent on 2s).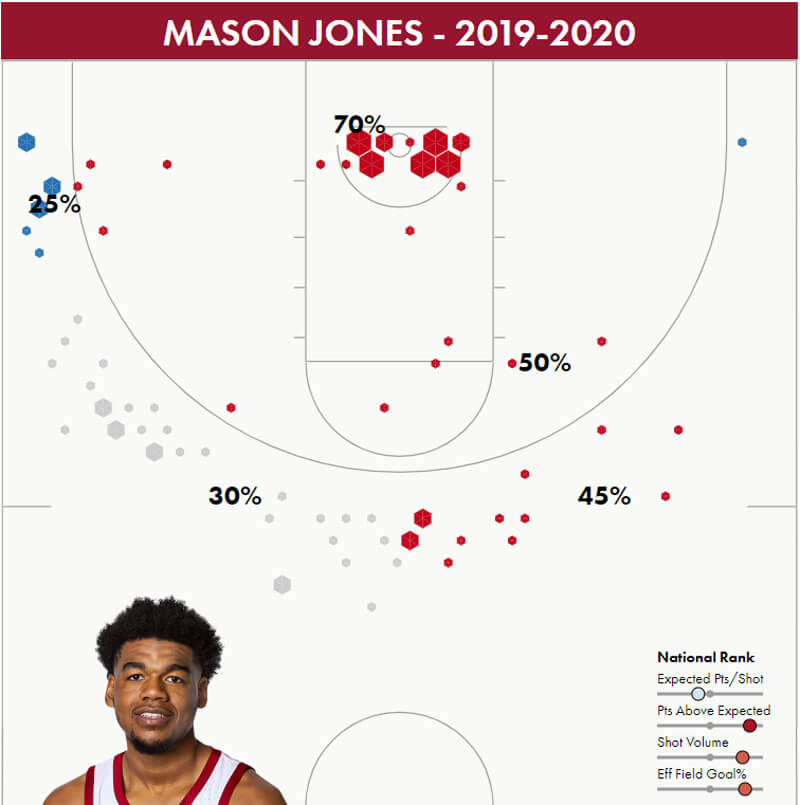 Sophomore guard Isaiah Joe is on some early NBA draft boards for next summer, but has been a high usage, low efficiency player through 11 games. Joe is second on the team in scoring at 16.8 points per game, but is shooting just 43.9 percent on 2s and 34.2 percent on 3s. Joe has attempted 114 3-pointers in 11 games and despite his low percentages, is making more than three triples per game.
As the chart below shows, Joe has been terrific on the wings from 3, but has really struggled from the corners: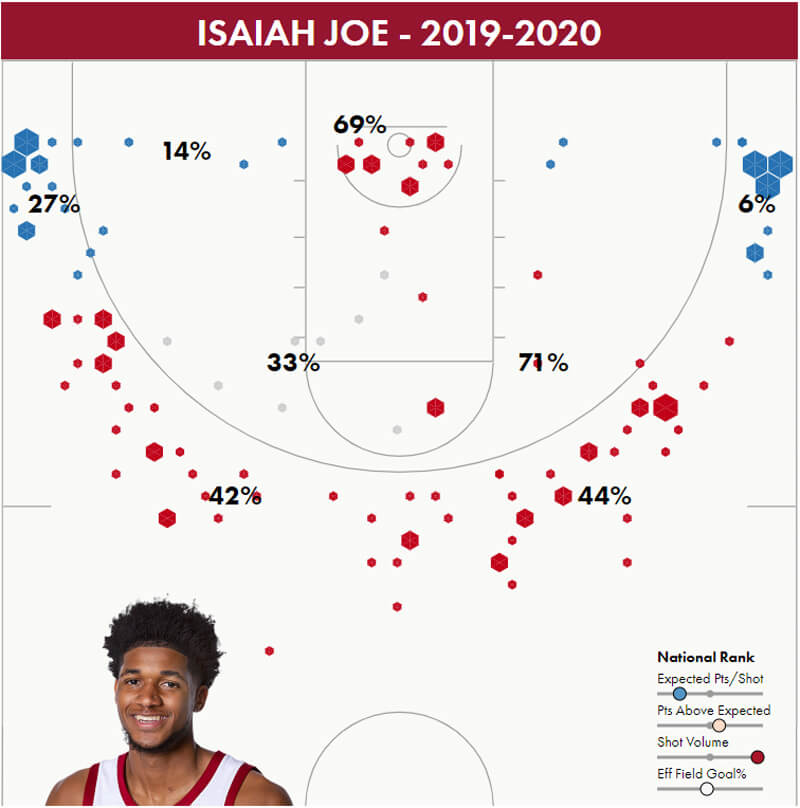 Senior Jimmy Whitt signed with Arkansas out of high school and suited up for the Razorbacks back in the 2015-16 season. Whitt then transferred to SMU, sat out a season and played two seasons in Dallas before grad transferring back to Arkansas for his final season.
The 6-foot-3 guard has carved out a significant role for the Hogs as his 14.1 points per game are third on the team and his 5.8 rebounds per contest are second. Whitt isn't a threat from the perimeter, but rarely turns it over and is shooting a respectable 52.7 percent on 2s. From about 12 feet and in, Whitt has been terrific: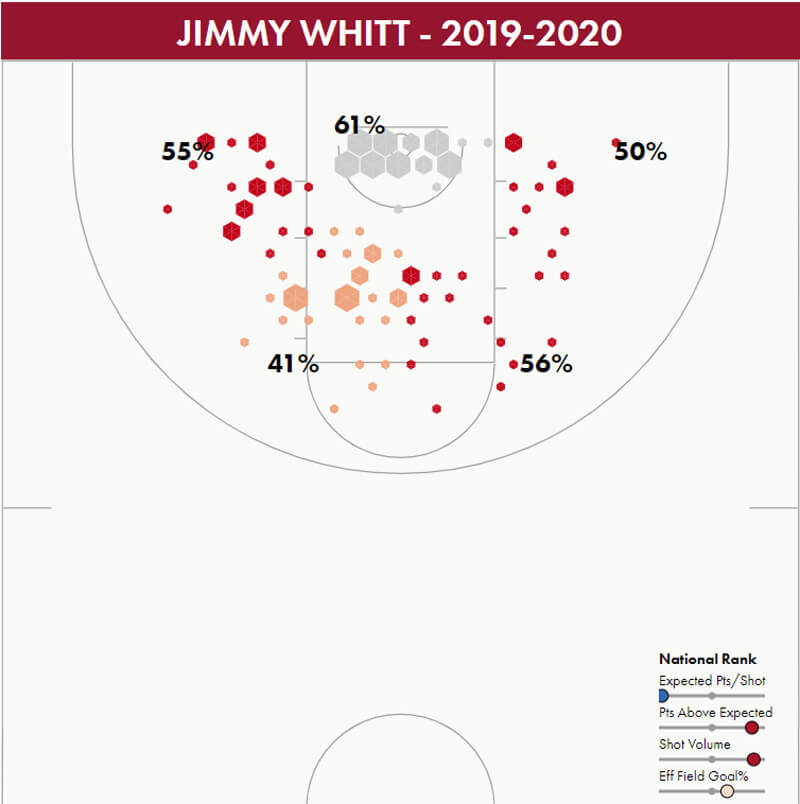 Sophomore guard Desi Sills has really struggled with his perimeter shot in his second season. He's just 10-for-53 on 3s, but has been better in recent weeks. Sills started the season 2-for-30 on 3s, but is 8-for-23 since. Still, Sills has been effective when he does penetrate and get to the rim: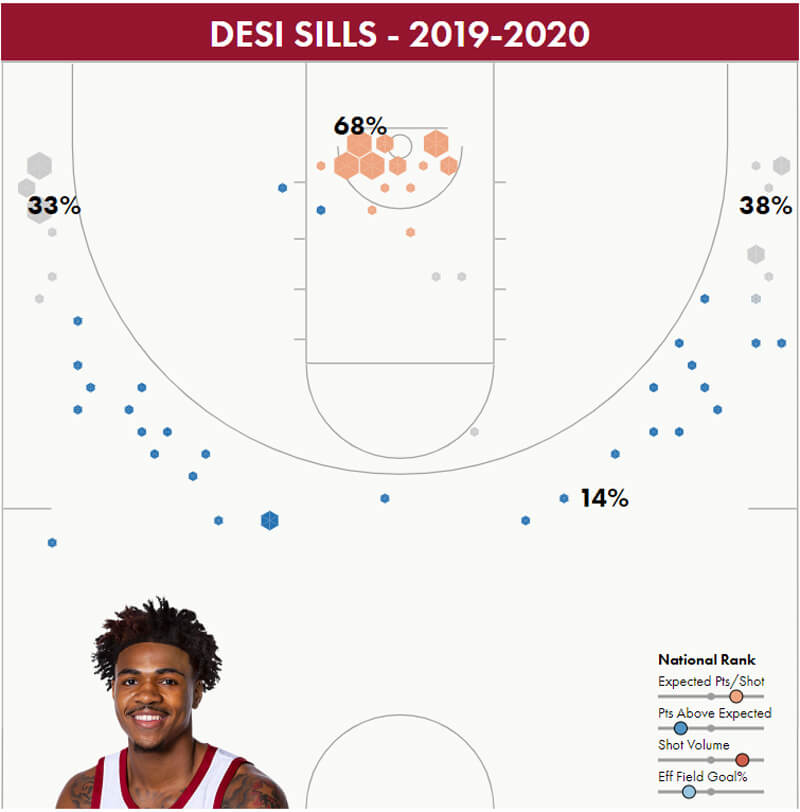 Junior guard Jalen Harris comes off the bench, but is playing 24 minutes per game at point guard. He isn't much of a threat to shoot or score, but has 16 assists over the team's last five games.
Adrio Bailey, a 6-foot-6 senior, and Reggie Chaney, a 6-foot-8 sophomore, are the two players in the regular rotation are considered frontcourt players. Bailey is a good defender as his block percentage ranks in the top 60 nationally and his steal percentage is in the top 30 nationally.
Chaney is going to have to get some minutes on Sunday as the Razorbacks attempt to deal with an IU frontcourt that has tremendous size and Jeantal Cylla, a grad transfer from UNC Wilmington, could also get some minutes if there is foul trouble. Chaney is shooting 68.8 percent from the field, but doesn't really have the size to guard a back to the basket five like Joey Brunk.
TEMPO-FREE PREVIEW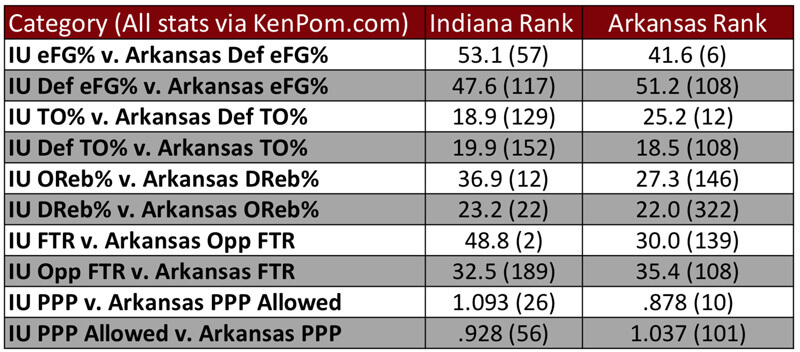 Through 11 games, Arkansas is an elite defensive team according to Pomeroy's numbers. The Razorbacks rank 10th nationally in adjusted defensive efficiency, sixth in effective field goal percentage defense and 12th in defensive turnover percentage.
Whether those numbers travel will go a long way in determining how Sunday's game plays out. Arkansas has played two road games and split the pair. Both games went to overtime as the Razorbacks used a buzzer beater to win at Georgia Tech and then fell at Western Kentucky on Dec. 7.
Indiana has a major advantage on the boards, but its guards are going to have the handle the pressure and avoid the temptation to run when it isn't warranted. Assuming the Hoosiers have their full allotment of guards available, the four-man tandem must dictate pace and figure out a way to successfully run halfcourt offense while being hounded by the Arkansas pressure.
WHAT IT COMES DOWN TO
The KenPom projection is Indiana by four with a 64 percent chance of victory for the Hoosiers. The Sagarin numbers also like Indiana by four.
Winter break games always generate interesting atmospheres in Bloomington as students are not in attendance and if things start slowly, the crowd can be completely taken out of the game quickly. This is the first of three straight winter break games at Simon Skjodt Assembly Hall as the Hoosiers will also host Northwestern and Ohio State next month in games that are a part of mini-series ticket packages rather than student season ticket packages.
This game will likely come down to Indiana taking care of the ball and whether it can limit Arkansas from getting hot from the perimeter. The Razorbacks take a ton of 3s, but are shooting 29.7 percent from distance, which is 285th in the country.
Photo Credit: Arkansas Razorbacks Athletics
Filed to: Arkansas Razorbacks