The Assembly Hall experience: IU fans donate for first-game opportunities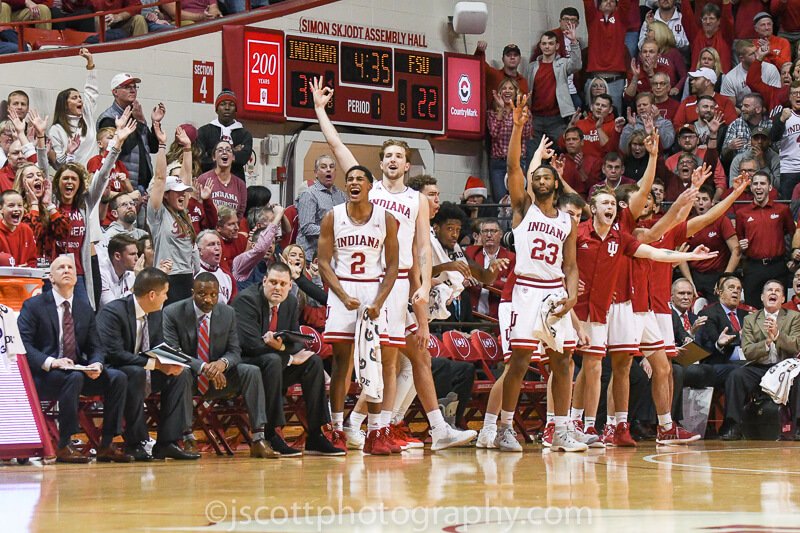 At 9 p.m. on a typical Tuesday, Austin Fuller and Hannah Slauter are usually just getting started on their night shifts at the Methodist Hospital in Indianapolis.
But on Dec. 3, they both had a rare night off, and Austin surprised his girlfriend with Indiana basketball tickets to attend the Florida State game in Simon Skjodt Assembly Hall. It was Hannah's first game in Assembly Hall, and it was Austin's first time back since graduating from IU in 2014.
Hannah had never really experienced college basketball when she attended the University of Southern Indiana, but Austin knew what was in store for her come 9 p.m. In the Hoosiers' first big game of the year, they defeated the Seminoles 80-64.
"I was sort of like, 'yeah OK, it's going to be fun like I've never been,'" she said. "But it was insane. I had so much fun and it was so much more than I thought it would be. Just like the energy from the crowd and the student section, but not only the student section, the whole crowd was that way."
The reason they were able to get tickets? The Twitter account Martha the Mop Lady has begun donating tickets to preferably younger children or first-timers in an attempt to allow them to experience the Assembly Hall atmosphere.
S/O to @TheMopLady for the ticket hookup and helping introduce @hann_u_not to IU basketball pic.twitter.com/wRNfLxcX8M

— Austin Fuller (@GingaNinja2013) December 4, 2019
The man who runs the account graduated from Indiana in the mid-2000's, but he's quick to point out he doesn't want all the credit and a lot of people have donated and helped along the way.
It was an idea that started earlier this year when the Hoosiers fell short of the NCAA tournament and were announced as a No. 1 seed in the NIT, meaning they would be hosting some home games. IU was offering $15 for a ticket in the NIT, so he thought it'd be a good idea to try and send some families to a game who had never been before.
He tweeted it out from the Martha the Mop Lady account, and before he knew it there was an influx of donations and requests, and they ended up sending 30-plus people to the first game against Saint Francis on March 19.
One of the recipients was Bruce Horstman, who has been a lifelong Hoosier fan since 1976 and remembers watching Indiana on his TV in Rising Sun, Indiana. Horstman has seen numerous games through the years, but when he saw Martha the Mop Lady's tweet, he saw it as an opportunity to take his 8-year-old son, Clay, to his first-ever Indiana basketball game.
Now living in Miamisburg, Ohio, they made sure to get there early to walk by the Sample Gates and through the campus before heading into Assembly Hall. When they got in, they got to walk courtside for some of the warm-ups and Clay kept waving to Juwan Morgan, who eventually smiled and waved back. He also got to meet Don Fischer, who they always listen to on the radio together.
"He kept saying, 'Dad, I got to go to school here,'" Horstman said.
At one point, they got put on the big screen, and Horstman was able to snap a picture of it, and Clay took it to school and showed all his friends.
I was able to be there because of @TheMopLady My son was able to watch his first game ever, and his first game in The Hall. pic.twitter.com/tMuUOqZE5h

— Bruce Horstman? (@bruceallan) March 20, 2019
"Everything. There wasn't one thing, it was just everything," Horstman said. "It was a moment for me just to be able to witness that with him."
It's memories and moments like those that the man behind Martha the Mop Lady hopes everyone experiences. His first game was when he was still in high school, and Kirk Haston drained a 3-pointer at the buzzer to knock off No. 1 Michigan State in 2001.
"I had been in love with the Hoosiers for as long as I can remember, but you don't really know that love until you step inside that game atmosphere inside Assembly Hall," he said. "It's a unique atmosphere."
After that Saint Francis game, donations continued for the next two NIT games. They started giving out tickets to the Big Brothers Big Sisters in Bloomington as well. Then, this idea carried over into football season for all six home games and has remained a hot commodity for the Hoosiers' first nine home games this season.
He said the range of people who have been willing to donate their tickets has been tremendous. People from season ticket holders, to even some of the IU coaches, to Indiana athletic director Fred Glass.
The only thing he asks in return is a photo of whoever gets to go to the game.
"It's a really, really neat thing," he said. "That's why I ask for pictures because you want to see that it goes to a good cause, especially when there's children involved. They absolutely love seeing the looks on those people's faces while they're at Assembly Hall."
My favorite picture from tonight. This little girl had so much at her first game. @JoeWils68347415 @TheMopLady pic.twitter.com/fqnL6rzPho

— Jesselyn Wilson (@WilsonJesselyn) March 20, 2019
He hopes to create a better system for this process going forward, potentially creating a website that streamlines everything, so he doesn't have to feel quite like a ticket broker all the time.
As the Big Ten season approaches, he knows things will get a little tougher for this process. The schedule of opponents becomes more appealing and the tickets become more expensive, so people may not be as willing to give up their tickets.
But regardless, as long as people are willing to donate, he hopes to continue to provide Hoosier fans with a memorable experience like the ones Hannah, Austin, Bruce, Clay and many others have had from this.
"I think it's awesome what they're doing," Hannah Slauter said. "For them to just be giving out tickets to people like me who haven't been and like want to share that experience, I think that's really cool."
"It was a great opportunity for my son and I," Bruce Horstman said. "I can't wait to take him back again."
Filed to: Assembly Hall