Five takeaways from Indiana's win at Illinois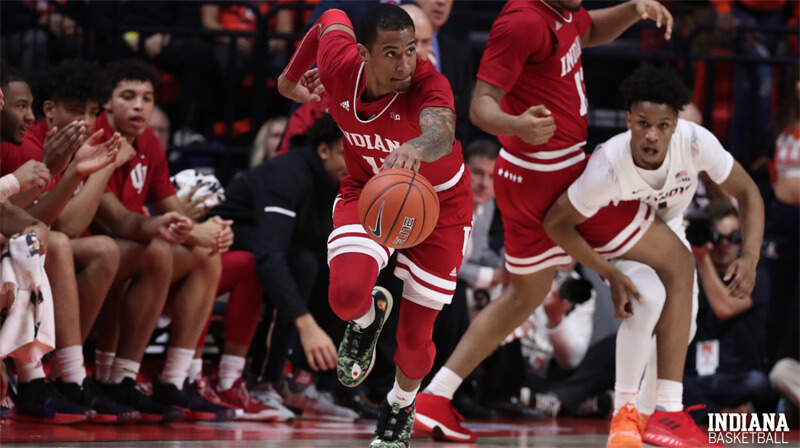 CHAMPAIGN, Illinois – Indiana won its third straight game – a 92-74 blowout victory over Illinois – on Thursday night at the State Farm Center. The victory improved the Hoosiers to 16-14 overall and 7-11 in Big Ten play.
Here's a look at five takeaways from the win over the Fighting Illini:
· A dominating offensive performance: From a numbers perspective, this was Indiana's best offensive performance of the season.
The Hoosiers scored a season-best 1.39 points per possession on the strength of strong 2-point field goal shooting and taking care of the ball.
Indiana shot 64.4 percent on 2s in the win, its highest mark of the season in a Big Ten game. And IU's turnover percentage of just 10.5 was its lowest mark of the season.
After settling for too many 3s early in the game, Indiana started to attack the basket midway through the first half and it found little resistance at the rim from the Illini.
"With the way that their defense is set up, with the overplaying and all the pressure, you've got to put the ball on the floor," Archie Miller said postgame. "I thought our spacing was pretty good and I thought our guys did a decent job of being able to get all the way to the basket."
· Phinisee's career night: Freshman Rob Phinisee has played well in recent weeks, but he took his game to another level on Thursday night.
The McCutcheon product scored a career-high 17 points, dished out five assists and didn't commit a turnover in 32 minutes. Against the relentless defensive pressure that Illinois applies, the poise Phinisee showed was remarkable.
"I think as the season's now finishing here, you're starting to see the guy that at the beginning of the season was making a lot of plays for us," Miller said. "He's gotten himself back, which is a key for our late run here in our last however many games. He's on the floor 30-some minutes. It's a big deal for us."
Phinisee said postgame that his confidence, conditioning and rhythm are back to where they were in mid-December before he suffered a concussion that forced him to miss several games.
· Green and Davis give Indiana major minutes off the bench: Just as they did in early February in IU's win at Michigan State, juniors Devonte Green and De'Ron Davis came up big in a pivotal road win.
Green was 4-of-6 from the field for 11 points, dished out six assists, grabbed four rebounds and didn't commit a turnover in 25 minutes.
Davis, meanwhile, chipped in nine points in 15 minutes after an ineffective performance last weekend against Michigan State due to illness.
· Five players hit double figures in scoring: It was a balanced scoring effort that led to IU's 92 points on Thursday, which included 52 points in the paint.
Senior Juwan Morgan set the pace with a game-high 20 points, Phinisee added 17, Justin Smith had 15, Green had 11 and Romeo Langford had 10. In all, nine different Hoosiers scored in the win.
Indiana also had 17 assists and grabbed 39.4 percent of its missed shots, which led to 14 second chance points.
"The fact that we were able to score the ball speaks volumes about our guys just being able to take care of it, step one, and that's what they did a good job of," Miller said. "We rebounded the ball pretty well and then we had some guys really make some unselfish plays. A credit to 17 assists. You had 11 (assists) to 0 (turnovers) with Devonte and Rob, that was really big."
· Indiana keeps its name in the NCAA tournament conversation: There's still plenty of work to be done, but Indiana is still alive for an at-large NCAA tournament bid.
Thursday's win will be a quadrant two victory for tournament selection purposes and it gives the Hoosiers a third road win on the ledger.
In order to keep moving towards the right side of the bubble, Indiana needs to keep winning and the Hoosiers now have an opportunity for a four-game winning streak as Rutgers comes to Bloomington on Sunday.
(Photo credit: IU basketball on Twitter)
Filed to: Illinois Fighting Illini