2013-2014 Player Profile: Jeremy Hollowell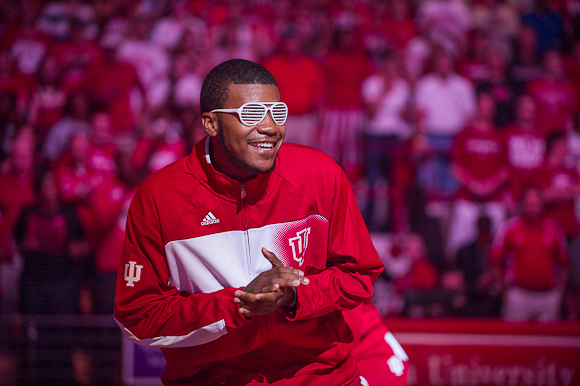 With the start of college basketball season on the horizon, we'll be taking a long look at the conference at large as well as Indiana's roster over the next month. Today, we look at sophomore Jeremy Hollowell.
If the early returns from practice are indicative of what's to come for Jeremy Hollowell, he's in line for a major increase in his role as a sophomore in Bloomington.
In his recent address to students at the IU auditorium, Tom Crean said that Hollowell was the team's leading scorer through the first five practices, but added that his efficiency wasn't where it needed to be. Crean caveated these statements by saying that "five days of stats is not a big deal. It's the level of what he's capable of: that's what the big deal is."
Talent has never been a question for Hollowell. At 6-foot-8, he's versatile enough to play multiple positions and score the ball from a variety of areas. He's long, reasonably athletic and competes, despite criticism from some that his body language is indicative of a player who is sometimes disinterested. Whether that last piece has any truth to it will be answered this season as Hollowell will shift from a role player to a guy who is being counted on for production on both ends of the floor.
"We need Jeremy to continue to put himself in a spot where he's not quiet," Crean said at his auditorium speech. "Where he understands that he's going to absolutely be — it's going to be counted upon, demanded upon — that he's going to be a paramount defensive player for us."
Hollowell's prowess defensively will ultimately determine just how large of a role he's able to carve out on an Indiana team that only has three certainties in the starting lineup as of now. He showed flashes of his ability to defend last season, but will have to become more consistently engaged to become, as Crean described, "paramount."
The efficiency piece also looms large on a team that is looking to replace some of the nation's best in that regard. Hollowell posted an effective field goal percentage of just 44.8 percent as a freshman, the lowest mark of any rotation player besides Maurice Creek. If Hollowell is going to be a primary scorer for Indiana, the efficiency numbers must come up and that starts from the 3-point line, where he shot just 23.3 percent last year.
Bottom Line: Hollowell's freshman season was mostly underwhelming from a statistical standpoint as he shifted from being the man in high school to a complimentary piece. This season, he'll certainly be a rotation player and could even find himself in the starting lineup. With the amount of offensive production Indiana needs to replace, Hollowell is a player who will be counted on to create scoring opportunities for not only himself, but also for others. Based on Crean's offseason comments about him needing to show more of a desire to compete, the belief here is that the staff is counting on Hollowell to play a significant role and is pushing him towards that accordingly.
Quotable: "There's nobody that's scored more points in our first five practices than Jeremy Hollowell. But he's not one of the leading percentage guys. He's not one of the leading rebounders. He's not one of the leading deflection guys. We need him to have a consistency that's constant in our practices." – Crean on Hollowell.
Previously: Hanner Mosquera-Perea, Peter Jurkin, Yogi Ferrell, Luke Fischer, Noah Vonleh, Devin Davis, Stanford Robinson, Troy Williams, Collin Hartman
Filed to: 2013-2014 season preview, Jeremy Hollowell