2012-2013 ITH season preview: Ohio State Buckeyes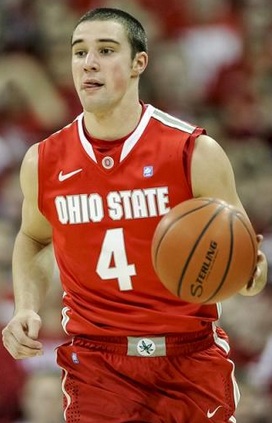 With the college basketball season on the horizon, we'll be taking a long look at the conference at large as well as Indiana's roster over the next few weeks. Today, we look at the Ohio State Buckeyes.
Jared Sullinger's decision to return to Columbus for the 2011-2012 season, along with the veteran presence of William Buford, the grit of Aaron Craft and the scoring presence of Deshaun Thomas, pushed Thad Matta and Ohio State to a co-Big Ten Championship and a Final Four appearance. Sullinger, now a member of the Boston Celtics and Buford, who is playing in Spain after going undrafted by the NBA, have moved on. But the Buckeyes are expected to once again contend in a loaded Big Ten.
While Michigan State is considered the top program in the conference over the last decade, there's also a strong argument to be made for what Matta has built in Columbus. Since taking over in 2004, Ohio State has five Big Ten regular season titles, three conference tournament titles and two Final Four appearances under his direction. Whether those totals are added to this winter will depend largely on Craft, Thomas and Lenzelle Smith Jr. leading a cast of unproven characters who will be thrust into pivotal roles.
Craft will once again be the catalyst in the backcourt and should only improve statistically on an impressive sophomore campaign. The junior guard is a disruptive on-ball defender who has the ability to lead the conference in assists and steals and could also shoulder more responsibility on offense. He won't win any 3-point shooting contests (35.9 percent), but Craft is certainly capable of getting to the basket and also scoring more regularly from midrange.
Craft will be joined by Smith Jr., who started all 39 games last season and improved steadily as the year moved along. As a sophomore, Smith posted an effective field goal percentage of 55.6 and averaged close to five rebounds per game. Shannon Scott, a former McDonald's All-American who played sparingly as a freshman, figures to back up Craft and freshman Amedeo Della Valle, could see some time if the Buckeyes need a perimeter shooter.
Thomas will lead the charge in the front court and while he's been criticized for being a shot vacuum, he's efficient. As a sophomore, he led the Buckeye regulars with an effective field goal percentage of 57.4. He's particularly dangerous from inside the 3-point line (59.9 percent on 2's) and without the presence of Buford and Sullinger, it's not out of the question that he'll lead the Big Ten in scoring. LaQuinton Ross figures to slide in and play significant minutes on the wing. While Thomas will swallow up many of the attempts vacated by Buford and Sullinger, Ross might be the third option offensively if reports of his offseason progress prove accurate. Sam Thompson, an ultra-athletic wing, will provide energy off the bench.
In the middle, Amir Williams, another former McDonald's All-American, gets the unenviable task of filling in for Sullinger. He'll be surrounded by enough talent that his level of success will likely be gauged by how well he defends the paint and cleans up the defensive glass. Evan Ravenel, who averaged just over ten minutes per game a season ago, should provide backup relief for Thomas and Williams.
Bottom line: It's hard to imagine Ohio State not taking a step back following the loss of their two best players, but the program's success over the last nine seasons makes the Buckeyes impossible to discount when ranking the Big Ten's contenders. If Craft and Thomas perform to their capabilities and guys like Smith, Ross and Williams fill their roles, Ohio State could be a top ten team. Even if that doesn't happen, this group looks like a lock for the top five in the Big Ten and the NCAA Tournament.
Quotable: "It's a tremendous advantage for us, having Aaron back. Two years into the program, he's won 65 games, he's won two Big Ten championships in his time here. … From his freshman year, he played a certain role, last year he played a certain role and I think the beauty is guys are looking to him to even expand his role a little bit more. The way he competes. The way he plays the game, you want a guy like Aaron Craft leading your basketball team. So I think the players have the utmost respect for him and everything he does. So it kind of makes it an easy follow." – Matta on Craft.
Previously: Nebraska, Northwestern, Penn State, Iowa, Illinois, Purdue, Wisconsin, Minnesota, Michigan State
Filed to: 2012-2013 Big Ten preview, Ohio State Buckeyes