2012-2013 ITH season preview: Michigan State Spartans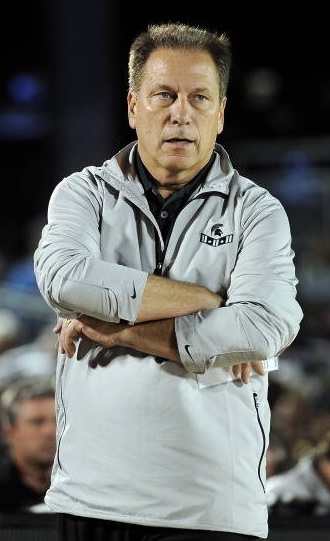 With the college basketball season on the horizon, we'll be taking a long look at the conference at large as well as Indiana's roster over the next few weeks. Today, we look at the Michigan State Spartans.
There's no question Michigan State has enough talent to be one of the top teams in the Big Ten. The Spartans return a solid core that includes guard Keith Appling, forward Branden Dawson and big men Adreian Payne and Derrick Nix, and they add a recruiting class that features Hamilton Southeastern product Gary Harris.
The primary challenge for Tom Izzo and the Spartans will be replacing the leadership of Big Ten Player of the Year Draymond Green. Green was one of the best leaders the Spartans have had in quite a while, and he was the guy responsible for getting his team through the valleys that come with every college basketball season. Green was also one of Michigan State's main offensive contributors, averaging 16.2 points and 10.6 rebounds per contest last season.
So how will the Spartans replace such a key piece? The ideal choice — at least from a leadership perspective — would be to have Appling take on a bigger role. While he seems to have a more quiet demeanor, Appling was the team's second best player last season, and he showed signs of being an elite point guard. Appling averaged 11.4 points in 31 minutes per game last year.
Nix, the Spartans' 6-foot-9, 270-pound center, also figures to be one of the team's primary leaders. Nix spoke to the team after its NCAA Tournament loss to Louisville in March, a sign he may be ready to help fill Green's shoes. Nix was arrested because of a drug-related issue in April, and he was suspended indefinitely from the team. But Izzo said he's worked his way back and is still in the mix to be the team's captain.
From a production standpoint, the Spartans have plenty of capable candidates to replace Green. Dawson played well for the Spartans last season before his season ended in early March because of an ACL tear. It's unclear whether Dawson's knee will be healthy enough for him to play at the beginning of the season, but his recovery has gone "unbelievably," according to Izzo.
And then there's Harris, who was the 11th-ranked prospect in the 2012 class, according to ESPN.com. The 6-foot-4 guard is projected by many to be in the Spartans' starting lineup, and he's talented enough to make an immediate impact. With Harris and Appling on the court together, Michigan State could have one of the best backcourt duos in the conference.
The Spartans also add freshmen Denzel Valentine and Matt Costello. Costello, a 6-foot-10, 245-pound big man, averaged 25 points and 19 rebounds per game in his senior year of high school.
Bottom line: Replacing Green won't be easy, but the Spartans have more talent on this year's roster than they've had in the last several years. If Harris can make the instant impact that everybody expects him to make, Michigan State could very well compete for another Big Ten title.
Quotable: "I just think Gary Harris, what makes him special is he could be the first player in a long time to come in and be equally valuable on both ends of the court. Not many guys, I mean he's got all three facets — offense, defense, intelligence. He's got all three. And he's got an incredible work ethic, so maybe it's four. A lot of guys are good offensively. There's been a few guys, a la Charlie Bell, who were very good defensively. Not many guys can do it on both ends. This kid can legitimately play both ends." — Tom Izzo
Previously: Nebraska, Northwestern, Penn State, Iowa, Illinois, Purdue, Wisconsin, Minnesota
Filed to: 2012-2013 Big Ten preview, Michigan State Spartans