2012-2013 ITH season preview: Illinois Fighting Illini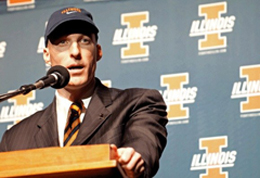 With the college basketball season on the horizon, we'll be taking a long look at the conference at large as well as Indiana's roster over the next few weeks. Today, we look at the Illinois Fighting Illini.
It's been a year of upheaval in Champaign-Urbana.
Longtime athletic director Run Guenther retired after 19 years on the job back in June of 2011. His replacement, Mike Thomas, wasted little time in cleaning house. Football coach Ron Zook was shown the door in November. Come March, Thomas also relieved both of the university's basketball coaches — Jolette Law on the women's side, Bruce Weber on the men's — of their duties. Weber's firing came after a lackluster season; his Illini finished just 6-12 in the Big Ten and only 2-12 down the stretch. (March was also a month in which university president Michael Hogan resigned under turmoil.)
Weber appeared to have realized his dead-man-walking fate during a post-game press conference after a home loss to Purdue in February, lamenting the fact he put too much emphasis on wins over developing the proper team culture.
"The sad thing about this whole thing is that instead of creating toughness and developing a team, I coached not to lose all year," he said. "And that's really sad … You've got to develop a culture and I think the last three years all I did was worry about winning instead of developing a culture and a toughness."
Tying in with this statement, Weber also spent part of the presser criticizing sophomore Meyers Leonard and wondering if it would have been more prudent to sit the talented but immature big man at some point in the season. (One wonders, too, if Weber also had second thoughts about the handling of the troubled Jereme Richmond in 2010-11, another talent Weber may not have disciplined as much as he should have — though he did sit him for the NCAA Tournament — because of emphasis on wins over culture.)
After a search in which the school failed to land VCU's Shaka Smart, Weber's replacement comes in the form of Ohio coach John Groce. Groce's Bobcats fared well last season, advancing to the Sweet Sixteen in the NCAA Tournament where they lost to North Carolina in overtime. The Indiana native has Big Ten ties as well; he served as an assistant under Thad Matta at Ohio State from 2004-2008 and reportedly played a lead role in the recruitment of Greg Oden and Mike Conley Jr.
Groce will have seniors D.J. Richardson and Brandon Paul at his disposal next season. Richardson (34.7) and Paul (33.4) averaged the most minutes on the team in 2011-12. Paul (14.7) also led the team in scoring while Richardson was third (11.6) behind Leonard (13.6). (Leonard chose to enter the NBA Draft and showed off his athleticism at the combine. It helped him become a lottery selection at 11 to the the Trail Blazers, a team in need of bodies up front.) Guard Tracy Abrams (sophomore), guard Joseph Bertrand (junior) and forward Tyler Griffey (senior) will also be back in the fold this season and all have starting experience; Abrams started in 19 games, Bertrand in 14 and Griffey in 19.
But the rest of the returners all averaged less than 10 minutes a game — with only one, sophomore Myke Henry, averaging more than three points a contest (3.2). Incoming freshman Mike LaTulip also doesn't figure to make much of an impact this season.
Bottom Line: Groce has a decent five at his disposal in Paul, Richardson, Abrams, Bertrand and Griffey, but the team's collective talent level and apparent lack of depth likely will keep the Illini in the bottom half of the Big Ten during his first season in Champaign.
Quotable: "I'm flattered to be here. There are always skeptics in life. If you don't have a thick skin in this profession, you're in trouble." — Groce at his introductory press conference.
Previously: Nebraska, Northwestern, Penn State, Iowa
Filed to: 2012-2013 Big Ten preview, Illinois Fighting Illini