2012-2013 ITH season preview: Nebraska Cornhuskers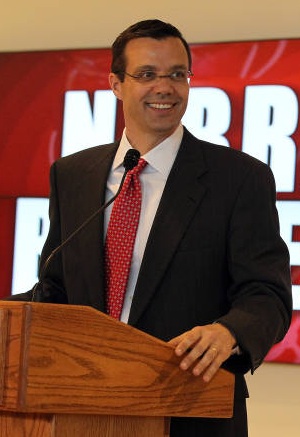 With the college basketball season on the horizon, we'll be taking a long look at the conference at large as well as Indiana's roster over the next few weeks. Today, we begin our team previews with a look at the Nebraska Cornhuskers.
Nebraska's inaugural season in the Big Ten was a challenge the program failed to meet with much success.
The Cornhuskers, who were returning plenty of experience following a 19-win season in 2010-2011, battled three key injuries as Jorge Brian Diaz, Andre Almeida and Corey Hilliard all missed time.
Their offensive production was the worst in the conference and their defense, a strong suit in previous seasons, allowed opponents to shoot an eFG% of 55.2, also a league worst.
Besides an upset of then No. 13 Indiana on Jan. 13 and a blowout of Illinois on Feb. 18, highlights in Lincoln were hard to pinpoint.
The ultimate result was a disappointing 12-18 finish that led to the dismissal of coach Doc Sadler on March 9. After a coaching search that lasted a little less than two weeks, Nebraska hired Tim Miles, who led Colorado State to the 2012 NCAA Tournament in his fifth season at the school.
Miles, who built Colorado State from a 7-25 program in 2007-2008 to an at-large bid in 2011-2012, inherits an even tougher rebuild at Nebraska. Not only is the Big Ten as strong from top to bottom as its been in years, the talent Miles inherited is minimal at best. Nebraska's top two scorers, Bo Spencer and Toney McCray, graduated and shortly after Miles arrived, the injury-prone Diaz opted to return to Puerto Rico rather than play his senior season.
So who's left in Lincoln?
Senior guard Dylan Talley, who averaged 8.9 points and hit close to 37 percent of his 3-point attempts, is the most proven returnee. Brandon Ubel, a 6-foot-10 senior forward, is also back and was one of the Big Ten's best offensive rebounders a season ago (11.9 OR%). Talley and Ubel are the only two returning players who averaged more than 8.3 minutes per game last season.
Much of how Miles' first season at Nebraska goes will depend heavily on newcomers who will be thrust into pivotal roles from day one. Benny Parker and Shavon Shields, a pair of 3-star guards who originally signed with Sadler, decided to honor their commitments to Nebraska.
Miles also added a pair of junior college recruits, Sergej Vucetic and Deverell Biggs, who will likely be major contributors early. Vucetic is a 7-foot, 235-pound center from Serbia and Biggs, the first in-state player to sign with Nebraska since 2001, was a NJCAA first team All-American.
Florida transfer Walter Pitchford and Texas Tech transfer Terran Petteway also joined the program, but will have to sit out a season due to NCAA rules.
Bottom Line: It's going to be a long season in Lincoln, but the energy and enthusiasm Miles is bringing to the program may eventually pay dividends. Nebraska is a program that has been historically tough to win at, but with a new practice facility now open and Pinnacle Bank Arena scheduled to open in 2013, it will be interesting to see how quickly Miles can bring the Huskers out of the Big Ten cellar.
Quotable: "People ask me, what's your style of play? Are you going to play fast or slow? We know that the Big Ten, tempo-wise is a slower conference. The North Central Conference that I was in Division II is a slower conference too. We want to play winning basketball, if that means we're going to run it down the floor, we'll run it down the floor. If that means, we're going to work the shot clock to two, we'll work the shot clock to two. I'm a motion defense guy; I'm a man-to-man defense guy, which is not going away." – Miles at his introductory press conference.
Filed to: 2012-2013 Big Ten preview, Nebraska Cornhuskers, Tim Miles