2012-2013 ITH season preview: Northwestern Wildcats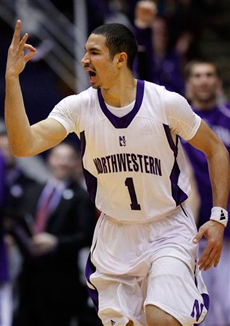 With the college basketball season on the horizon, we'll be taking a long look at the conference at large as well as Indiana's roster over the next few weeks. Today, we look at the Northwestern Wildcats.
It's the question the program finally seemed ready to break through on the last two seasons: Is this the year the Wildcats finally make the NCAA Tournament?
But it was not to be.
Northwestern finished a respectable 20-14 in 2010-11, but notched only a 7-11 conference record, finishing eighth in the Big Ten. Washington State bounced the Wildcats out of the NIT in the third round. Last season, it was a near identical script: 19-14 overall, 8-10 in conference (tie for seventh place), and an exit from the NIT in the second round.
This year likely doesn't come with such hopes in Evanston. Gone is sharpshooter Jon Shurna — an absolute workhorse for Bill Carmody last season. He played 92.2% of available minutes — including nearly all 40 against Indiana in Bloomington in February, a game he scored 29 points and kept the Wildcats within striking distance before falling 71-66. Shurna wasn't selected in either round of the NBA Draft, but after a summer league stint,  he signed a partially-guaranteed deal with the Knicks earlier this month. The Knicks reportedly have 16 players coming to training camp — an NBA roster size is 15 — so it's yet to be determined if he'll stick in New York.
The Wildcats also lost senior center Luka Mirkovic. While Mirkovic was no fringe NBA talent like Shurna, he did play a pesky enforcer role for the Wildcats up front and was the team's top defensive rebounder (17.7 DR%). Those two facets may not be immediately replaceable for Carmody.
Still, Northwestern figures to stay somewhat competitive this season.
Guard Drew Crawford returns for his senior season. Crawford snagged third team Big Ten honors last season and sported an eFG% of 55.9 — a mark identical to Shurna's. Guard Alex Marcotullio is back for his senior season, and he should help buoy the loss of Shurna from the outside; he shot a strong 41.3% from beyond the arc in 2011-12. The Wildcats also return Dave Sobolewski to the backcourt, who had a promising freshman season. He played and started in all 33 of Northwestern's games a year ago. Jarod Swopshire joins the team after transferring from Louisville with immediate eligibility, and he's a potential starter for the squad. Reggie Hearn and JerShon Cobb should see minutes as well.
The Wildcats welcome freshmen Sanjay Lumpkin (guard), Kale Abrahamson (forward) and Alex Olah (center) this fall, and it's possible Olah may need to pick up some of the minutes left behind by Mirkovic's departure. (Preferred walk-on Aaron Liberman could also help out up front, as could transfer Nikola Cerina.)
Bottom Line: The Wildcats sport a strong backcourt and some solid depth, and it figures to keep them in enough games. But it likely won't be enough for them to vault themselves out of the bottom half of the Big Ten or into the NCAA Tournament. Under Tom Crean, the Hoosiers have had some rough losses at Welsh-Ryan Arena, but the Jan. 20 bout in Evanston could see a more favorable result for the cream and crimson this time around.
Quotable:  "Reggie started probably every game last year and maybe he'll be the seventh man," Northwestern coach Bill Carmody hinting about his squad's added depth this coming season to the Chicago Tribune's Teddy Greenstein.
Previously: Nebraska
Filed to: 2012-2013 Big Ten preview, Northwestern Wildcats