2012-2013 ITH season preview: Penn State Nittany Lions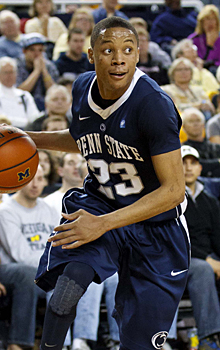 With the college basketball season on the horizon, we'll be taking a long look at the conference at large as well as Indiana's roster over the next few weeks. Today, we look at the Penn State Nittany Lions.
There's no denying the fact Patrick Chambers began to change the culture of Penn State basketball in his first season as head coach last year. Chambers' tough-minded, 'never say quit' attitude rubbed off on his players throughout the season.
But as Indiana fans well know, it takes longer than one year to fully implement a new coaching style into a program. Following a rare NCAA Tournament appearance in 2010-2011 and the departure of Ed DeChellis to Navy, last season was a struggle for the Nittany Lions despite their new coach's best efforts. Penn State finished the year 12-20 (4-14), and the Nittany Lions closed the season on a five-game losing streak.
One of the main reasons for Penn State's struggles last year was its lack of offensive weapons. Guard Tim Frazier was a first-team All-Big Ten performer as he averaged 18.8 points and 6.2 assists per game, but his teammates rarely gave him much help. Jermaine Marshall was the only other player that averaged in double figures (10.8 points per game), and he was wildly inconsistent. Still, though, he showed a great deal of promise, and should only be better this season.
Both Frazier and Marshall are back, along with Southern Miss transfer D.J. Newbill, who should take some of the offensive load away from Frazier. Newbill averaged 9.2 points and 6.2 rebounds per game as a freshman at Southern Miss, and he made 54 percent of his shots from the field. The 6-foot-4 Philadelphia native sat out last season after transferring due, in part, to homesickness.
With a starting lineup that could include Frazier, Marshall and Newbill, Penn State should have a much easier time generating offense than it did a year ago.
The Nittany Lions also added a promising freshman class that includes Trenton Catholic (N.J.) big man Brandon Taylor. The 6-8 Taylor turned down Maryland, Miami (Fl.), Temple, South Florida and Richmond for Penn State. The Nittany Lions also picked up 6-9 forward Donovon Jack and 6-3 guard Akosa Maduegbunam.
Bottom line: Penn State should be better in Chambers' second season in Happy Valley. Chambers always gets his teams to play hard — especially on the defensive end — and the addition of offensive help should translate into a few more wins for the Nittany Lions. The key for Penn State will be how well Frazier can incorporate Newbill and the incoming freshmen into the system. He's used to having the ball in his hands at all times, and it may not always be that way this season.
Quotable: "He [Newbill] won't blow your doors off in any one department. But he's like an 8 or 9 out of 10 in every category. Makes sharp passes. Rebounds really well for a guard. Plays well with his teammates. Respects the game. He's a very old-school player for a young kid," a Philadelphia high school contact told The Patriot-News' David Jones.
Previously: Nebraska, Northwestern
Filed to: 2012-2013 Big Ten preview, Penn State Nittany Lions