2012-2013 ITH season preview: Iowa Hawkeyes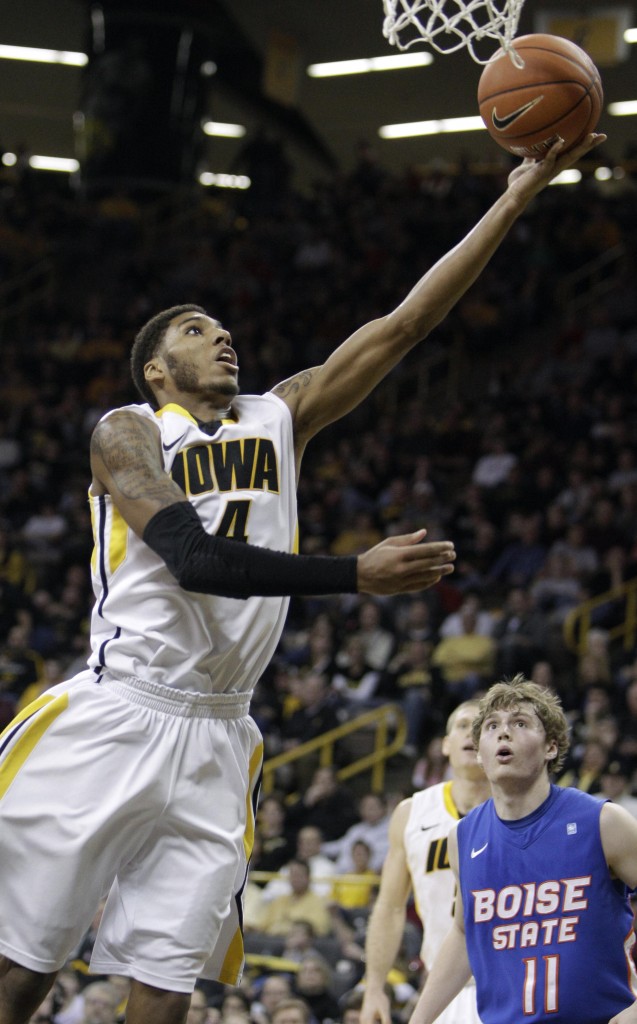 With the college basketball season on the horizon, we'll be taking a long look at the conference at large as well as Indiana's roster over the next few weeks. Today, we look at the Iowa Hawkeyes.
The strength at the top of the Big Ten heading into next season has kept Iowa from generating much national buzz, but Fran McCaffery and the Hawkeyes are clearly on the rise.
After going just 11-20 in McCaffery's first season, Iowa improved to 18-17 in year two and earned a berth to the N.I.T. The Hawkeyes knocked off some high-level opponents like Indiana, Michigan, Wisconsin (twice) and also won three league games on the road. The program also enjoyed success off the court by signing two recruits in the RSCI top 100 in Adam Woodbury and Mike Gesell. All of these things are reasons for optimism in Iowa City.
But with success comes expectations.
A taste of postseason play last winter combined with a solid core of returnees and a solid incoming class should have Iowa positioned to make a play for the NCAA Tournament. Whether that happens will depend largely on how they replace Matt Gatens, who averaged 15.2 points last season, and how much the defense improves.
Replacing Gatens, one of the Big Ten's best 3-point shooters (41.0%), will likely be a collective approach rather than one guy stepping in to fill the void. The arrival of Gesell should provide a steady ball handling presence and will allow Roy Devyn Marble to create for himself and others. Marble took a big leap as a sophomore — his effective field goal percentage jumped almost six percent, his assist rate increased over 10 percent and his free throw percentage jumped from 53 percent as a freshman to 72.3 percent. Marble won't replace the threat Gatens provided from outside, but giving him more opportunities with the ball could be a positive. Sophomore Josh Oglesby will become Iowa's primary perimeter threat.
Up front, the aforementioned Woodbury, a 7-foot lefty who picked Iowa over North Carolina and several other major programs, will afford McCaffery the luxury of going big when the situation calls for it. Aaron White, one of the biggest surprises in the Big Ten as a freshman, is one of the league's best defensive rebounders and can score consistently from 15 feet and in. Melsahn Basabe, who regressed in nearly every statistical category as a sophomore, has the talent to be a factor, but fell into McCaffery's doghouse last year and is likely now a role guy.
Whether Iowa does make another jump in 2012-2013 will depend largely on their defense, which offered little resistance a season ago. Iowa allowed a league worst 71.6 points per game in conference games. The Hawkeyes ranked 309th nationally in 2-point field goal percentage defense. In Big Ten play, their defensive rebounding percentage was second worst in the conference. Both areas will need to be shored up significantly if Iowa hopes to move up from a tie for seventh in the league standings.
Bottom line: The leadership and scoring prowess vacated by Gatens will be tough to replace, but returning players like Marble, White, Oglesby, Basabe and veteran Eric May combined with Woodbury and Gesell is a strong enough core to compete in the nation's toughest conference. McCaffery has lined up the non-conference schedule for success early, so a .500 record in the Big Ten could easily put the Hawkeyes in the NCAA Tournament conversation.
Quotable: "Now he's got to take that next step and be a premier player in this league, which I think he can be. I would expect him to be. If he's averaging 18-20 points in this league, he's probably going to be a first-round draft pick." – McCaffery on Marble to Scott Dochterman of The Gazette.
Previously: Nebraska, Northwestern, Penn State
Filed to: 2012-2013 Big Ten preview, Iowa Hawkeyes