2012-2013 ITH season preview: Minnesota Golden Gophers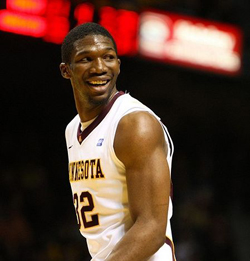 With the college basketball season on the horizon, we'll be taking a long look at the conference at large as well as Indiana's roster over the next few weeks. Today, we look at the Minnesota Golden Gophers.
As Tubby Smith enters his sixth season at the helm in Minneapolis, it's been a mixed bag of results.
The good? Two trips to the NCAA Tournament (both resulting in a first round loss). Two trips to the NIT, the latest last season culminating in a run to the championship game before falling to Stanford for the title.
The bad? A pedestrian Big Ten record (38–49), including back-to-back 6-12 seasons the last two years. His Golden Gohpers have never finished higher than sixth in the conference. And Smith has also dealt with a host of off-court issues, player defections and injuries the last few seasons, including the loss of star senior Trevor Mbakwe to a torn ACL back in November.
He's been short on luck.
But there's hope in the Twin Cities as the team's 2012-13 season looms. While Ralph Sampson III is gone, Mbakwe was granted a sixth season of eligibility and will return to the team. He started practicing again this month. A healthy, motivated Mbakwe — the team's leading scorer (13.9 ppg) and the Big Ten's top rebounder  (10.5 per game, 26.0 DR%) in 2010-11  — is a nice start. But Smith's lineup should also boast some strong options and good depth. Rodney Williams posted an effective field goal percent of 58.9 last season, making him one of the most efficient scorers in the Big Ten. Only Jordan Hulls, Cody Zeller, Purdue's Ryne Smith and Michigan's Jordan Morgan fared better.
Austin Hollins, Julian Welch and Andre Hollins all return as well. Team Hollins played big offensive roles in Minnesota's run to the NIT Finals last season — Austin averaged 11.2 points a game during the tournament, while Andre averaged 15.0, including two plus-20 outbursts. Junior college transfer Andre Ingram saw a minutes boost in the NIT as well and could be a nice backcourt bench option for Smith.
Elliott Eliason will be available up front to spell the loss of Sampson. Another big man, Maurice Walker, who hasn't played since Dec. of 2010 due to a knee injury, could also provide minutes in the frontcourt. Smith gave some solid run to freshmen Oto Osenieks (11.1 mpg) and Joe Coleman (18.8 mpg) in 2011-12 — both will be back for their sophomore seasons. Minnesota also welcomes Wally Ellenson and Charles Buggs to campus this fall, two three-star freshmen recruits.
Bottom line: While Minnesota likely isn't in line for a shot at the conference title, the Golden Gophers are intriguing and a team to watch. Provided the squad is able to avoid the injury bug this season, their talent and depth will allow for some different lineup combinations and matchup issues for their opponents. The Barn is never an easy place to play and Minnesota could find its way into the NCAA Tournament again this season if the team protects its home court.
Quotable: "The last two years have been a real tough time for us with injuries … we had more injuries last year than we've ever had and more injuries in the  last two years than I've had in my 22 years as a head coach in any season." — Tubby Smith
Previously: Nebraska, Northwestern, Penn State, Iowa, Illinois, Purdue, Wisconsin
Filed to: 2012-2013 Big Ten preview, Minnesota Golden Gophers