2012-2013 ITH season preview: Wisconsin Badgers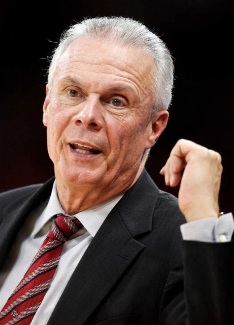 With the college basketball season on the horizon, we'll be taking a long look at the conference at large as well as Indiana's roster over the next few weeks. Today, we look at the Wisconsin Badgers.
Bo Ryan has built a system that wins in the Big Ten. He's not pumping out NBA superstars, but Ryan lands middle of the pack recruiting classes, develops talent and finishes in the top half of the league. And each year, he loses an important piece that makes you question if the Badgers will take a step back. They never do.
Such was the case last season when many wondered how Wisconsin would cope with the graduation of Jon Leuer, a second round NBA Draft pick. The Badgers barely missed a beat without Leuer; they won 26 games, led the Big Ten in scoring defense and reached the Sweet 16 for the second straight season.
This year, it's Jordan Taylor who vacates the point guard position. On deck to replace him is redshirt freshman George Marshall, who spent an important season of practice learning from Taylor. Junior Josh Gasser, a 45.2 percent 3-point shooter, and junior Ben Brust, last season's sixth man, also return.
Wisconsin's true strength, however, rests in the frontcourt. Jared Berggren, a 6-foot-10 senior, has improved each season and hit close to 37% of his 3-point attempts and over 50% of his 2-point attempts last year. Ryan Evans, who averaged in double figures and was one of the league's best defensive rebounders (20.4 DR%), also returns, as does Mike Bruesewitz, who is looking to regain his touch after his effective field goal percentage fell nine percent last season.
This nucleus of returnees is strong on its own, but Ryan also landed a consensus top 20 recruit in Sam Dekker. At 6-foot-8 with elite athleticism and the ability to score inside or from the perimeter, Dekker will instantly give the Badgers a presence on the wing that should mix nicely with Berggren, Evans and Bruesewitz. Two seasons ago, Gasser was Wisconsin's first true freshman starter since 2002-2003 and Dekker seems likely to get the same nod this winter.
While the personnel has changed, Wisconsin will once again rely on its system to impose a preferred style of play on opponents. A season ago, the Badgers played the slowest pace in the Big Ten (58.1 possessions per game), ranked second in effective field goal percentage defense (44.2) and only turned it over on 15.2 percent of their possessions. Similar output in each area will once again make the Badgers one of the most frustrating teams in the country to game plan against.
Bottom line: Wisconsin has never finished lower in the fourth in the Big Ten under Ryan and while the top four of the Big Ten will be very tough with Indiana, Michigan, Michigan State and Ohio State, the Badgers will also be in the conversation to win the league. Indiana plays Wisconsin just once — at home on Jan. 15 — and will look to end a 10-game losing streak against the Badgers.
Quotable: "I think the sky is the limit for him. You probably won't even remember I was here by the time George gets done.  Or maybe even Devin (Harris), too. You never know. George is good. He's got a lot of talent. For him, he just has to keep working hard and keep plugging away and he'll be more than fine." – Jordan Taylor on George Marshall.
Previously: Nebraska, Northwestern, Penn State, Iowa, Illinois, Purdue
Filed to: 2012-2013 Big Ten preview, Wisconsin Badgers