2012-2013 ITH season preview: Purdue Boilermakers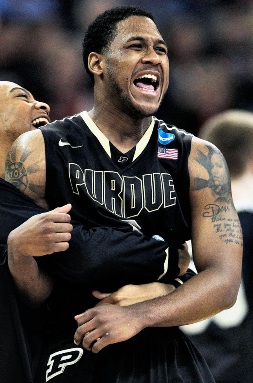 With the college basketball season on the horizon, we'll be taking a long look at the conference at large as well as Indiana's roster over the next few weeks. Today, we look at the Purdue Boilermakers.
With the departures of Robbie Hummel and Lewis Jackson, it figures to be a year of transition in West Lafayette.
Hummel and Jackson combined to score 26.6 points per game last season, and they were the team's two true leaders. Behind those two, Purdue made a run to the third round of the NCAA Tournament, and nearly pulled the upset of No. 2 seed and eventual national runner-up Kansas. The Boilermakers finished the year 22-13, and 10-8 in the Big Ten.
But the cupboard is certainly not bare. The Boilermakers return guards Terone Johnson and D.J. Byrd and forward Travis Carroll, and they bring in a rather large recruiting class. Johnson's younger brother — Ronnie Johnson (North Central) — joins the team, along with big man A.J. Hammons and guard Rapheal Davis (Fort Wayne).
Terone Johnson is Purdue's top returning scorer at 9.2 points per game, and Byrd averaged 8.9 points per contest last season. Purdue coach Matt Painter figures to run much of his offense through those two veterans, but a couple of the freshmen could have an immediate impact.
Hammons, the 82nd-ranked player in the 2012 class according to ESPN.com, started his high school career at Carmel before transferring to Oak Hill. He's a 7-foot, 280-pound center who gives Purdue a legitimate body inside. The 6-foot-9, 229-pound Carroll carried much of the Boilermakers' post duties last season.
"I think he could be an impact defensively," Painter told The Exponent of Hammons. "It's still a long way away. He's got great size and he's got great feel. Like most big guys, he's going to have to get into shape. He will have to learn to concentrate and play through some fatigue."
Ronnie Johnson, ranked 93rd in the 2012 class according to ESPN.com, is a 6-foot, 170-pound guard that is capable of making an outside shot. Terone Johnson is more of a two-guard, so Ronnie Johnson will likely play a significant amount at the point guard position.
"At our point guard position," Painter told The Exponent, "we've had a guy there for the past four years and I think it's important to get (the team) used to playing with Ronnie Johnson. Terone and Anthony [Johnson] are both kind of combo guards. It's so important to get that experience playing with the guy who's running your team."
Bottom line: Because of the team's youth, Purdue is one of the most difficult teams in the conference to forecast. The freshmen — Johnson and Hammons, specifically — are capable of stepping in and contributing this season, but they are certain to go through some growing pains early. If the freshmen play well, the Boilermakers are capable of hanging around in the middle of the conference. If not, they might finish near the bottom this season.
Quotable: "I've really been impressed by A.J. He's 7-foot but he can run the floor. He clogs up the lane so much. We really haven't had that before," Terone Johnson told The Exponent.
Previously: Nebraska, Northwestern, Penn State, Iowa, Illinois
Filed to: 2012-2013 Big Ten preview, Purdue Boilermakers