2011-2012 Player Profile: Austin Etherington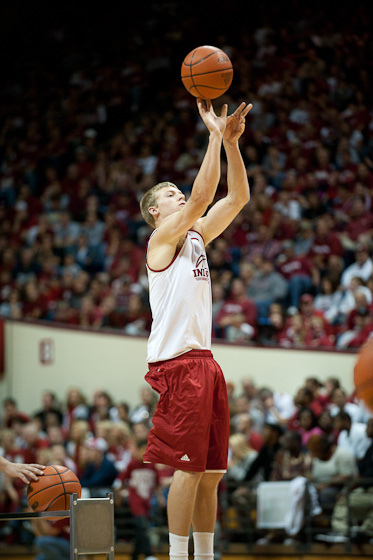 It's time for Inside the Hall's player-by-player breakdown of the 2011-2012 Indiana Hoosiers. Today: Austin Etherington.
Is it possible "The Movement" started with Austin Etherington?
When the Hamilton Heights product gave his verbal pledge in August of 2009, he was just the second Indiana native to commit to the Hoosiers in the Tom Crean era. And over the 15 months following his decision, Etherington made it a point to recruit others to join him in Bloomington.
I remember standing courtside after a pool play game at the 2010 adidas Invitational listening to Etherington talk about his goals for the summer. Rather than bringing up the back injury he had just returned from or individual accolades, he simply uttered four words with a smile: "Get Cody. Get Cody."
It was Etherington who spent time with Zeller and Hanner Perea behind the IU bench at last year's "Night of the Living Red." Yogi Ferrell joined them in Bloomington the following day.
Less than a month later, Zeller's Letter of Intent was signed and Ferrell and Perea were verbal commitments in the 2012 class.
On the court, Etherington built a reputation in high school as one of the state's best shooters. At 6-foot-6, he's big enough to get his shot over most backcourt defenders and when given an opening, he'll connect from all over the perimeter.
Defense, lateral quickness and ball handling are probably his three biggest areas for improvement as he begins his career.
Best-case: The freshman guard finds his niche as a reliable perimeter threat. He also shows off improved ball handling to diversify the ways in which he can score and improved quickness to aid him as a defender.
Worst-case: Etherington struggles to adapt to the speed of the college game and spends the majority of his debut season as a sparingly-used backup.
Quotable: "I feel like I can be the person who hits the open shot. I can be the guy that shoots the ball in or be the guy that always works hard when he is in the game and is not burden to the team. I just want to help in any way I can. I might not be the best scorer, but just being there and doing what I have to do to make the team win." – Etherington to IUHoosiers.com on September 19.
Previously: Jordan Hulls, Will Sheehey, Verdell Jones III, Cody Zeller, Victor Oladipo, Tom Pritchard, Matt Roth, Christian Watford, Maurice Creek, Remy Abell
Filed to: 2011-2012 season preview, Austin Etherington