ITH Super Happy Fun Time Big Ten Preview: Spartans of Michigan State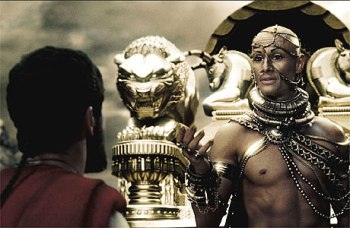 The Hoosiers are finished with their cupcakes and the New Year is nearly upon us, which can mean only one thing: It's Big Ten Preview Time! Here's a look at the teams that will challenge the Hoosiers for the conference crown … or fall under the weighty boot of crimson dominance. Probably the latter. Today: Michigan State.
This is the last of these little previews that none of you comment on. We've been through the Big Ten from top to bottom, from Northwestern to Minnesota, and back. And it's taken us until the last day of the previews to get to the one elite team outside Indiana in all the conference, Michigan State. How bad is the Big Ten this year?
Anyway, if there is an elite team in the Big Ten, it's Sparty. (The Hoosiers are probably one rung below just yet, but we'll get to that later.) Right now, Michigan State is the consensus favorite to win the conference, and with good reason: The Spartans are a well-coached batch of veteran players highlighted by strong, efficient guard play from a senior preseason All-American. Drew Neitzel is the glue that holds Michigan State together, a consummate point guard with the ability to score and distribute. Sophomore forward Raymar Morgan has been more impressive thus far this season, trailing Neitzel in minutes but scoring three more points (17) and grabbing seven rebounds a game. Morgan appears to have turned the corner from "potentially great post player" to "great post player" in the matter of two years; who knows what will happen if he continues to improve.
Michigan State plays a slow, methodical pace, but they do so to their own advantage. Their 67 possessions a game is good for 212th-fastest in the country, accounting for their seemingly apt defensive performance; but the real story is that the Spartans prefer to grind out games in the half court with the ball in Neitzel's hands. So far, that approach has worked: MSU has quality wins over Texas, BYU, Bradley, and N.C. State, and a narrow loss to No. 2 UCLA.
The Bottom Line: Tom Izzo's teams usually improve toward the end of the year, but this year, the Spartans already looked primed for a deep March run. That makes them, alongside IU, the prohibitive favorite to win the Big Ten and one of two elite teams in the conference. At the end of the season, we'll see if the Hoosiers can't lay sole claim to that two-team race, or if the Spartans will edge them out for the conference crown. Most of you Hoosier fans will say that's madness, but this isn't madness … THIS IS SPARTA! RARRRR!!!!
(Egregious 300 quote over … now.)
Read the rest of our Big Ten Preview:
Filed to: Drew Neitzel, Michigan State Spartans, Raymar Morgan, Tom Izzo